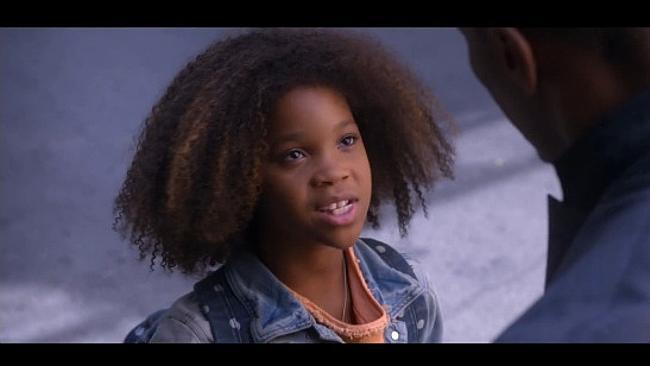 In the run-up to the 2013 Oscars, there was a lot of debate about whether Quvenzhané Wallis' moving performance in Beasts of the Southern Wild was the work of a precocious talent—she was 5 when cast in the role—or the result of clever direction and editing. She has since appeared in a short film and had a small part in 12 Years a Slave, but her next movie, an updated adaptation of the Depression-era musical Annie, will be her first big chance to strengthen her reputation as a child who can really act.
It's hard to tell from the first trailer whether she will prove her doubters wrong, but she does come across as suitably winsome in her role as the little orphan who softens the heart of Jamie Foxx's selfish billionaire. Cameron Diaz, on the other hand, seems to be lacking some much-needed bite as Miss Hannigan, the monstrous orphanage supervisor. The shadow of Carol Burnett's Miss Hannigan from the 1982 film version looms large: Burnett's performance as the alcoholic, greedy overseer was both terrifying and comical in the best of ways. Diaz is an unlikely choice—while she's proven to be a gifted comedian, she's rarely taken on roles that were quite this mean—and she strains here to be convincing as an evil overlord.
Perhaps they're trying to tamp down the character's darkness for modern audiences. But this seemingly softer Hannigan, along with the oh-so-current references to George Clooney and Facebook, threatens to make the already-sentimental musical feel even more hokey than the original, and that's saying something.
---