Has Vladimir Putin done fillers? Judging by his shiny unlined visage, he is no stranger to contemporary trends in cosmetology. But let's not get sidetracked with beauty tips and trivial speculations. Let's get right to the topic at hand: the opening ceremony of the Sochi Olympic Games.
With its undercurrent of terrorist threats, homo-discrimination, gnarly demonstrations, dog-culling, political posturing, and corruption a gogo, the run-up to the Sochi Winter Olympics has been a tension-wracked nightmare. A nightmare with a $50 billion where-the-hell-did-all-that-money-go price tag. Honesty compels me to admit that when I sat down to watch the ceremony streaming live this morning—and be warned, if you're waiting to see the pomp and circumstance on NBC tonight, spoilers lie ahead—I was feeling rather tense. At the very least I anticipated a Hitchcock scenario—a lethal mixture of Saboteur, The Man Who Knew Too Much, The Thirty-Nine Steps, and Torn Curtain—only with a lot more Lycra. Would something appalling happen right before our very eyes? How could it not?
The ceremony started and my sense of impending doom evaporated immediately. As soon as I saw the smiling Olympic Snegurochka snow princesses with their huge filigree headdresses and their vampy runway walks, I relaxed. Why? Because I was reminded of the deep and profound gayness of Russian culture.
How gay is Russia? Sorry, Vlad, but it's far gayer than you might acknowledge or wish. Russia is Tchaikovsky gay. Mussorgsky gay. Nijinsky gay. Ivan The Terrible gay. Diaghilev gay. Eisenstein gay. Erte gay. When I say gay, I mean the very best of gay. I mean inspired, dramatic, flamboyant, theatrical and fabulously haughty. I mean Rudolph Nureyev gay.
The gay (and therefore glorious) moments of the Sochi opening ceremonies came thick and fast.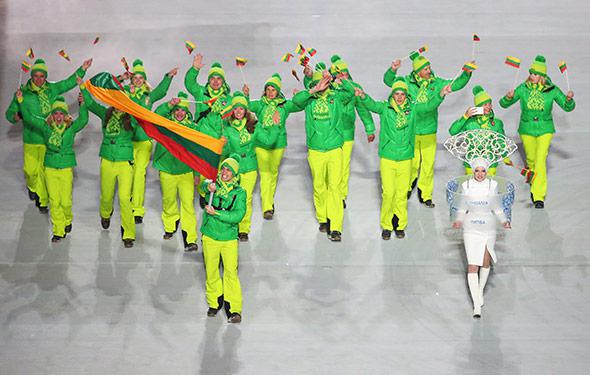 Let's start with the athletes themselves. While many countries opted to dress their teams in simple, chic, Lululemon-esque solids—France and Belgium, I am talking to you—the Russians, in their gorgeous costume-y ensembles, were screaming Dr. Zhivago. Those groovy, elegant, fur-trimmed, embroidered coats recalled Saint Laurent back when he was having his 1970s Ukrainian moment.
There were a few bursts of creativity from smaller countries—Lithuania's Leprechaun-green parkas with chartreuse pants; Morocco's glamrock Aladdin Sane slashes; Tonga's palm-tree embellished parkas; and Germany's so-hideous-they-were-fabulous trippy rave outfits—but the only real competition for Russia came from the United States.*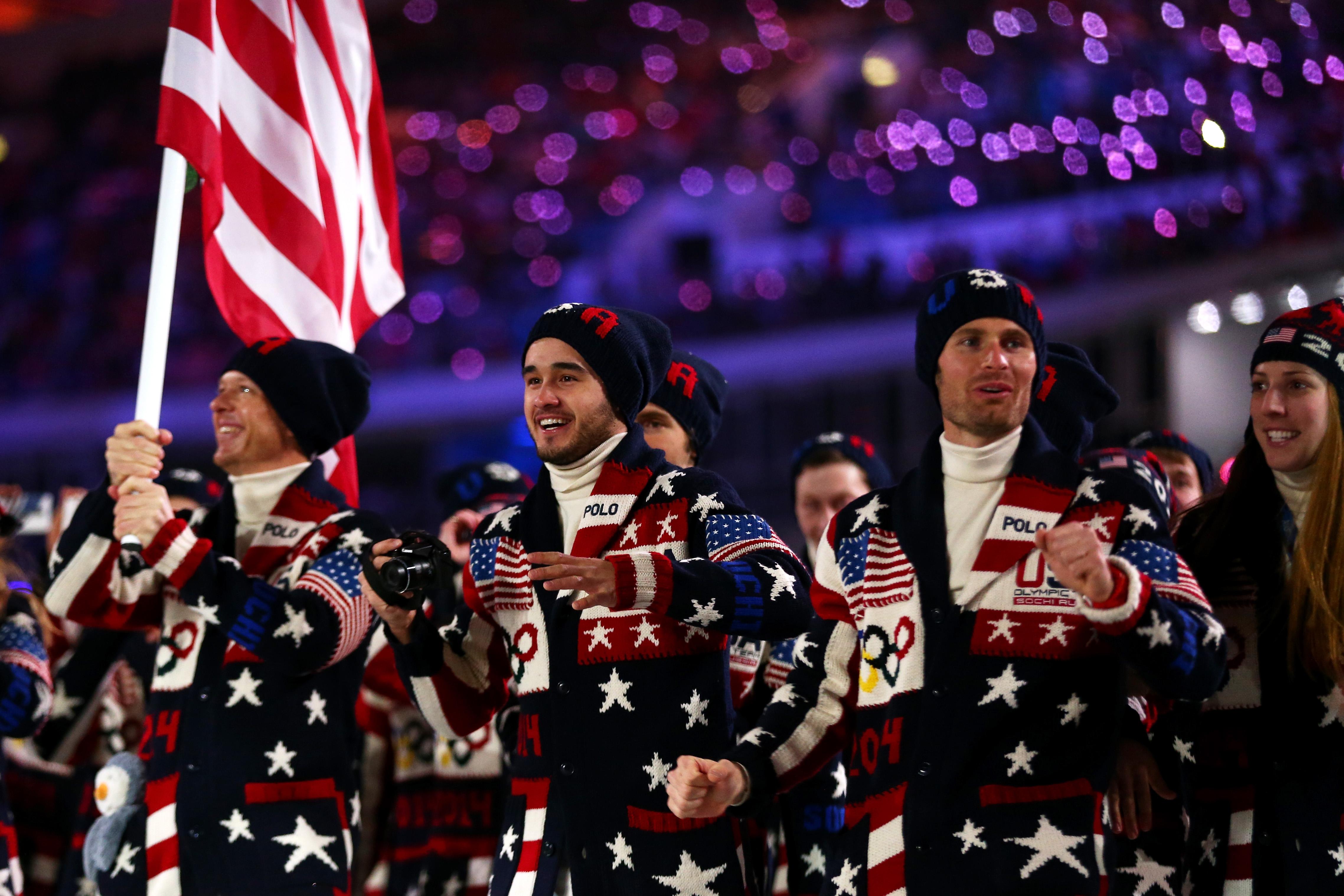 Let's talk for a moment about that much-maligned Ralph Lauren extravaganza. The sight of all our athletes in their fitted, emblazoned, Ralph Lauren cardi-jacks was one of the wows of the night. This was a moment which called for undiluted maximalism and Ralph, with his boldly embellished ensembles, nailed it. Why? Because, clearly, he understood the context: Russia is the szhooshiest, most theatrical country in the world, and Ralph went for it. Ralph triumphed, and those who railed against his high-priced, over-the-top Sochi separates are now being forced to eat crow. From Helsinki to Kathmandu, these garments are flying off the shelves!* If you are still unsure about the RL outfits then compare them with the duds worn by those dudes from Taipei. In their solid blue, super-simple oversize parkas, those worthy athletes resembled a bunch of walking oven-mitts. No offense.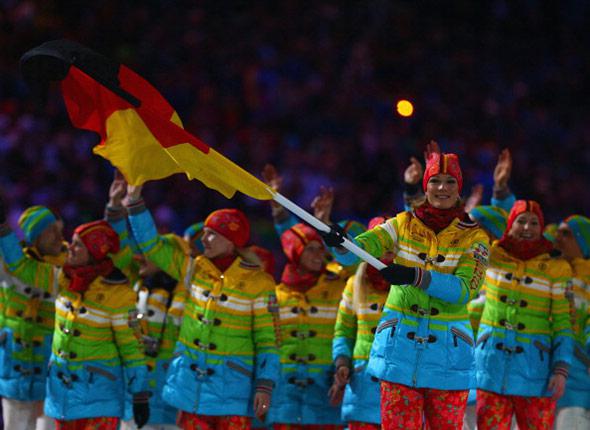 After the athletes came the themed presentation: a how-Russia-came-about collage of shifting tableaux. Things got off to an unpromising start: Giant stuffed toys appeared and rolled methodically around the arena, as if vacuuming. Thankfully they soon disappeared. That's when the Russian gayness really exploded and Vlad flicked the camp switch.
In a matter of seconds, a stirring, butch, ballsy Peter the Great montage filled the arena. It was all very hearty and macho. I am sure Vlad was totally digging it. For reasons previously stated, it was a little hard to tell.
Exit Peter the Great.
Accompanied by Stravinsky's Rite of Spring, an inflatable folkloric landscape of gaudy minarets was dragged into the center of the arena by a bunch of nubile chorines in fabulously folkloric outfits. Leon Bakst, eat your heart out.
Then the Tolstoy section. Let's talk about that sea of blokes—rows and rows of handsome well-groomed Russkies—all wearing matching grey suits. They resembled graduates from a school for gay doormen. Hordes of chiffon-clad ballerinas entered and provided an impressive and lengthy War and Peace balletic interlude. Flit. Flit. Flit.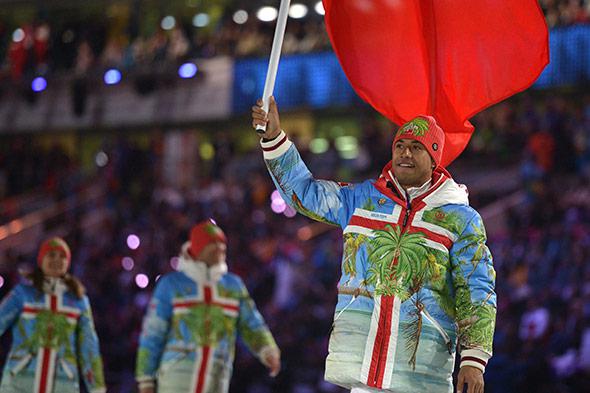 Along with having an intrinsically gay sensibility, Russians also have a very long attention span. I can imagine the average non-Russian viewer—especially the Brits who cantered through Danny Boyle's A.D.D. extravaganza in 2012—nodding off in their easy chairs. But I, for reasons too obvious to state, was galvanized.
And then it was time for another century. With nary a mention of Rasputin or the assassination of the royal family, time marched forward and a massive abstract train ushered in the post-revolutionary era and a fantastic representation of constructivist artworks. Geometric sculptures recalling Malevich and Tatlin dangled from the sky while grim-faced Russian youths and youthesses twirled and toiled on red metal hamster wheels. At this point there was smoke coming out of my campometer.
We then fast-forwarded our way past purges and pogroms, whizzing past the Second World War and landing smack dab into the '60s … and the space race. Paging Yuri Gagarin!
It was at this point that a pal informed me of the Sochi Olympic motto: HOT COOL YOURS. Sounds like the kind of slogan you might see on a T-shirt on a gay cruise. No offense.
Then more Russian ballerinas—yes, ballet and more ballet—twirling like dervishes to Tchaikovsky's Swan Lake, in the dark, while wearing fluorescent jellyfish costumes. It was sublime, and, like everything else Russian, it was deadly earnest (ergo the camp), as was the flag raising and hymn singing which eventually followed.
In a cloud of minty chiffon, standing next to a phalanx of wickedly handsome choristers in white below-the-knee Versace-esque tuxedos, a beautiful Russian opera singer belted out a grandiose version of the Olympic Hymn. It was a moment right out of the Lawrence Welk Show. 
At this point I was ready for an insulin injection, so drenched was I in the unbridled theatricality of it all. But it was not over. A light-up Busby Berkeley segment which also recalled the movie Tron filled the arena.* These Rollerblading comets then morphed into throbbing constellations which then erupted into the most fabulously gay fireworks display I have ever seen. I was completely exhausted. It was too gay for even moi.
Did this evening's festivities shed any light on Russia's unacceptable discriminatory attitudes toward homosexuality? Nyet. I came away more confused than ever.
Correction, Feb. 7, 2014: This article previously misspelled Morocco, Kathmandu, and the name of Busby Berkeley.