During Wednesday night's coverage of the women's downhill, NBC's Steve Porino talked about the incredible talents of the skiers in Sochi. As the Washington Post's Erik Wemple documented, Porino talked about the steep drops and the G-forces. He then added: "All of that while in a Lycra suit, maybe a little bit of makeup—now that is grace under pressure."
Why are we angry? Some women athletes do indeed wear makeup during competition, especially the ones on figure skates. The context here was a little bit strange, though. As Wemple wrote, "Though Porino did a great job of explaining the physics of the downhill run, why the merely tangential mention of makeup? Isn't it cosmetic products that define these incredibly talented women, anyhow?"
And here's what Twitter had to say:
How angry are we? A medium to high level of angry. Everyone knows there's a double standard with regard to female athletes and how they're expected to look pretty while performing amazing athletic feats. The downhill skiing competition, in which the competitors' faces are obscured by masks, is typically a respite from this kind of chauvinism. Now, there's a new pressure on women athletes: You have to look pretty when we can't even see you.
How angry should we be? Pretty angry. That's some gnarly sexism, NBC!
Rage-o-Meter Score: The flames rise, inching up from a three to a four on Wednesday. The Peacock is sweating.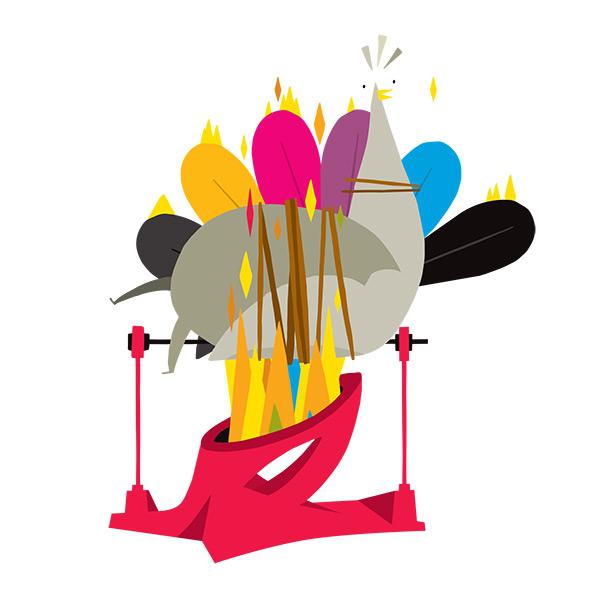 Previous Rage-o-Meter entries:
Monday, Feb. 10: Butchering the opening ceremony.
Tuesday, Feb. 11: NBC's snowboarding coverage is terrible. We want more of it!
Wednesday, Feb. 12: Matt Lauer steps in for Bob Costas. NBC viewers did not like his beard.