This is the enduring image of the Sochi Games: Russia's Adelina Sotnikova with her palms facing the ceiling, imploring the crowd to cheer her on during the women's free skate. The home fans complied, helping to lift Sotnikova to a controversial victory over South Korea's Yuna Kim. Take a closer look at that iconic photo, and you'll see something else besides Sotnikova's sly grin. The 17-year-old gold medalist is wearing flesh-colored fabric in three different places: on her upper torso, her hands, and her legs.
Faux nudity was all the rage at the Iceberg Skating Palace over the last few weeks. To understand why, I consulted with Brad Griffies, who designed American skater Gracie Gold's dashing blue costume for her free skate in Sochi. The 31-year-old Griffies, who lives in Atlanta and is the proprietor of an eponymous figure skating apparel line, says strategic deployment of nude fabric allows him to create more versatile designs. "If you're going for strapless, it's nice to have that nude in there, to make everything stay," he says. That is to say, simulated straplessness decreases the risk of a wardrobe malfunction when a skater contorts herself into various non-cocktail-party-friendly positions. (Skaters must be especially cautious when attempting the upright, one-foot-in-the-air Biellmann spin.)
A figure skating fashionista must hew to the golden (and frequently sequined) mean: not too clothed, not too bare. The International Skating Union requires that costumes "be modest, dignified, and appropriate for athletic competition" and "not give the effect of excessive nudity." Griffies uses a stretchy, translucent fabric called nude mesh; he prefers it to the alternative, nude lycra, because it allows you to see a skater's muscle tone. In creating his readymade line of dresses, Griffies says, he'll go through a couple hundred yards of nude mesh per year, at a cost of $6 or $7 a yard.
Figure skating costumes are made to be sparkly enough to be seen from a distant galaxy, or at least the back row of a large arena. In close-up shots and on high-definition television, it's a certainty that the nude illusion will be broken. Nevertheless, designers try as best they can to incorporate flesh-colored fabrics that are truly flesh-colored. Griffies says this is more of a challenge for black skaters, "because they have so many colors on their skin." The costume that Griffies created for Mae Berenice Meite to wear in Sochi featured nude fabric the designer custom-dyed to match the French skater's skin tone.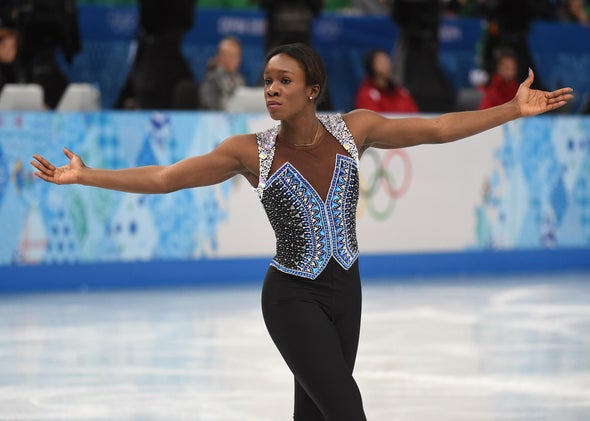 What about the nude gloves that Sotnikova was wearing? Griffies, who was a competitive figure skater before he moved into fashion, explains that most triple-toe-loopers wear gloves in practice to stay warm, as well as to prevent cuts and scrapes (which can arise from falling on the ice or grabbing your blade during a spin). It feels strange to compete without them, Griffies says, so many skaters go with flesh-colored gloves, which make them feel comfortable but don't distract the judges.
Sotnikova completed her flesh-colored look with a set of over-the-boot tights. Griffies hates that look—he prefers the classic feel of a bright white skate. (So does Gracie Gold.) Sotnikova and other skaters wear those "OTB tights" for a bunch of reasons: because they supposedly make their legs look longer, and to protect their skates so they don't need to be polished as often. But over-the-boot tights can lead to a different kind of wardrobe malfunction, as Sotnikova discovered during her free skate.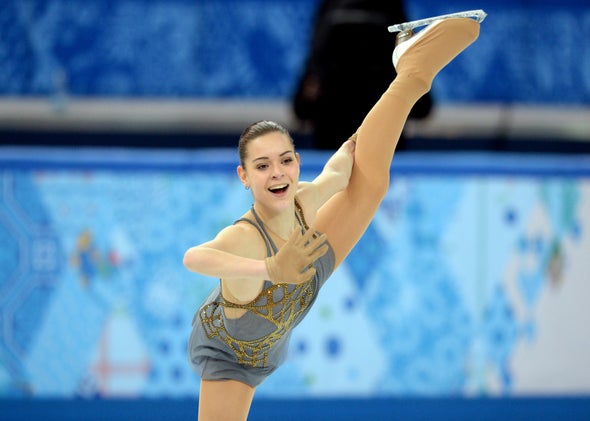 This skate-peekaboo situation, thankfully, did not cost the Russian her gold medal.