I guess it's true what they say about old figure skaters: They don't die, they just pull up lame in warmups and unceremoniously withdraw from competition. That's what happened to the great Russian skater Evgeni Plushenko today in Sochi—much to the dismay of the audience at the rink and the commentators on Russian television.
Was Plushenko really injured, or had he planned to quit after the team competition all along? It's unclear, but if today marks the end of Plushenko's career—"I think this is God saying Evgeni, enough skating," he said this afternoon—it's worth remembering what an outstanding career it has been. The Russian has won four Olympic medals and been dominant internationally for almost 15 years, and he did so in his own inimitable, non-traditional style. Plushenko comes across as a guy who passed out on his way home from the bar, woke up at an ice rink in somebody else's clothes, and decided that, as long as he was there, he might as well do some figure skating. In 2010, Meghan O'Rourke wrote for Slate about Plushenko's "Screw you, I love myself" attitude, which I think says a lot about why the skater was so magnetic. Like Lyle Lovett, Henry Kissinger, and Kermit the Frog, Plushenko turned heads not because of his classic good looks, but due to his confidence and charisma. He made everything he tried seem awesome and stylish.
Now, let's take a look back at the great man's style evolution.
He began at age 14 in 1997, as so many male figure skaters do, dressed like a Mylar balloon in a pair of big bracelets: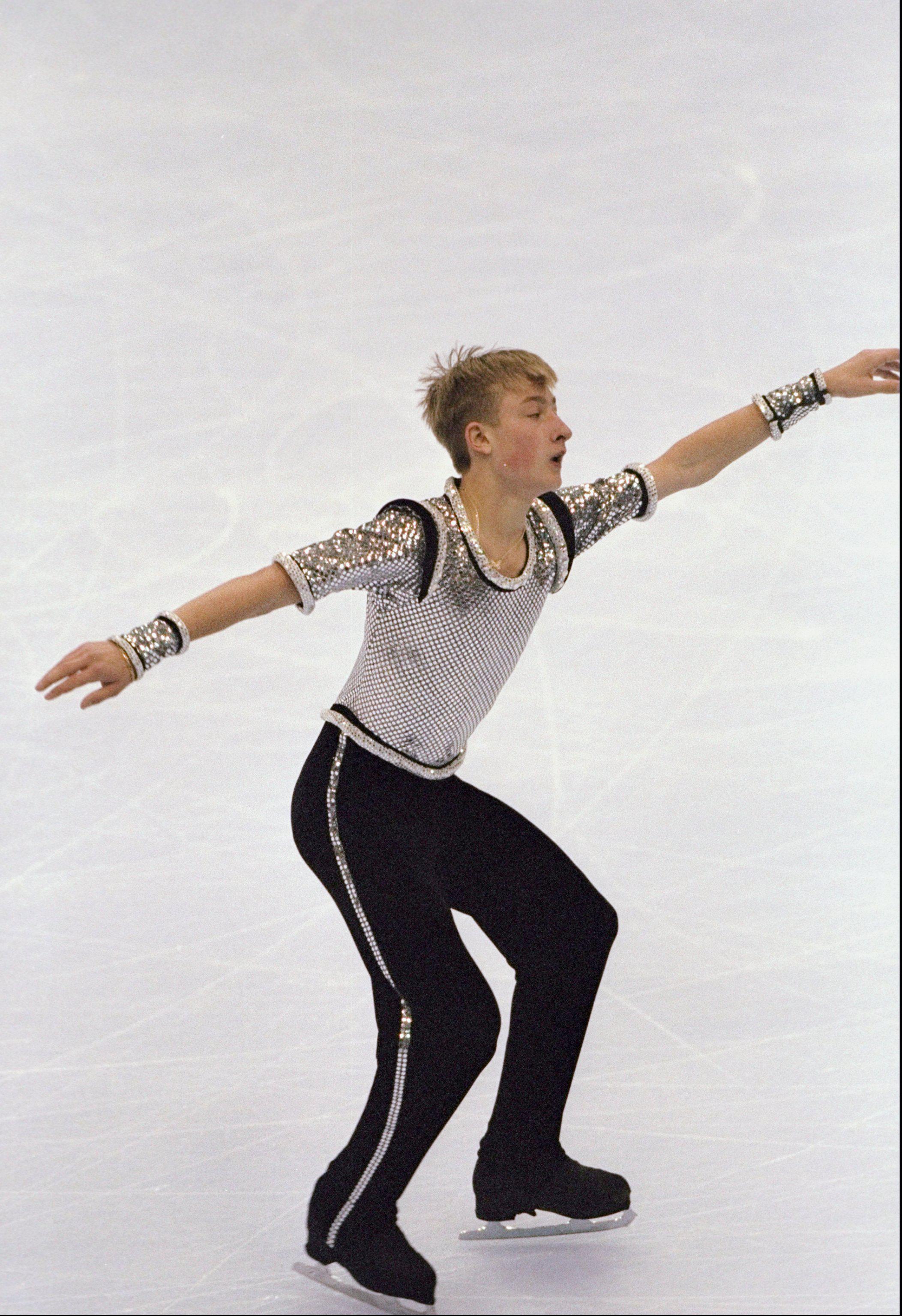 In 1999, his hair was a little longer, and his sleeves were a lot puffier: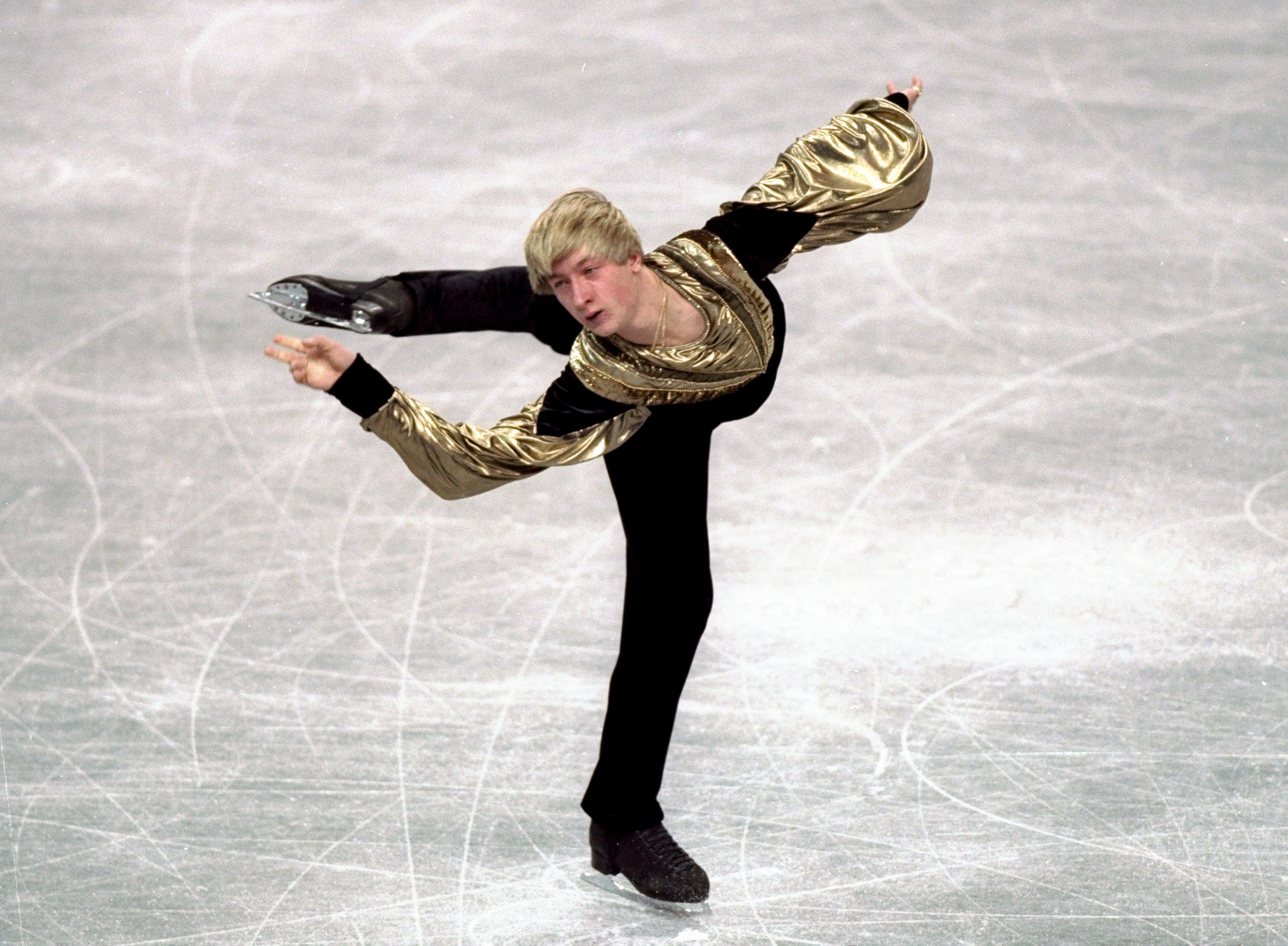 2001 marked a turning point in Plushenko's style. Whether he was flashing a pair of golden gloves like the villain in some knockoff Bond movie: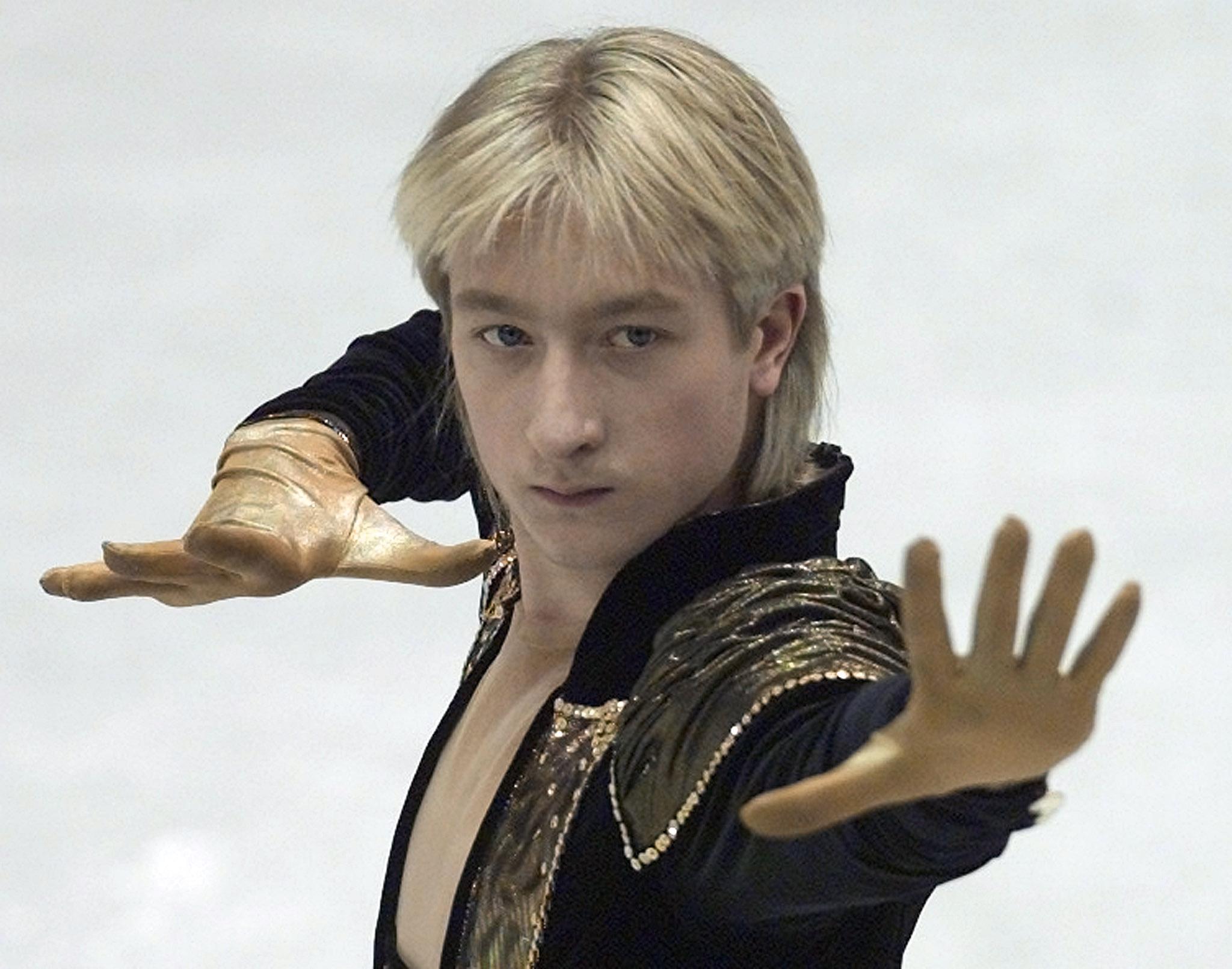 Flaunting neon green pants like Detective Crockett on an acid trip: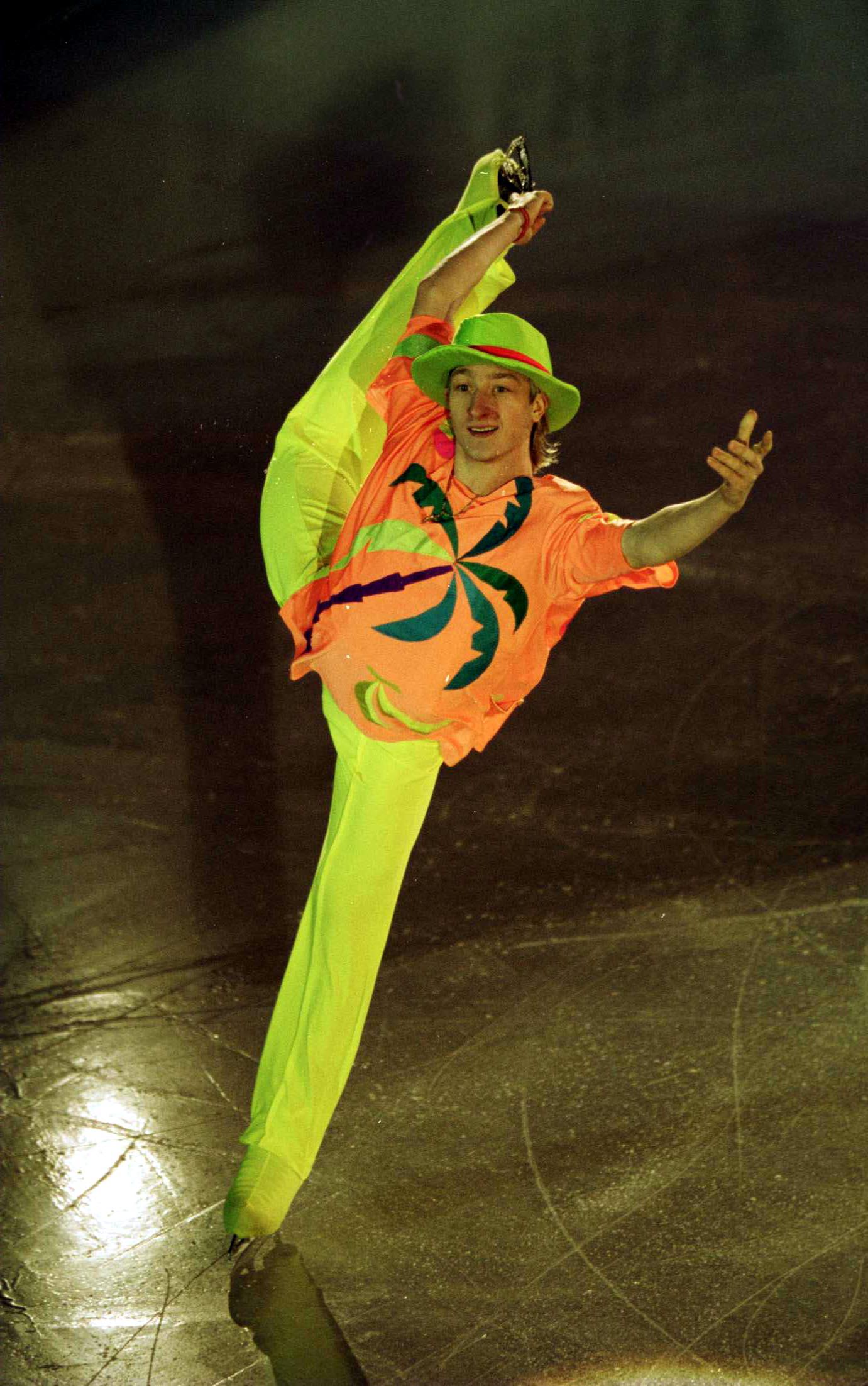 Or incorporating a muscle suit and a shiny codpiece into his famous "Sex Bomb" routine: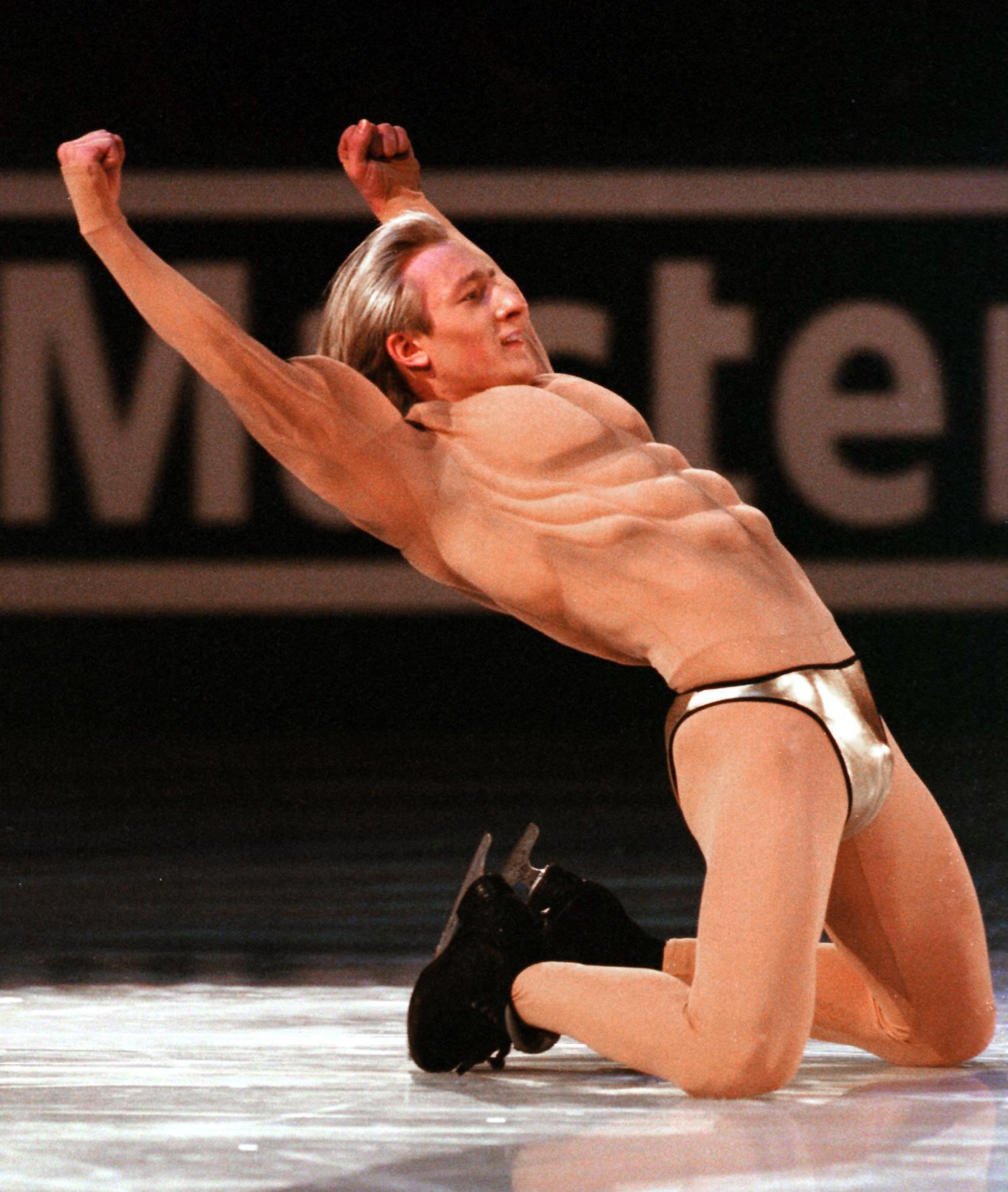 Plushenko pushed the limits of men's figure-skating fashion. In the Salt Lake City Olympics in 2002, Plushenko debuts his most confident look yet with this Thriller-meets-Robocop outfit for his short program: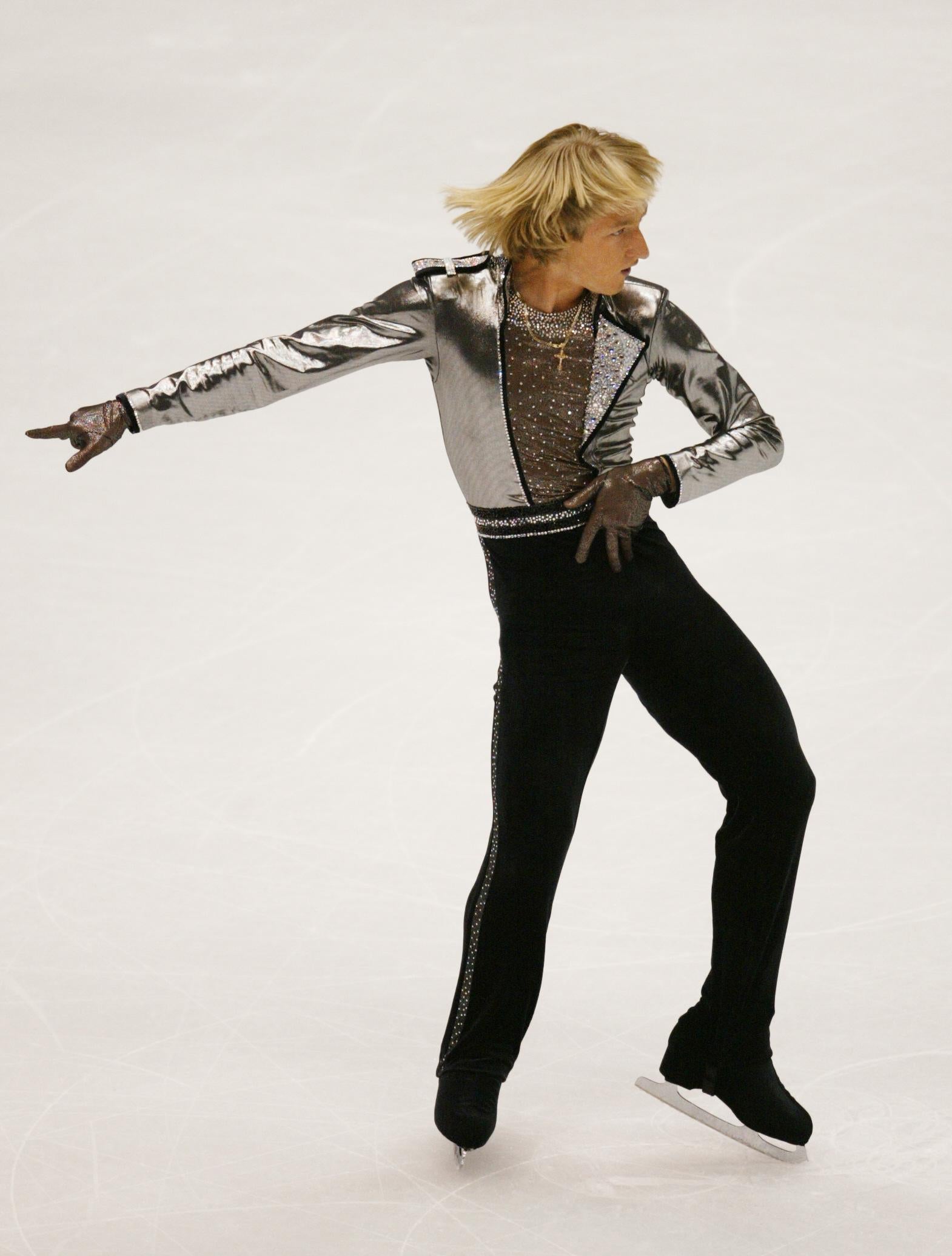 Before transitioning to toreador-on-Mars mode for his free skate: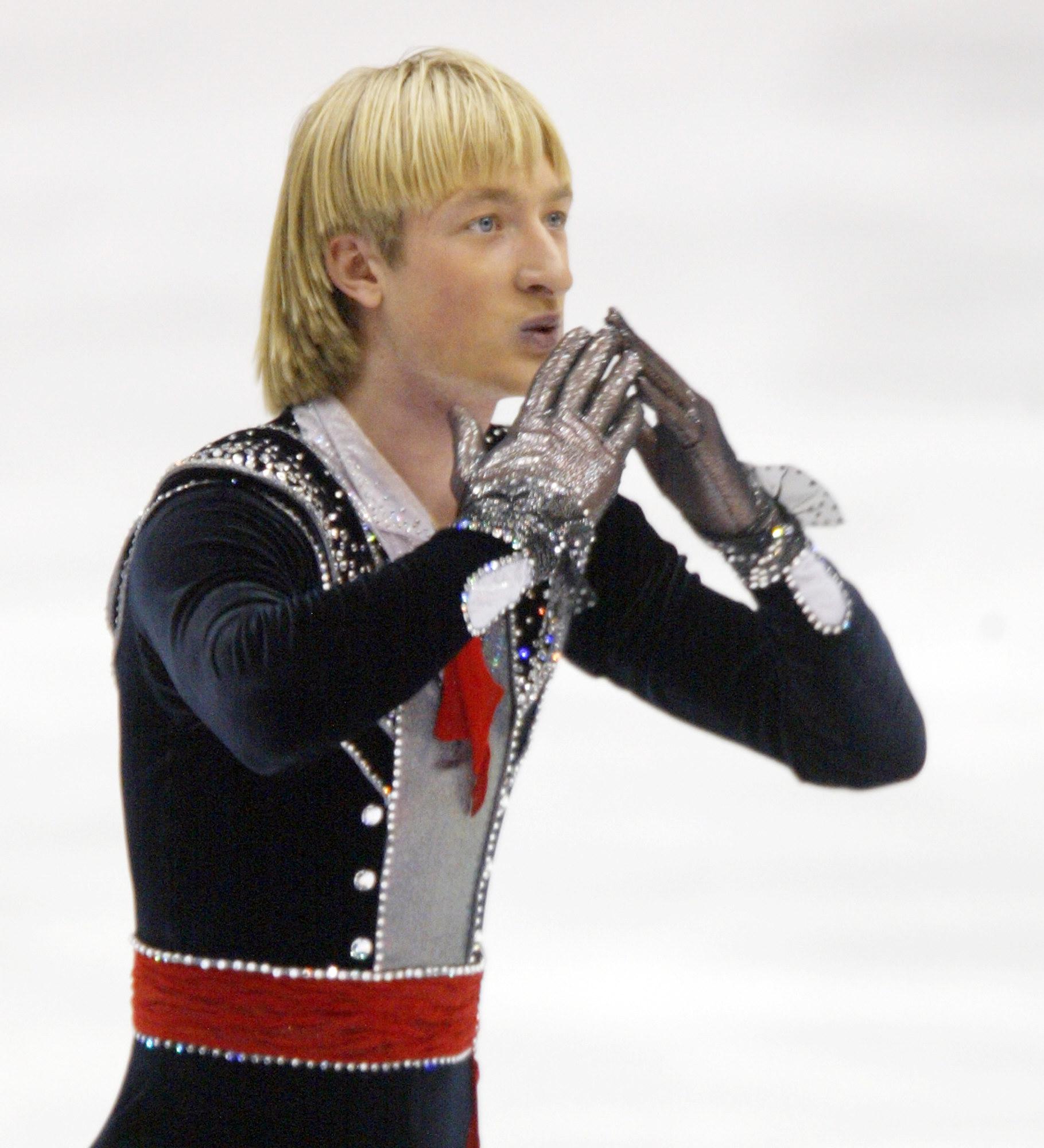 2005 saw the crowd-pleasing return of Plushenko's trusty muscle suit. Hey, if you've got it, flaunt it: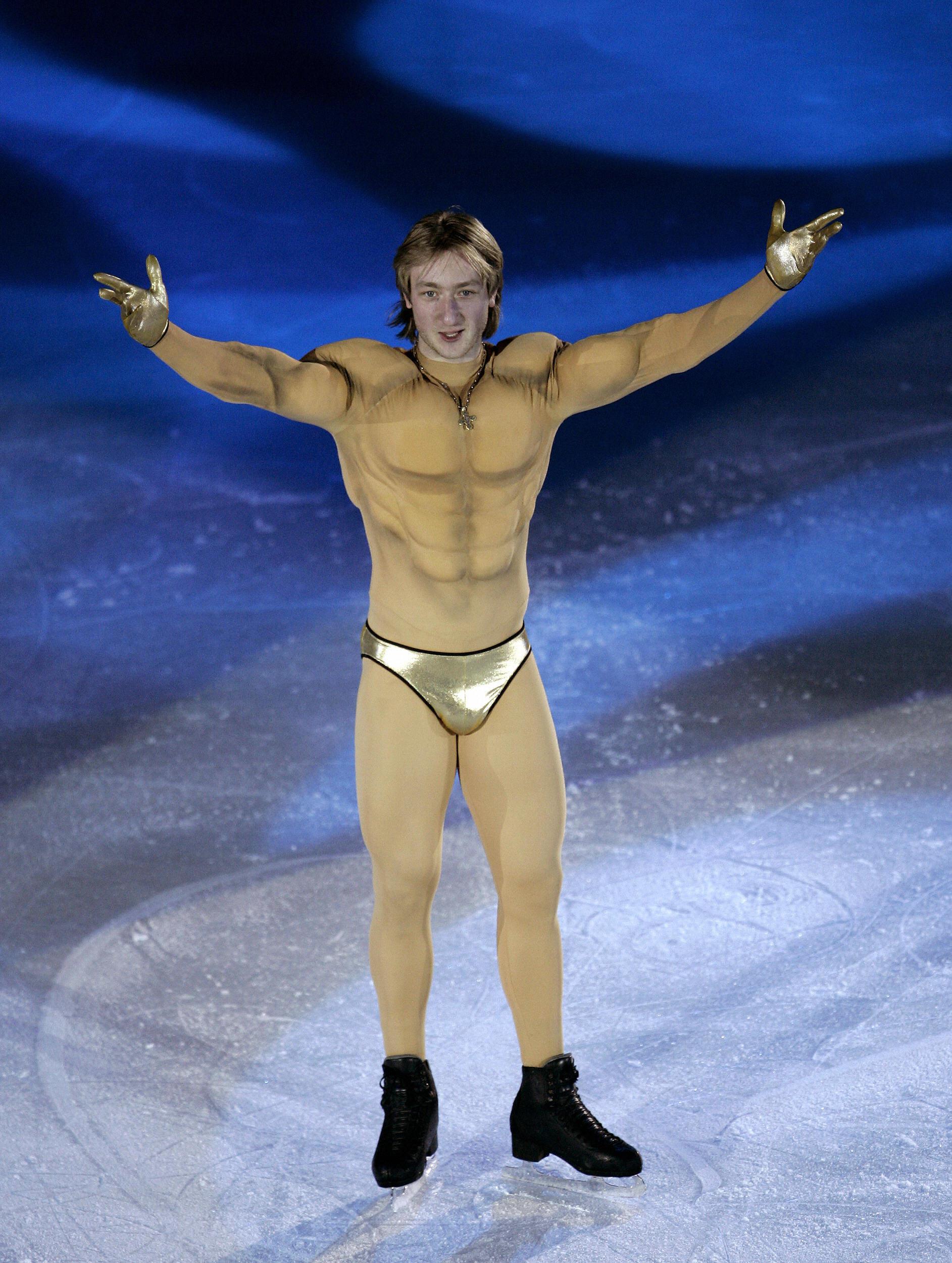 But in 2006, at the Torino Olympics, Plushenko played it a bit more conservative. I guess it's true that black Lycra with sequins is the new black: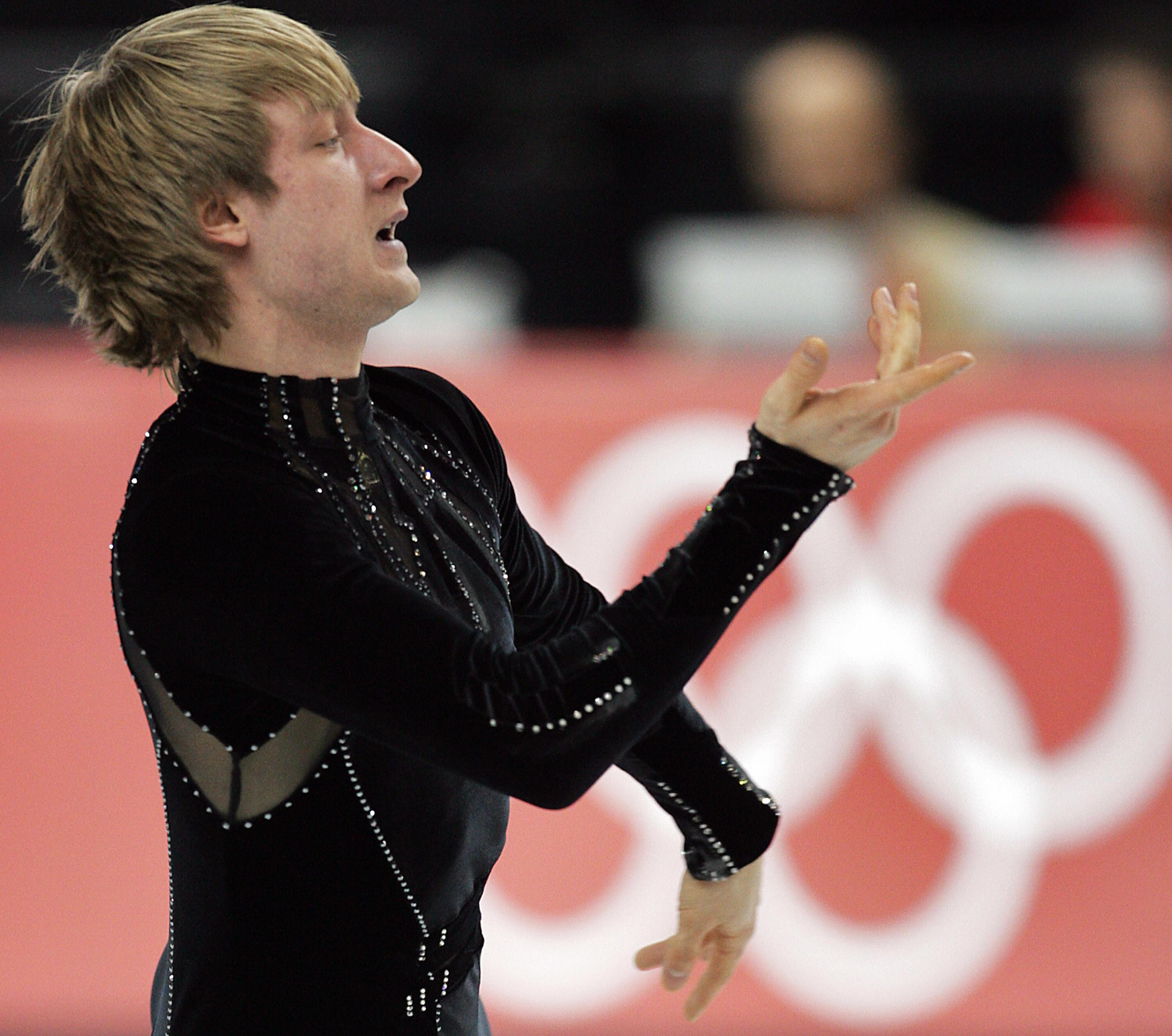 During his free skate in Torino, he brought out a red neckerchief for some flair: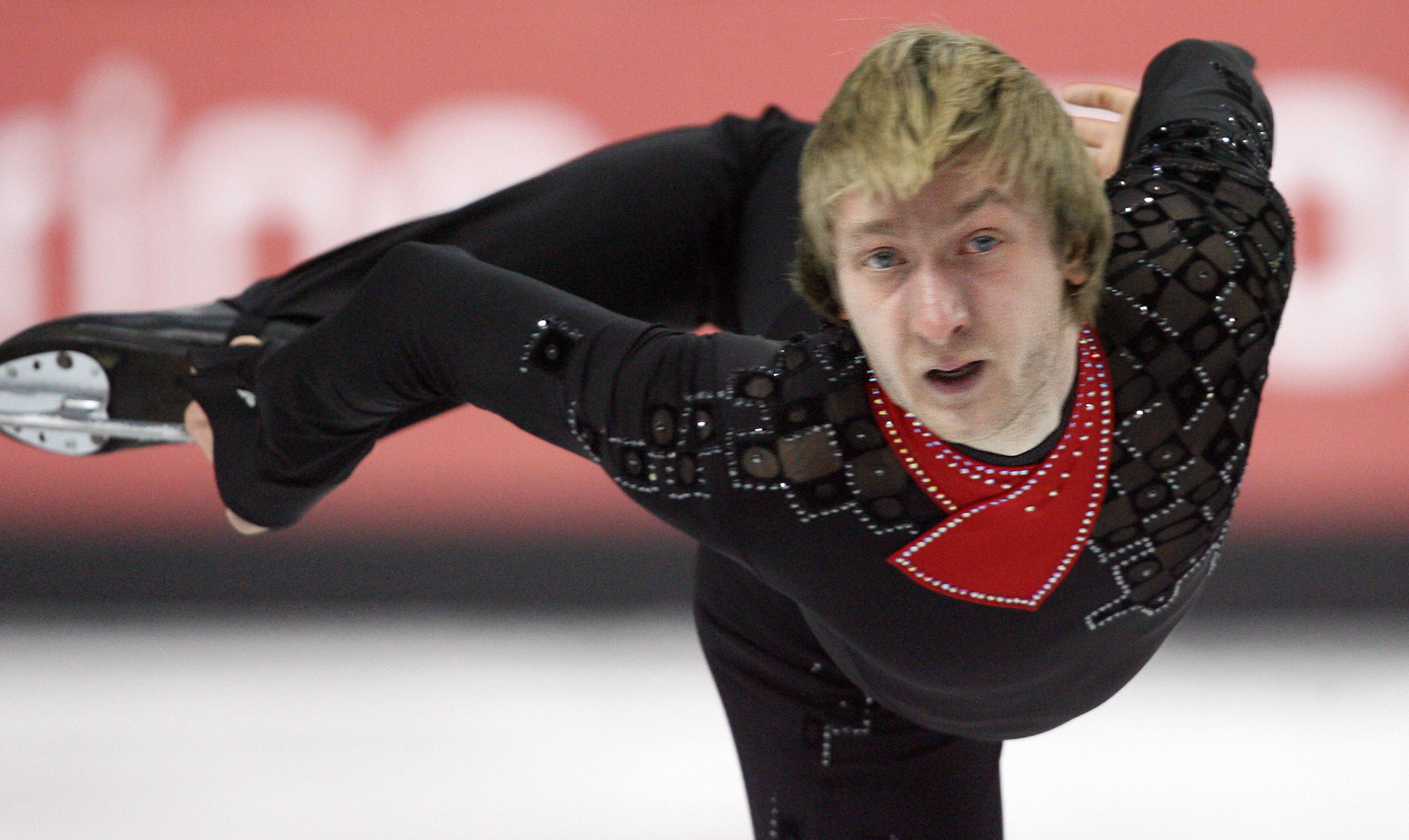 Plushenko won gold in Torino, and afterwards he took some time away from skating. But he returned for Vancouver in 2010, skating his short program in grand Spanish style: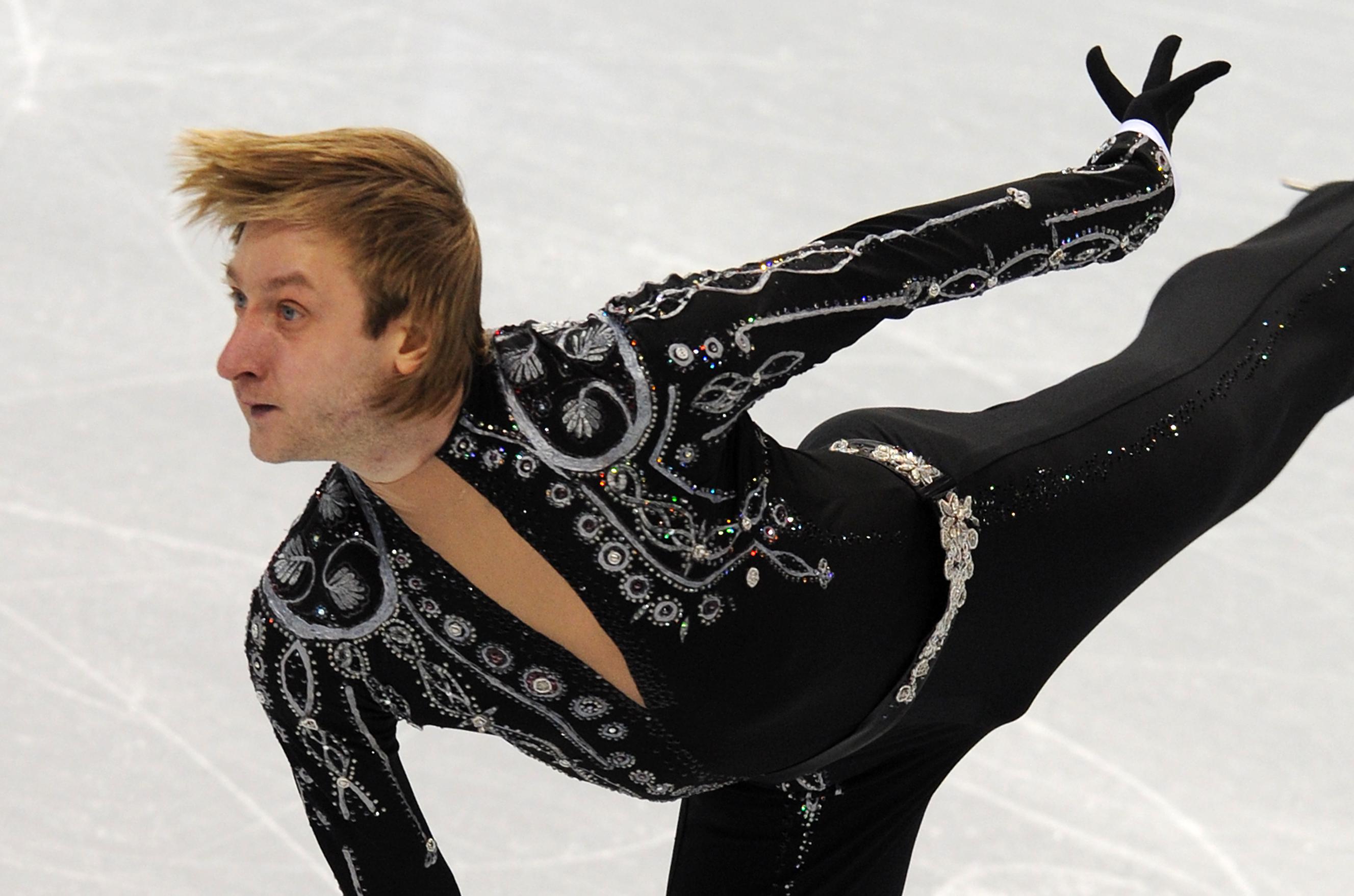 And adding some color for his free skate: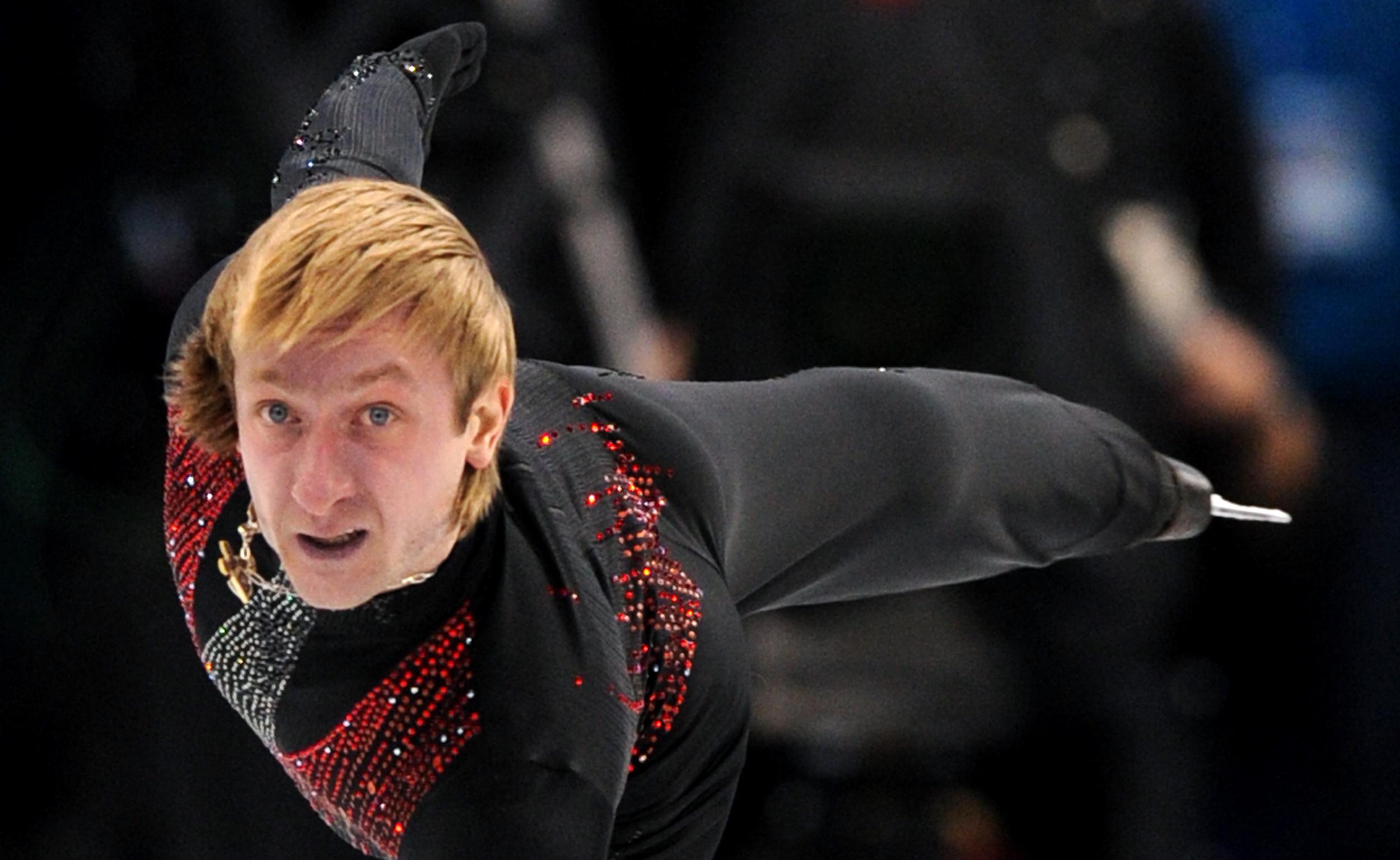 Plushenko took silver in Vancouver. In 2012, perhaps befitting his status as an elder statesman of the sport, Plushenko goes a bit more formal than his Sex Bomb days:
The shirt and jacket say "We're dining at the Ritz," but the long hair and stubble say "You're paying." In Sochi, he kicked off the team skating event with a sheer, lacy, relatively subdued choice: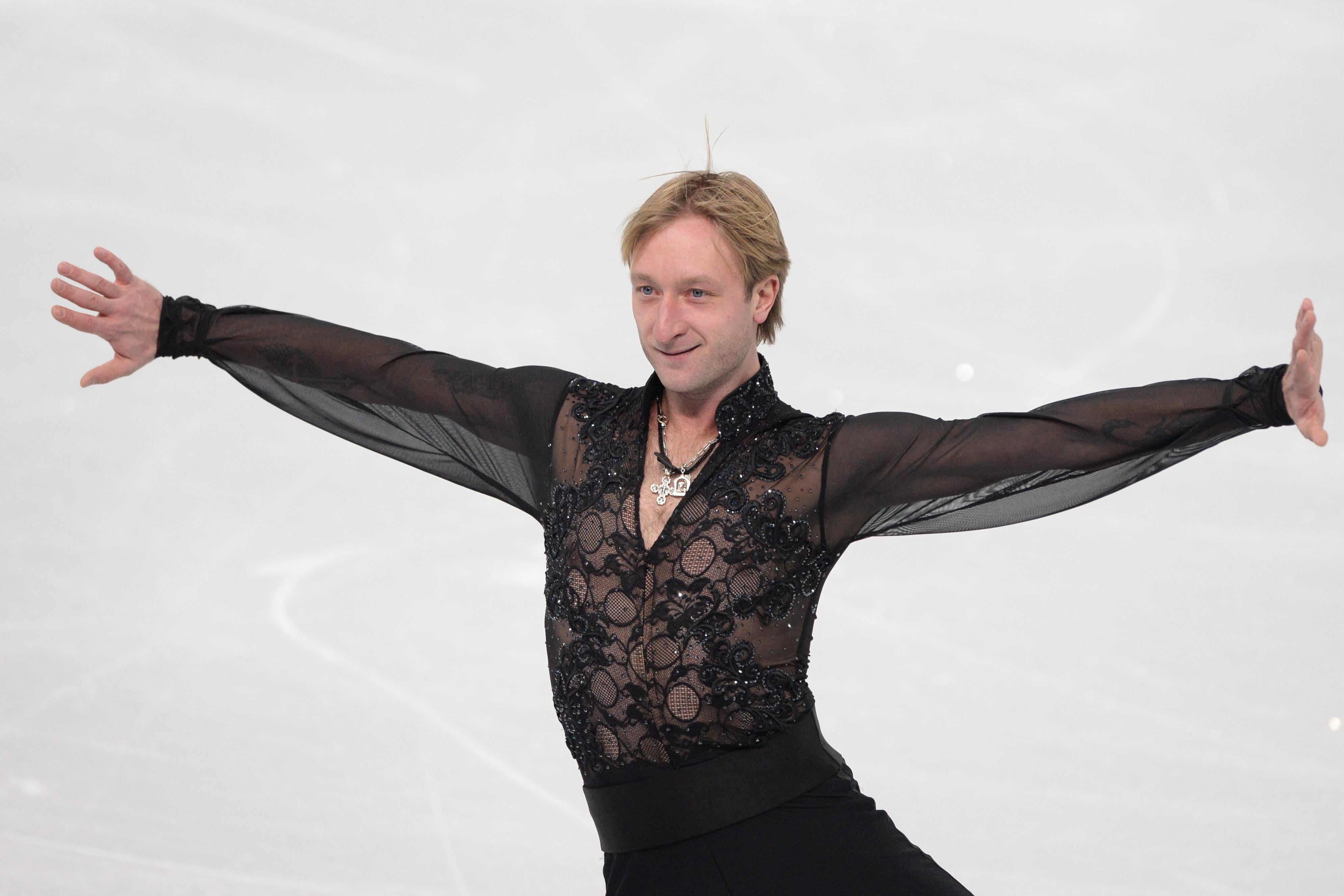 Before making his final exit today in earth tones: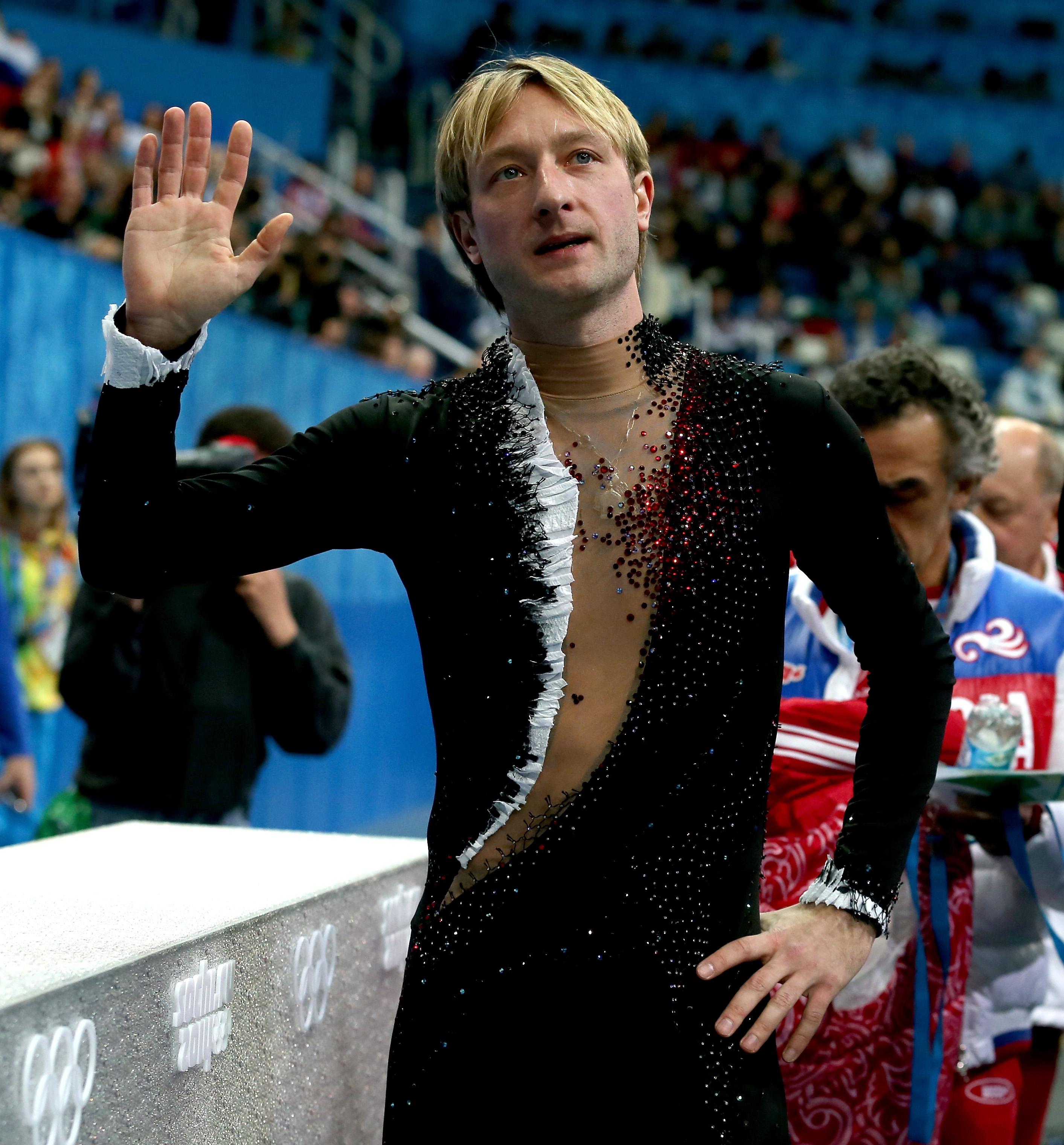 Dust unto dust, I guess. Farewell, our sweet, spangled prince. We'll miss you.