Erica Dawson seems to be having a great time in her poetry—but just barely. Headlong, stitched-together, strung out over imaginative rhymes that her sentences rarely have time to acknowledge, many of her poems have the prolonged marvel of Wile E. Coyote running out past the edge of the cliff. They're at once superb performances and portraits of the terrible depths of air they hope to ignore.
You don't need to look hard in her new book, The Small Blades Hurt, to imagine why she's running so fast. The author of one earlier book, Big-Eyed Afraid, Dawson writes exclusively in traditional forms and meters, but even in their artifice, her poems feel remarkably exposed. She swerves between styles of speech, sometimes in the distance of just a few words. Referencing landmarks, towns, states, and regions (most notably the South), Dawson's speaker is chronically out of place—though also self-aware and dexterous enough to make that part of the show. Here she is in "Jungle Fever Epithalamium":
                        When Malcolm X was ten
At the Cineplex, I read Haley, and, then,
Wore red and black and green—all proud, thick-skinned.
Mom said, "You know that you're from Maryland."

In these lines, it's not just the mother turning the adoption of an African identity into an act of adolescent silliness, but also the untimeliness of everything—the italics converting Malcolm X the civil rights leader into a movie that had itself already aged into a cultural touchstone; her encounter with her own blackness coming through a book that was, by then, more than a quarter-century old and somewhat dated (and that was written by the same man who had co-written Malcolm X's Autobiography more than a decade earlier); and the word "Cineplex" itself adding an extra note of strangeness that is characteristic of Dawson's patchwork style.
In that same poem, Dawson writes, "For me, a savage night // Is zigzagging, drunk, on a downtown street." And then, a little later, "Thirty and never caught // DWB, some random policeman ought / To let me get profiled." The latter, in isolation, is especially upsetting, but provocation is part of Dawson's game. She writes that a mannequin "craves dick," says that a group of storms are "tough / Enough to fuck me," and refers to "the twat / Of yearning orange blossoms opened up." In a fantasy of performing a two-woman show with Josephine Baker, she leaves a message for Jim Crow "to take his minstrel smile and o- / pen up real wide to suck our titties."

These moments, like countless other shifts of diction in these poems, don't entirely shock, though. They're like a kid trying on some piece of prohibited language while watching for a reaction: The pose is inauthentic; the posing is real. Dawson opens the book with a poem recounting a drunken night in Archer City, Texas. "Layover" is wild with identity—cowboy, Yankee, Byron, Cybill Shepherd, Larry McMurtry, Delilah, the "town Indian" who "said she / Was the town Indian," much as "the BBQ cooked from a cow" "tasted like a slaughtered cow." There's a lusty, swaggering quality to the writing, which seems to hunger less specifically for the cowboy or the Yankee (both of whom she auditions as lovers for the night) than for the freedom to desire, to be larger-than-life and larger than the categories that constrain or comfort the people around her. She has to discard her self-control—or, at least, the public expectation of self-control—in order to make room for both herself and what her "sweet cowboy" refers to, after calling her "high-heeled trouble," as her "tendency to lead."
That complicated freedom also manifests itself in a style that combines meticulous management of form and sound with swerving speech that feels almost willfully disordered, like a drunk dancing sloppily but nailing every step with an I-told-you-so grin. And it frequently takes Dawson into the places most poets would never think to go—not, at least, in their poems: commercial spaces, for instance, the kind that take up more of our time than they do our self-conception. When she sets a poem in a mall, she's in the mall, too, and not as an accidental anthropologist stumbling into an alien scene. She's there because she wants to buy something, and she knows the place well enough to take its workings for granted, even as she swerves past the racism that exists there because it still exists everywhere. She ends with a line ("Al Green is in the bush") that has been threading throughout the poem, a musical note that plays on outdated racial stereotypes while also referring to the more prosaic fact that the mall has tucked stereo speakers inside planters, but then she adds one more line, too:
This beat is like blackmail:
Al Green is in the bush
And there's a sidewalk sale.

Dawson seems committed to living happily amid the commercialism and complexity of our time, as well as the potential for personal rejection that can involve both. The mall poem is in part a celebration of music's power to persuade—one whose own persuasiveness comes primarily from the infectious sonic and intellectual movement of the poem itself—but it's also a determined and ultimately successful attempt to make herself at home in terms that are at once borrowed and her own.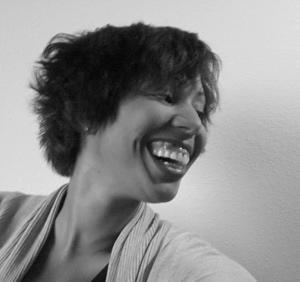 Near the end of a poem titled "Iguanas Fall from Trees," Dawson laces in a commonplace phrase: "You cannot cure / Instinct." In the context of the poem, it's a bit of a throwaway, but in the context of the book, it's surprising to hear from a poet who is so quick to put on so many poses. And yet for all of Dawson's breakneck shifting of vernaculars, she is persistently recognizable from line to line, poem to poem, and even book to book, writing in a way that suggests the stubborn persistence of our selves, even in the ways we seek to negate them. That word "cure" is suggestive, too, a quick reminder of the ways in which parts of our personality can be more than just persistent: chronic, diagnosable. Dawson's poems also record her struggles with OCD and suicidal "Ideation" (as the title of the book's final poem has it), if not actual attempts at suicide.
I've deliberately held off mentioning mental illness until now out of fear that it could too easily define her poems, a concern I also feel about having focused on race, drunkenness, and sexual appetite. All are prominent concerns for Dawson's writing, and all have a tendency to overdefine our reactions to black or female poets, but none is sufficient to understanding her value. Rather, it is in creating an art that encompasses all these subjects through a complex resistance to being defined by them—to being defined by any one thing—that Dawson draws an especially timely self-portrait.  She generates great energy by pulling at the impossible and sometimes pleasurable tangles of what is constant in us, and what is disposable in the world.
—
The Small Blades Hurt by Erica Dawson. Measure Press.
See all the pieces in this month's Slate Book Review.
Sign up for the Slate Book Review monthly newsletter.