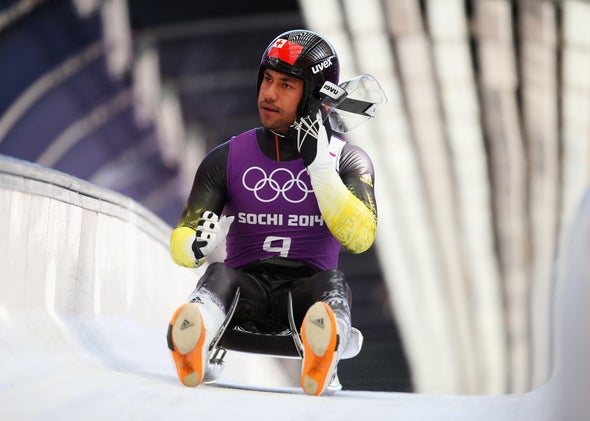 Back in 2012, I wrote a recurring feature called the Olympics Jerk Watch, in which I attempted to determine the biggest jerk at the London Games. (The winner: Mahiedine Mekhissi-Benabbad, a French steeplechaser who liked to pick fights with defenseless mascots.) I've always been one to run a good bit into the ground, and so I'm reviving the Jerk Watch for Sochi. Who's the most churlish athlete at the Olympic Village? Stay tuned and we'll find out together! (Note: Vladimir Putin is likely the biggest jerk at the Olympics, but let's get on with this anyway.)
Nominee: Bruno Banani, previously known as Fuahea Semi
Home country: Tonga
Known for: Luging, selling out, collaborating with Big Underwear.
Why he might be a jerk: In 2008, the government of Tonga—with help from an American marketing company—ran a contest to choose the island nation's first Winter Olympian. A young athlete named Fuahea Semi was the winner, and he prepared to move to Germany and learn to luge. To offset the cost of this expensive and quixotic endeavor, the marketing company suggested that Semi change his name to "Bruno Banani" in hopes of attracting sponsorship money from a German underwear company also called Bruno Banani. The Tongan government approved of this incredibly tacky idea and issued Semi a brand-new passport and birth certificate. The plan worked. The clothing company signed on. And as Greg Wyshynski recently wrote in a great piece for Yahoo Sports, the Bruno Banani "backstory" took shape:  
Instead of being chosen by the Tongan government in a casting call, Banani would take on the luge to win the hand of a princess. Instead of growing cassava, Banani's father would be a coconut farmer and use the catchphrase "coconut power!"; as coincidence would have it, the underwear maker that shared his name was releasing a "coconut power" line of clothing, too.
At first, Bruno Banani the company pretended that all this Banani synergy was just a coincidence, hoping that nobody would notice its role in convincing a poor Tongan man to debase himself for a shot at Olympic glory. But the truth soon got out, and while the international luge community was furious, there was nothing it could do—Banani's name change was legal, if terribly undignified. Big Underwear wins again!
Why he might not be a jerk: Changing your name for money and allowing a clothing company to use your Olympic dreams as a cheap marketing ploy is a pretty pathetic thing to do. But is it a jerk move? Hey, Tonga's a poor country, and Banani had to get those sponsorship dollars somehow. Besides, Banani seems like more of a pawn than anything else—if he had balked, Tonga would have certainly found some other young athlete to comply with the marketing company's vulgar scheme. And at least "Bruno Banani" is an actual name. It would have been much worse if Semi had changed his name to "Intel Inside."
Jerk score: I'll give Banani 3 out of 3 for style, because there's nothing more stylish than a chic, slim-fitting pair of Bruno Banani boxer-briefs. I'll give him 0 out of 3 for technical merit, because I can't rightfully give him credit for other people's work. 1.5 out of 3 for consistency, because he really could have made more out of that "Coconut power!" catchphrase. And 1 out of 1 in the "did I enable another stupid guerrilla marketing campaign?" category, because guerilla marketing really is the worst. 5.5 out of 10 for Bruno Banani. Next!
---