This Olympics, I've been struck by how Balkanized the Winter Games seem. With the inclusion of snowboarding and freestyle skiing in their various high-flying forms, the games have a modern extreme-sports edge that wasn't present when I was a kid. The traditional Alpine sports (skiing, speedskating) look more and more classical. And in between these twin poles, with the X-Games on one end and the Olympics' storied past at the other, figure skating appears to be stuck in 1976, a world of disco-era sequins and pastels.
Of course, like most Americans, I still adore watching the figure skating—like gymnasts, skaters must excel at both technique and artistry, a winning combination for viewers. No wonder figure skating is still the most popular sport of the Winter Games, so much so that, presumably to capitalize on its popularity, the International Olympic Committee added a "team" medal this year.
The IOC's skating onslaught of 2014 meant we had multiple chances to watch ice dancing, a category I've always found ludicrous—more akin to Skating with the Stars than to any Olympic sport. Even men's singles skater Johnny Weir, who was commenting on the event for the NBC Sports Network, said, "I can't remember the last time I sat through a free dance."

Watching ice dancing is like meeting a new boyfriend's annoying friend: It puts the nearby love object (in this case, all of figure skating) in an unflattering light. Ice dancing draws attention to the sport's tacky and flimsy costumes, its obsession with appearances (which also mean its unacknowledged eating disorders), its often cheesy choreography and unimaginative music. (Anything Goes, for the umpteenth time; or, today, two versions of Swan Lake.) Dancing on ice is certainly physically challenging, but it lacks the athleticism that makes sport sport. Its Summer Games analogue is rhythmic gymnastics, which no one watches except the Russians, who swept the last Olympics.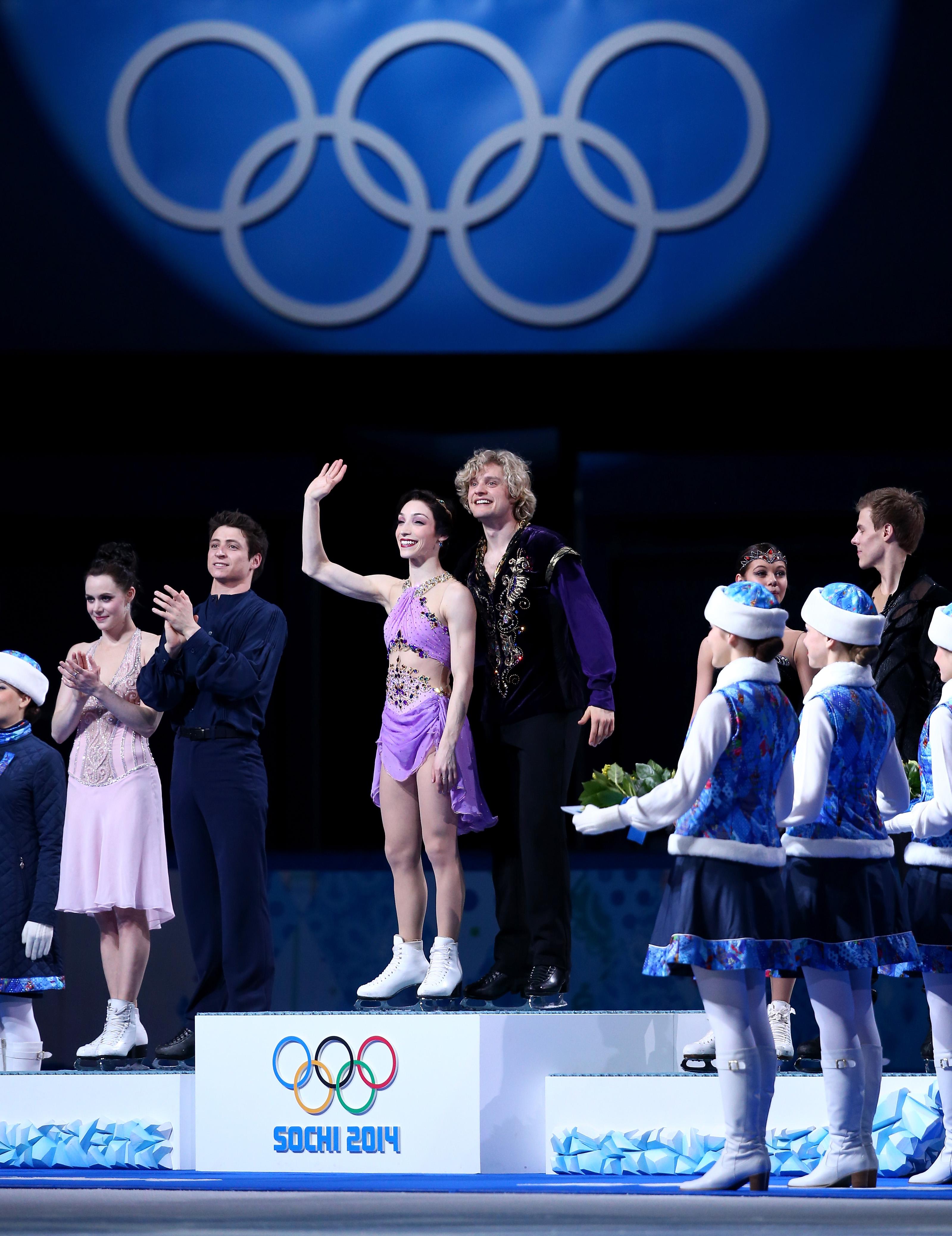 On Monday night, though, ice dancing was in the spotlight stateside, because Meryl Davis and Charlie White of Michigan became the first Americans to win gold in the discipline. Even as an ice-dancing skeptic, I will admit that today's high-stakes conclusion to the Americans' face-off with Canadians Tessa Virtue and Scott Moir was actually pretty enjoyable, even compelling. The back story to the event's finale is like something from a Disney flick: The two top teams practice alongside each other in suburban Detroit with the same coach, Marina Zoueva. Drama! They've seen each other nearly every day as they've trained for Sochi. Virtue and Moir won gold four years ago in Vancouver, with Davis and White taking silver. They've traded first place in the world championships over the past four years, with first Virtue-Moir winning gold, then Davis-White, etc. They tend to downplay their rivalry—but as Weir said today, it's not as if these four showed up in Sochi feeling idly curious about who would take first. Each pair was in it to win gold.

Add to that wacky situation a pair of talented, charismatic Russians, Elena Ilinykh and Nikita Katsalapov, and you had a recipe for emotional drama. Watching online, I could hear Weir and women's singles skater Tara Lipinski (who are both fabulous as commentators) getting more and more into it, crowing, "that program was pure perfection" after Davis and White, the final competitors, brought things to a close with a theatrical flourish.
On Sunday night, Davis and White got the edge during the short program, when they were scored much higher than Virtue and Moir, whose "twizzles" and mandatory step sequences were apparently not up to par. The Canadian press was outraged. "If the fix is not in against Tessa Virtue and Scott Moir, then I'm the Princess of Wales," wrote the Star's Rosie DiManno.
But how outraged can one really be when the main athletic point in question is something called the twizzle? As impeccable as today's performances were, the viewer was never on edge, never moved to that mysterious place that athleticism moves us to (which is distinct from the place theatrical artistry moves us to). No one fell; nothing went radically wrong. At most there were some unpointed toes, some "oafishness," to use Johnny Weir's highly technical language, some uncoordinated twizzling, some wobbly, burning knees. It felt like watching to see if the Rockettes would bobble, rather than worrying that a botched triple Lutz would leave a skater sprawled on the ice.
Still, the ice dancing makes for good TV, and the event had much of the drama NBC always tries to milk from its Olympic contests. Because there were so many strong contenders, the athleticism of the various step sequences and coordinated turns seemed more challenging and nuanced than it usually does. It helped that Lipinski and Weir are at once smart on the athletic specifics—the skaters need to be as close together as possible at all times, they explain—and hilariously sharp on the window-dressings. (They said that coming to the rink for an ice dancing event is "like walking into a Halloween party," and then they played "I spy": "I spy a Picasso painting, I spy a French swan, I spy an Italian Juliet.") The young Spanish pair of Sara Hurtado and Adrià Diaz, far out of the medal running, skated a routine that looked powerfully modern and surprisingly fresh. Two of the Russians wore muted neutrals that gave the viewer hope that ice skating might move along with the times, eschewing glitz for edge. Weir explained that there's a rule that ice skaters' outfits must cover at least 50 percent of their bodies, and that this was because of the ice dancers—at one point, apparently, they were showing up nearly nude.
It figures. This is theater, not sport. Is it time to retire ice dancing as an Olympic category in favor of a revival of Skating with the Stars? Such a show would have all the emotionalism and drama that NBC loves. In fact, it's already ready for prime time: There are costumes, and pop music, and emotional close-ups of the skaters waiting anxiously in the "kiss and cry" booth. It would probably be fun to watch, and most of us likely couldn't even tell the difference.