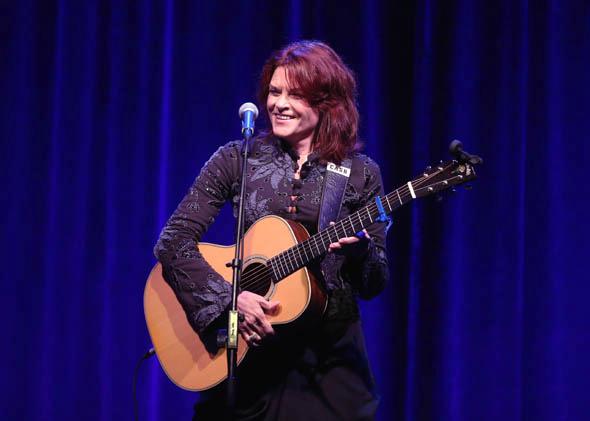 Rosanne Cash's first album of original songs in eight years is an on-the-road record. Indeed, it's a Highway 61 soundtrack, inspired by recent travels along that storied main drag of the South, plus many detours, with her husband and co-writer, the guitarist and producer John Leventhal.
The lyrics on The River & the Thread fittingly abound in road references. But the title—in a move that proves characteristic of Cash's method here—adds further layers, through two other symbols of pathways that ribbon through landscapes and lives: River, for the coursing currents of history, geography, and culture that shape the South. And thread, for the more personal strands of genetics, memory, and even literal fabrics—cotton and clothes—that entangle Cash herself in that complicated place (as she wrote about wonderfully this fall in the Oxford American).
The road is a river; the road is a thread. The potency of the album, perhaps Cash's finest since 1993's The Wheel and likely to be one of the best countryish records of 2014, arises in large part from this dialectic between external circumstances and private meaning, which twists unpredictably through nearly every song.
It is also a matter of distance and perspective—that of an artist nearing 60 and of a woman (and, significantly for this collection, a mother, sister, daughter, and wife, as depicted in last weekend's New York Times Magazine profile) who's defined herself apart from her heritage. She often tried to snap those bonds as a younger woman, resisting both the culture she was born into in Memphis, Tenn., in 1955 and the pressures of being the daughter of one of the South's most iconic sons, Johnny Cash, and stepdaughter of one of country music's monumental dynasties, the Carter Family.
After her birth parents' early split, Cash grew up in California, made her musical start in Europe, returned for a time to Nashville and now has lived for decades in New York. Through talent, will power, and unusually canny use of her connections, she established a career and a persona improbably self-sufficient for any child of a superstar. She was the most forward-looking of the "New Traditionalist" movement that bucked the country old guard in the 1980s (think of Dwight Yoakam, Lyle Lovett, and Cash's then-husband Rodney Crowell). Despite her Laurel-Canyon-gone-New-Wave look, defiant attitude and feminist intelligence, she earned 11 No. 1 country singles—astounding when you consider how tricky it is even today for comparably strong-minded, young, female voices such as Kacey Musgraves and Brandy Clark to get country-radio airplay.
Cash diverged from Nashville after her divorce from Crowell, while the industry was simultaneously retrenching with the Garth Brooks "New Country" era, and remade herself as a left-of-the-dial, introspective album artist: 1990's Interiors remains a too-often-forgotten landmark, a country sequel to Joni Mitchell's Blue (to which the new album's fiercest track, "Modern Blue," also pays homage).
She raised a multi-branched family, dealt with vocal polyps and serious brain surgery, and published a book of short stories and a deft 2010 memoir (which I discussed here). And it's only in this last phase that she's allowed family ties pride of place, with her 2006's suite of mourning for her father, mother, and stepmother, Black Cadillac, as well as 2009's acclaimed The List, comprised of a dozen covers from her dad's roster of essential American standards.
The River & the Thread completes that cycle of retrospection. Its starting point was in trips south to help restore Johnny's boyhood home—she dreams her way into those hard-scrabble days in the second song, "The Sunken Lands"—but its gaze also passes among destinations such as Robert Johnson's purported grave and the fraught Tallahatchie Bridge from "Ode to Billy Joe," plus tales spun from Cash's own peripatetic life and unsettled imagination.
The album can claim a sure classic in "When the Master Calls the Roll," a ballad about a woman who loses her husband in the Civil War that's rooted in Cash family genealogy (ancestors fought on both sides of the conflict): It subtly parallels their severed marital union with the sundered national Union, as pulsing Appalachian fiddles and New Orleans funeral brass underscore a vision of reconciliation. At once fresh and eternal-feeling, the song is all the more poignant when you know it was composed together with not only current husband Leventhal but Cash's ex-spouse Crowell. But its charge also supersedes any of that background—the first time I heard it, I had shivers by the second verse.
Many of the other songs are nearly as affecting, on a record that at 38 minutes is as concise as it is wide-ranging. "The Long Way Home" seems woven from both Cash's life and her mother's; its cycle of estrangement and return is as old and universal as a fable, yet told with an edgy patience reminiscent of the best of Aimee Mann. Opener "A Feather's Not a Bird" is an imagistic statement of purpose laid out in a bluesy shuffle that sets up both an immediate sense of place and the album's ongoing tension between rootedness and flight.
The elusive chamber waltz of "Night School" steps back from regional sounds with a nostalgic and shrewdly sexy artsy noir that, say, Neko Case might sing. "Etta's Tune" is a close-up view of a long marriage—that of Cash's father's original bass player and his wife—whose warmth and affection doesn't rely on concealing pain or conflict.
"Money Road" effectively evokes uglier sides of the South's past and present (for African-Americans and for women, among others), as much with coiling electric-guitar as in the lyrics. It's an oddly bitter ending to a generally more forgiving record. Too bad the standard issue of the album doesn't include one of the deluxe edition's bonus cuts, an organ-levitated version of Jesse Winchester's "Biloxi," a mirage-like miniature of seaside, starlit leisure on the Gulf of Mexico. (The other two outtakes, a half-finished song called "Southern Heart" and a cover of Townes Van Zandt's "Two Girls" that totally misses its shaggy-dog Zen humor, are better left alone.)
"Biloxi" ends on a playfully erotic image that would cap nicely a key subtheme of the album—Cash and Leventhal's collaboration in (to borrow an earlier album title) rhythm and romance. Throughout, his guitars are in dialogue with her vocals, which are perhaps more unguarded and assured here than they've ever been. It's this sense of intimate exchange that helps alleviate my misgivings about Leventhal's production style, which at times feels too tastefully professional and measured for the material.
What could have been an album peak, for example, the gospel-radio tribute "50,000 Watts" ("of common prayer"), cries out for a more unrestrained, clapping-and-shouting treatment than it gets here. There's a similar sense of remove from many of the Southern-music styles that are alluded to. Of course you could say that's appropriate for the couple's position as Northeastern visitors—a reach for "authenticity" could have gone very wrong. But I do long for more of a snap and spark of spontaneity to break up the middle-aged-wisdom, public-radio ambience. The "50,000 Watts" sound also helps point up that how circumspect the record is about acknowledging the black South—again, an understandable caution for a white outsider, but a limiting one.
This is a general issue with Cash's work since she began working with Leventhal, on 1996's 10-Song Demo: whether she's grown duller since she abandoned Nashville and with it the quest for broad popular appeal. I mentioned NPR above, and a recent post on its website posed a question that sums up everything that (for all its strengths as a music service) can be deadly about the network: "Can You Imagine a World Without Music Genres?"
Some self-styled aficionados tend to think that genres are some kind of vulgar, exclusionary prejudice that ought to be transcended and left behind, rather than containers of history and practices that are always evolving and offering forms for artists to test themselves against. Of course they shouldn't be straitjackets, as Cash's own past Nashville career attests. But like the family stories that frame this album, genres are grist and context. When they're diluted, made too open-ended, what excitement remains in violating or hybridizing them?
Which is to say I sometimes wonder what the advantage is in rendering the likes of The River & the Thread as a vaguely "Americana" record, compared to how much it might crackle if it aimed more squarely at being country. I'm tempted to argue that, as Bob Dylan sang in his tune dedicated to the thoroughfare, Highway 61 is always in its bones a route where God wants some killing done.
That said, there's more vitality, space and texture to this album than on any of Cash's previous softer-edged recordings, and I hasten to clarify that those were no slouches either. The writing and production may not be as urgent as it was in her 20s and 30s, but she's mastered an ease and expansiveness she lacked back then.
Rare are the artists one can hear continuing to learn and grow in anything like a fourth decade of making popular music. Johnny Cash, in his late, Rick Rubin–guided renaissance with his American Recordings series, turned out to be one. With The River & the Thread, Rosanne Cash verifies that she is the keeper of the family flame on that plane among many others.
---