Dinner vs. Child is a biweekly column about cooking for children, and with children, and despite children, originally published on Food52 and now appearing on Brow Beat.
Today: Nicholas resolves to feed his children too much dal.
Last year I resolved to feed my children too many eggs. 
Dear reader: I did not fail. And not just that: I also fed my children too much cereal. 
My ability to meet extremely modest New Year's resolutions is unmatched. Part of the reason you drink so much on New Year's Eve is that you're trying to forget everything you didn't do. (Well, and everything you did.) It's painful to resolve to do new things in such close proximity to the things you didn't do. It'd be much better if we built in a month interval. Personally, I make all my meaningful New Year's Resolutions on Lincoln's Birthday.
This year I'd planned to resolve to feed my children too much cereal but—in an unanticipated burst of productivity—I'd already done that. So I hereby resolve to feed my children too much dal.
In the very first Dinner vs. Child column—now a collectible item—I wrote about dal. Specifically, I wrote about lentils and about chana dal with golden raisins, which you should go make now. Serving dal to small humans may sound ambitious but it is not: many dals are surprisingly child-friendly, if you turn down the heat, and if your children refuse to eat it, I will finish their bowl. 
But I also wrote about beans more generally. I was not kind. You may want to send the children to another room:
There are few more discouraging words in the culinary vocabulary than beans. I do not say this proudly. I know I am supposed to prize beans as the soul of proper peasant cooking; I know beans, with some help, supply a good quantity of the world's protein. Beans are honest, unfancy, forthright. If your car needs fixing, the beans will help you. Will the sun-dried tomatoes help you? They will not.
Not liking beans is like not liking your really nice next door neighbor just because he happens to be boring. It feels like a moral failing.
This is an old story: Naïve, angry, desperate to make his way in the world, a young man writes an incendiary column about beans, and then, once he has lived longer and met more beans, repents. It's the theme of most of the great Russian novels.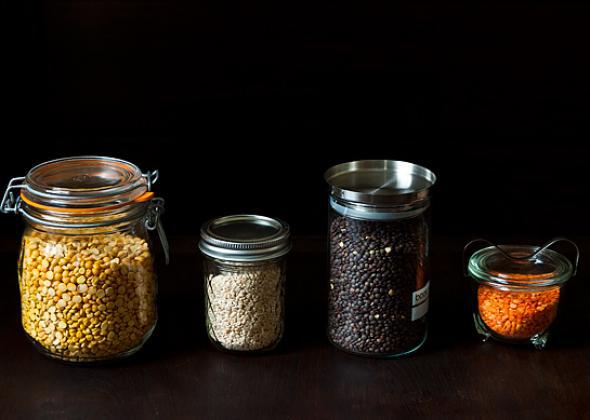 I disliked beans because they were fickle and wildly variable, and because they'd ruined countless dinners by sitting idly in their pot and refusing to cook. These are still problems. But a slow cooker solves them.
We bought a slow cooker the way most people buy slow cookers: late at night, half on impulse, after trying search queries like "LIFE EASIER LESS COMPLICATED HOW." The keywords that lead people to slow cookers are the saddest keywords in the world.
The slow cooker did not solve every problem in our lives, which it turns out is not covered under the warranty. For some people, getting a slow cooker is like getting a dog: It suddenly constricts all other subjects of conversation. You like dessert too? Do you know you can make dessert in the slow cooker?
I do not want to make dessert in the slow cooker. I do not want to make lasagna in the slow cooker. (If you make lasagna in a slow cooker, I would suggest investing in an oven.) But a slow cooker is a superlative cooker of beans—it offers low, tender, patient heat, which is more than I can do. It is not a glass flask buried in the cinders of a Tuscan fireplace, but our fireplace isn't Tuscan either. Given time, it produces superbly creamy beans with zero oversight. And it makes the most stubborn beans yield.
The wonderful dal below does not require a slow cooker: it uses masoor dal, or red lentils, which are not slow or stubborn. But I found the recipe in The Indian Slow Cooker and I first made it that way; both methods are below. It's the perfect dal for January—rich, homey, coconut-y—and a sturdy foundation for a simple supper; it also freezes without incident.
The offer to finish the bowls of your children still stands.
A Simple Homey, Coconut-y Red Lentil Dal
Makes 11 cups
3 cups red lentils (masoor dal)
1 medium yellow or red onion, roughly chopped
1 cup tomatoes, canned or fresh, finely chopped
½ teaspoon cayenne pepper
1 teaspoon ground cumin
1 teaspoon ground coriander
½ teaspoon ground turmeric
1 tablespoon sea salt
2 tablespoons vegetable oil
2 teaspoons cumin seeds
1 teaspoon black or yellow mustard seeds
½ medium red or yellow onion, finely chopped
15 to 20 fresh or frozen curry leaves (optional but worth seeking out)
One 14-ounce can coconut milk 
See the full recipe at Food52.
Previously:
Gingerbread So Good You'll Want to Make It a Christmas Tradition
How You Know You're a Grown-Up: You Look Forward to Cabbage
What Thanksgiving Really Needs Is More Pickles
It's Easier Than You Think to Get Kids to Eat Beets
Why Can't We Eat the Same Pumpkins We Carve?