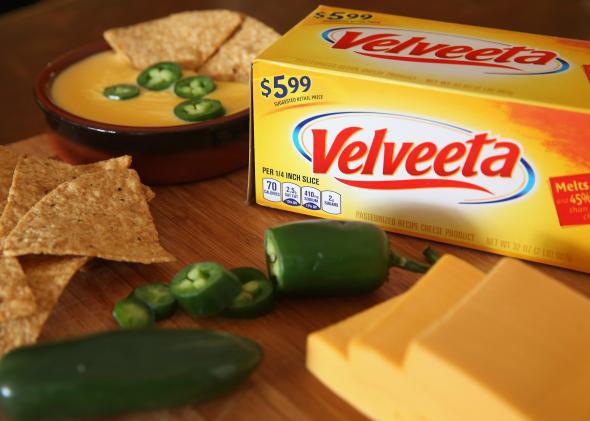 Advertising Age reports that Kraft is experiencing both high demand for Velveeta and low supply because of "a plant issue"—leading to a shortage of its iconic pasteurized prepared cheese product in some areas on the East Coast. This is obviously devastating news for everyone who thinks the best part of watching the Super Bowl is the queso, and these people have taken to Twitter to virtually beat their breasts and gnash their teeth with the hashtag #Cheesepocalypse.
But is the Velveeta shortage really as bad as it seems? The neolexic portmanteau "cheesepocalypse" seems inaccurate for at least two reasons (not including hyperbole). For one thing, Velveeta can't even legally be labeled "cheese," in accordance with the FDA's standards of identity for dairy. For another, there are many kinds of legitimate cheeses—not to mention other processed cheese products—that have not (yet) been made scarce by the fickle dictates of supply and demand. Presumably a true queso fanatic could melt slices of American cheese with Ro-Tel for similar results. (NB: Please remove the paper lining from in between the slices of American cheese before attempting to melt.)
If you're more ambitious, or more flexible, there are many cheesy dip alternatives for your Super Bowl party (or whatever other occasion you typically mark with Velveeta dip, e.g., your Wednesday afternoon at the office). You could make a traditional queso, based on actual cheese, such as the queso blanco my colleague Dan Pashman and I sampled on the cheese episode of our food podcast. Or a rich yet restrained spinach-artichoke dip with cream cheese and Parmesan.
If those vegetable-rich options sound too suspiciously healthy, you still have options. One colleague recommends Food52's Nacho Cheese Sauce, which he describes as "disgusting-sounding but accurate, for people who like phantom movie-theater cheese." (It calls for butter, heavy cream, buttermilk, and Monterey Jack.) Another coworker likes Hormel's recipe for baked potato dip, which she says is superior to other versions because it contains both sour cream and cream cheese (plus cheddar).

Or perhaps we should all take the Velveeta shortage as an opportunity to adapt our palates to vegan cashew cheese. Cheese, after all, has one of the highest carbon footprints of all animal products. And compared to the effects of global warming, the #Cheesepocalypse doesn't look very apocalyptic at all.
---