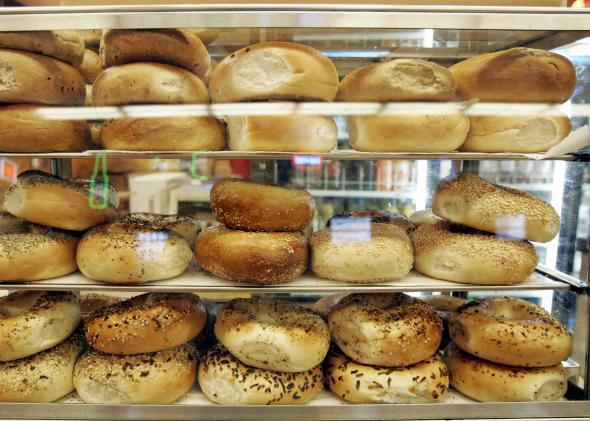 Earlier this month, newly elected New York City mayor Bill de Blasio came under fire for his pizza-eating technique. Late last week, the mayor traveled to Washington, D.C., and was given a second chance to establish his culinary authenticity: A journalist asked him where to buy bagels in New York. Mayor de Blasio recommended the Bagel Hole in Park Slope, Brooklyn—and, to his relief, I imagine, no one began muttering about Bagelghazi. Apparently, de Blasio passed the test. It was not a new one: The press has scrutinized the bagel preferences of every New York mayor in recent memory. I wouldn't be at all surprised if aides at Gracie Mansion prep for this kind of thing.
New York's last mayor, Michael Bloomberg, courted controversy when he said that a bagel he'd had at Fairway—a beloved but decidedly upscale New York supermarket—was "one of the best bagels I've ever had in my life." During Rudy Giuliani's first week as mayor in 1994, Newsday saw fit to report his family's bagel-buying habits on the Upper East Side: At Bagels on York, "Donna Hanover Giuliani has occasionally stocked up, spending $30 or $40 in a visit. And the first family has regularly stopped in for breakfast." (When he later ran for president in 2007, Giuliani became a bagel opportunist, making public appearances at Einstein Bros. and fawning over the bagels at a New Hampshire diner.)
David Dinkins, who served from 1990 through 1993, was New York's first (and only) black mayor, and he had a bumpy relationship with the city's Jewish voters. He may have had that relationship in mind when he made a scheduled public appearance eating bagels at Ratner's Dairy Restaurant on the Lower East Side during his campaign. (His wife, Joyce, divulged in a Newsday profile that she began most days with a bagel and coffee.)
At that Ratner's campaign stop, Dinkins ran into his rival in the Democratic primary, Ed Koch. Koch, who served from 1978 until Dinkins defeated him in 1989, was the king of mayoral bagel-philes. He served 800 bagels at the reception for his inauguration in 1986. When Charlie Gibson asked Koch to name "the best kind of bagel in the world" on Good Morning America 10 years later, Koch knowingly replied, "Well, these are H&H, and they are very, very, very good. I can tell." He shilled for Dunkin' Donuts when it began selling bagels in 1997. A Dunkin' Donuts representative explained the choice by calling Koch "the quintessential New York maven of bagels."
So why do we—both journalists and New Yorkers in general—care about whether our mayors have good taste in bagels? Having a good answer to the bagel question is meant, in part, to demonstrate a politician's appreciation for Jewish culture and, by extension, Jewish voters. But inquiring about our mayors' bagels preferences also stems from the same culinary chauvinism that spawned Pizzagate. Bagels, like pizza, are an affordable food brought over by early NYC immigrants, and thus are seen to confer a kind of working-class credibility on those politicians who properly enjoy them. Plus, it's easier to judge a mayor's taste in breadstuffs than it is to evaluate his or her policies—particularly for the pundits in the press, who are sometimes loath to wade into the minutiae of, say, city tax rates.
Of course, for those of us inclined to think better of de Blasio for his good taste in bagels, it's worth noting that a mayor's bagel preferences have absolutely nothing to do with his competence. And besides, the quality of any bagel, no matter where it's from, is determined almost entirely by its freshness.
---