I had a moment of alarm during last night's Grammy Awards when one of the freshest voices in rap, Kendrick Lamar, appeared on stage in a white hoodie surrounded by the also-white-clad semi-rock group Imagine Dragons. It wasn't just because of the gross injustice of Lamar being forced to perform with one of the most anodyne ensembles of this or any other century, although I did momentarily want to fly to Los Angeles and march around the Staples Center with a "Free Kendrick!" placard. (Miraculously, he crushed it anyway.)
No, it was because the all-white costumes suddenly made me wonder whether the Grammys were openly acknowledging that "White People" was this year's official theme. The rap categories were swept by the cuddly pale indies Macklemore and Ryan Lewis. (They also won Best New Artist, though even Macklemore said that Lamar should have won.) And not only was Lamar shut out (despite his seven nominations), but the most provocative and influential hip-hop album-maker of the year, Kanye West, got only two nominations and wasn't invited to perform or present. He apparently wasn't even on the premises. Given the rest of this year's ceremonies, I assume his crime was being too exciting.
I'm not as irritated by Macklemore as a lot of rap fans are, but the Grammys mirrored the troubling fact that, as my colleague Chris Molanphy first reported in Slate's end-of-year Music Club, 2013 was the first year (in 55) that not a single song led by a black artist topped the Billboard singles charts. Aside from one win for Jay Z (for Best Rap/Sung Collaboration), that pattern held on Sunday night.
Granted, the Grammys have always been too white and too old, but there has been a concerted effort to liven up the TV show, reducing award announcements and emphasizing more of-the-moment performers. In fact, it's now almost as popular a broadcast as the Academy Awards. The Grammys have never threatened to take over the scandal-generating role of the Video Music Awards. There, Robin Thicke sang "Blurred Lines" while Miley Cyrus twerked lasciviously and, arguably, racially insensitively; on the Grammys, Thicke sings "Blurred Lines" as a medley with Chicago's greatest hits. (For those under 35, Chicago were … no, you really don't need to know.) But they have been striving not to be a total snooze.
But this year the proceedings seemed to be coasting on that success, and were pervaded by a general slackness. The show was like a poorly sequenced four-hour mixtape in which highlights are sporadic and jarringly juxtaposed.
The evening started strong, with a wet-haired, cat-suited Beyoncé doing a bootylicious chair dance before being joined by a suave Jay Z to seduce the world with their latest connubial-bliss duet "Drunk in Love," which established the couple as the real hosts of the party (and First Couple of pop nation, if there were any doubt).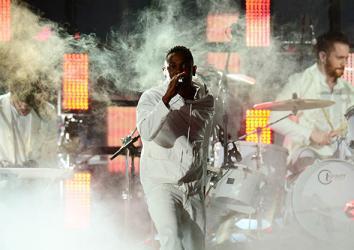 Daft Punk's jam on "Get Lucky" with (Producer of the Year winner) Pharrell, guitarist Nile Rodgers, and Stevie Wonder (which weaved in Rodgers' former band Chic's "Le Freak," the robots' own "Harder, Better, Faster, Stronger," and Wonder's "Another Star") was another peak. The French duo became the night's biggest winners, taking home both Record and Album of the Year. But while this was a relatively progressive choice by Grammys standards, and "Get Lucky" is a monster single, it still amounted to anointing a veteran white group playing retro-styled black dance music, with African-Americans as side musicians.
In that context I found it hard to be moved by the show's structural climax, in which Macklemore and Lewis, their collaborator Mary Lambert, Queen Latifah, and Madonna performed, simultaneously, their pro-gay-marriage anthem "Same Love," Madonna's "Open Your Heart," and an actual, apparently legal wedding ceremony for 34 couples of various genders. (Was the wedding theme the real reason for all the white outfits?)
The foremost complaint about "Same Love" is that it's more concerned about affirming how terrific straight people are to be tolerant than about understanding gay experience. Usually I find that an unfairly harsh reading of a song of solidarity that can provide an entry to the issue for young Macklemore fans. But in the self-congratulatory atmosphere of the Grammys, with the weddings of 68 people reduced to liberal-kitsch window-dressing and Ryan Lewis at one moment physically pushing Latifah out of the way of Madonna's entrance (I guess it's white ladies first?)—well, it was hard not to see the critics' point.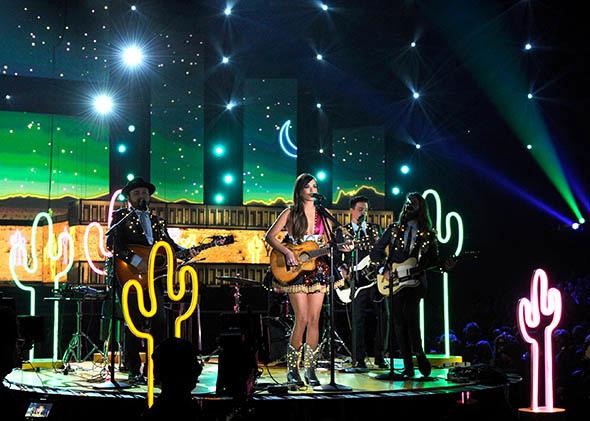 Meanwhile, along with all the other pastily complexioned artists the event was toasting, it was disproportionately devoted to the permanently redundant task of celebrating the Beatles—or rather, to stirring up promotional buzz for the Grammys' own upcoming Beatles 50th-anniversary TV tribute. It wasn't enough for Paul McCartney and Ringo Starr to play a middling new Macca song, but Ringo had to do endless choruses of one of his few solo hits, "Photograph," while he bobbed about like Lawrence Welk in a haze of champagne bubbles and Peter Frampton strummed along.

The other excuse for Sir Paul's presence was his nomination and subsequent win for Best Rock Song with the surviving members of Nirvana for a song they revealed they'd tossed off in two hours in the studio. Meanwhile, the winner of Best Rock Album was a Led Zeppelin live disc recorded in 2007, and Trent Reznor was apparently furious when his closing set with Josh Homme, Dave Grohl, and Lindsey Buckingham was cut off midway through to credit hotel and airline sponsors. In sum, this does not speak positively to the health of rock as a mainstream genre in 2014.*
The place that classic-rock sounds do still thrive commercially is on country radio, as a briefly thrilling electric-guitar duel between Keith Urban and new-bluesman Gary Clarke Jr. testified. It was good to see country get its due on this year's Grammys, considering that it's one of the few segments of the biz that still sells records, and the grizzled-outlaw jamboree of Willie Nelson, Merle Haggard, and Kris Kristofferson (with contemporary star Blake Shelton) was particularly welcome. But younger talent was done a disservice when the upset winner of Country Album of the Year, Kacey Musgraves, was shuttled out between neon cacti to try and follow Kendrick Lamar's barrage of noise and verbiage without any kind of transition. Musgraves is an urbane, smart-mouthed maverick who's butted cheerfully up against country orthodoxies—it takes a pretty ham-handed production team to set her up like Molly Milquetoast.
Though she didn't win any trophies, the night was also a bit of a landmark for Taylor Swift, who conquered all comers (there were too many) for the night's best piano ballad. In the past, Swift's award-show performances have been an Achilles' heel, nervous and pitchy in ways that abet those who would dismiss her. This year she sat down to perform her album Red's centerpiece number "All Too Well" and nailed it with the aplomb of a maturing artist who routinely plays to packed stadiums around the world. What I'll remember well are the shivers that ran up my neck from some of the song's most emotionally precise images and phrases, and wondering where she picked up her new Ani DiFranco-esque vocal trill/growl—not the usual insta-GIF'd cheap shots about Swift's hair-whipping or offstage facial expressions.
An even younger female singer-songwriter, Lorde, also consolidated her reputation Sunday by scoring several awards and doing a stripped-down version of her hit "Royals," perhaps in part to foil any skeptical back talk. Her acceptance speeches were jewels of adolescent awkwardness that made me hope, probably vainly, that she wasn't striking up any celebrity friendships backstage, but would hustle home to her nourishing New Zealand posse and preserve her perspective.
Overall, though, the aftertaste was more sour than sweet. It was especially hard not to react cynically to all the actors dropping by to gird up their awards-season campaigns, most of all Jared Leto being permitted to deliver a middle-school-public-speaking-contest rendition of "Walk on the Wild Side," seemingly less to mourn Lou Reed than to remind us of his role as a transgender woman in Dallas Buyers Club.* (Jordan Catalano, why are you like this … like, how you are?)
But rather than tally further grievances, I'll close my eyes and think of the Grammys' superb Lifetime Achievement picks (including Kris Kristofferson, the Isley Brothers, Kraftwerk, and zydeco titan Clifton Chenier), which were reminders that eventually the Grammys get some things right, along with my favorite Pharrell's-hat tweet ("Please be Gryffindor, please be Gryffindor"), and hope for better next year.
Correction, Jan. 27 2014: This article previously described Jared Leto's role in Dallas Buyers Club as being a transvestite. He played a transgender woman. (Return.) Additionally, the article misspelled Lindsey Buckingham's first name. (Return.)