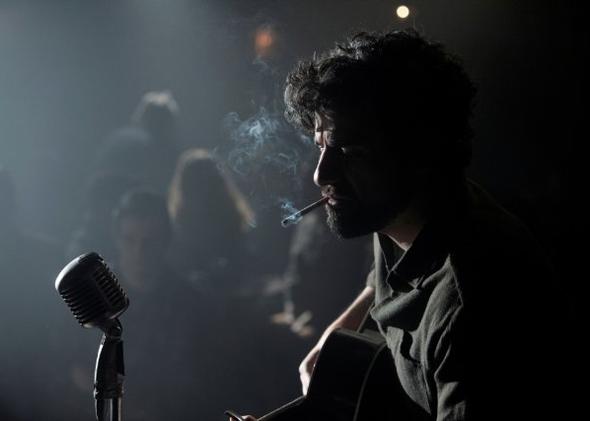 After premiering in just a handful of cities earlier this month, Inside Llewyn Davis is gradually expanding to a nationwide audience, and it's earning an enormous amount of critical praise. Much of that adulation has been directed at Oscar Isaac, the 33-year old rocker and Juilliard-trained actor who has received a Golden Globe nomination for his performance in the title role.
I got a chance to speak with Isaac over the phone about folk music, Charles Bukowski, and working with the Coen brothers.
Slate: You do a remarkable job in the movie capturing the sort of itinerant melancholy that hovers over some musicians. How did you get into that space emotionally?
Oscar Isaac: It was all in the pages of the script. The Coen brothers are geniuses that way, able to write thoughts into the scene. I had to really get into it, and not take it as a comedy, and capture the mood and the rhythm. They write almost like Shakespeare, where the emotion is just there. I also watched a lot of Buster Keaton movies. His characters are all struggling to survive, but persevere. Llewyn is someone who's examining his existence when the comic and absurd are intermeshing—kind of like brackish water—but not feeling sorry for himself.
Slate: Did you try to make Llewyn sympathetic?
Isaac: Not really. You see that he has something generous and authentic that he wants to say. There's a Charles Bukowski poem called "Bluebird" where he talks about how "there's a bluebird in my heart that/ wants to get out/ but I'm too tough for him." That was my refrain for a while. Llewyn's "bluebird" is playing his songs.
Slate: You've said that you did some social experiments to get into the role, like not smiling at people. What was that like?
Isaac: It was really interesting. It was a lot of like, going to a party and not charming people and not doing things to make them feel at ease. It wasn't about being cool and detached, but really trying to engage with people. It really puts you out there and makes you really vulnerable, because some people really don't like you and others you feel immediately connected to.
Slate: What was your reaction to landing the role?
Isaac: "Lucky for me they couldn't find anybody!" I guess I knew that the competition wasn't too stiff, so that's good. I freaked out when I found out. Literally, nothing better could have happened.
Slate: And the Golden Globe nomination?
Isaac: I was moved by the nomination—I wasn't expecting it at all. I was on The Today Show, they brought me on to promote the movie and kept me around to catch my reaction in case I got nominated or watch me sneak away in shame.
Slate: What did you learn from working with the Coen brothers? What was the set like?
Isaac: They create a community of artists, where no one has real ownership of ideas. It was the most relaxed and comfortable set I've ever been on, but it was efficient. Friendship with them is a bigger takeaway than any award or box office success could ever be. There's a lot of history in every frame. The Coens don't show you what life looks like, but what life feels like. And for this guy [Llewyn], it's grim and absurd.
Slate: Do you recall any particularly memorable moments on set?
Isaac: It was the last day, after the last shot, and Ethan came out with Llewyn's guitar and guitar case and gave it to me as a wrap gift. Inside the case was a little plaque that read "Wow," which was a reference to a scene where Llewyn sings to his father and he shits himself, and says, "Wow."
Slate: This was a big year for party music, with Miley Cyrus and Robin Thicke topping the charts. But there's still a draw to folk music. Is it nostalgia? Or something else?
Isaac: Party music has been a thing for a while now, and that turns into anthemic music and that turns into people wanting to hear something more intimate. You want to hear the human being.
Interview has been condensed and edited.
---