Dinner vs. Child is a biweekly column about cooking for children, and with children, and despite children, originally published on Food52 and now appearing on Brow Beat.
Today: The missing ingredient from your Thanksgiving spread? A little something for the grown-ups.
I have a theory that what Thanksgiving dinner really needs is more pickles. Since this theory is obviously correct, and since any sensible, right-thinking person already thinks this, let's delve into it later. Right now I need to apologize for the recipe below.
You see, I tried to give you some sort of kid-friendly pickling recipe. (Like, you know, pickled goldfish crackers.) I tried to think of your needs. I did. But then, somewhere in the extensive recipe development phase for pickled fruit roll-ups, I got fed up. No, I thought. Thanksgiving is too kid-friendly already. It feels like a meal for which the Pilgrims, when they were deciding what to serve, focus-grouped the menu with the local third grade.
In other words, Thanksgiving does not need a kids' menu. It is the kids' menu. There is plain white meat. There is stuffing. There is cranberry sauce. There are sweet potatoes. When the traditional Thanksgiving meal was invented a century ago, it was apparently thought that the early colonists were extremely picky eaters.
But if Thanksgiving can be invented once, it can be invented again. This time with pickled sweet chipotles.
Yes, your child will probably not eat pickled chipotles. (Unless your child is still baby-sized and thus still weirdly tolerant of chilies and will in fact scream until you agree to serve everything with Sriracha. I swear. I have lived it.) On the other hand, if he does eat them, that's the sort of detail that really makes a college application come alive.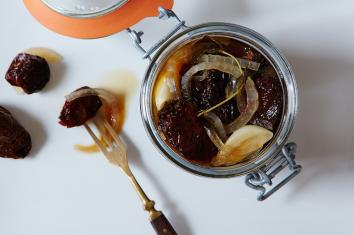 The first time I ever made pickled chipotles it was for Thanksgiving, because that year we were doing Mexican Thanksgiving. Really, we were. With a mole turkey and everything, like we were staging a "Spice Up Your Thanksgiving with International Flair!" 1990s-era photo shoot from Gourmet, except with fewer radiant, vaguely flirtatious twentysomethings and more babies. (For the record, Mexican Thanksgiving is delicious, but Canadian Thanksgiving is far easier, once you shoot the moose.) I don't remember if the babies ate the pickled chipotles. I just remember that I did. 
You could argue that since pickling is a method of preserving the harvest, and since chilies are native to the New World, sweet pickled chipotles are actually a traditional Thanksgiving side. I will not argue that, but you could. I will argue that any meal is better with pickled chipotles but no meal needs them more than Thanksgiving. After stuffing, and gravy, and more stuffing, and potatoes, and yet more stuffing, what you need is something that will take the stuffing out of you. There are a lot of ways to do this: pickled onions, pickled green tomatoes, pickled green beans (think cucumber pickles that are all exterior, like a muffin that's all top). Open Kevin West's Saving the Season almost at random and you'll be all set.
But for Thanksgiving I like these party-crashing pickled chipotles, from Rick Bayless, best: Sharp and lively, with a lingering warmth, they are what you least expect from the holiday table, but they make you appreciate it even more. Also, they awaken you from your stuffing-induced coma before all the pie gets eaten.
Plus, and this is the kid-friendly bit, you have just made pickled peppers.
Sweet Pickled Chipotles, Just Like the Pilgrims Ate
Very lightly adapted from Rick Bayless's Mexican Kitchen
Makes 4 cups
4 ounces chipotle chilies
1 cup cider vinegar
½ cup dark brown sugar, packed
4 sprigs fresh thyme (or ½ teaspoon dried)
4 sprigs fresh marjoram (or ½ teaspoon dried)
3 bay leaves
1 medium white onion, sliced ¼ inch thick
1 head of garlic, cloves peeled and halved
2 teaspoons salt, approximately
See the full recipe at Food52.
Previously:
It's Easier Than You Think to Get Kids to Eat Beets
Why Can't We Eat the Same Pumpkins We Carve?
Chicken Liver Pâté for Kids (Really)
Why Is Planning Dinner So Hard?
Why Do People Plant Berries They Can't Eat?
How to Cook Dinner When a Small Child Is Dangling From Your Limbs