Maureen Ruddy Burkhart found herself examining her life last March while preparing to memorialize her recently deceased mother.
It wasn't the first time she had stepped back to look at herself, but it was the first time—at age 59—she had lost a parent. She wanted to honor her mother by giving whatever she could by volunteering her time and talents for someone who could use them. "Losing a parent really brings home the finality of this life; it represents the last phase because now you have become the oldest generation," she said.
Kelly Fenson-Hood, a good friend, had recently quit her job to become a full-time unpaid administrator of a nongovernmental organization with Power of Hope Kibera (POHK), a hygiene-centered microenterprise based in the Kibera slum—the largest slum in Kenya and the largest urban slum in Africa—outside of Nairobi. Because Burkhart is an accomplished photographer and documentary filmmaker, she asked Fenson-Hood if POKH might need help with photography. As it turned out, they needed images that showed their work in the slum for research and development and to develop a grant-writing campaign. Burkhart paid her way to Kenya and spent four weeks this past July documenting the people who live there.
At first, Burkhart found her greatest challenges to be technical—dark interiors, bright sunlight against dark skin—and it took her a few days to get the hang of things. She said she didn't intend at first to create a series in black and white, but after a few days it became clear color wouldn't work. "I see color as the 'great seducer,' sucking us in with its vibrancy," she explained. "Color is full of emotion, and I knew that I wanted the emotion to come from the subjects themselves. I needed to convey the virtues that I was handed by my subjects, pure and raw."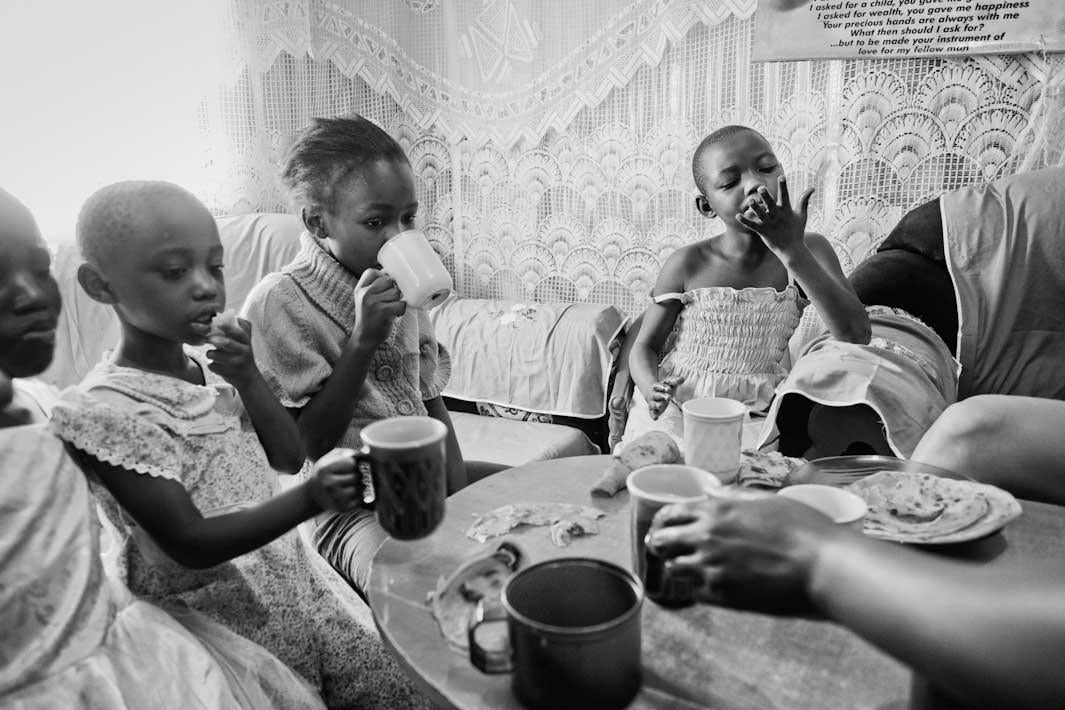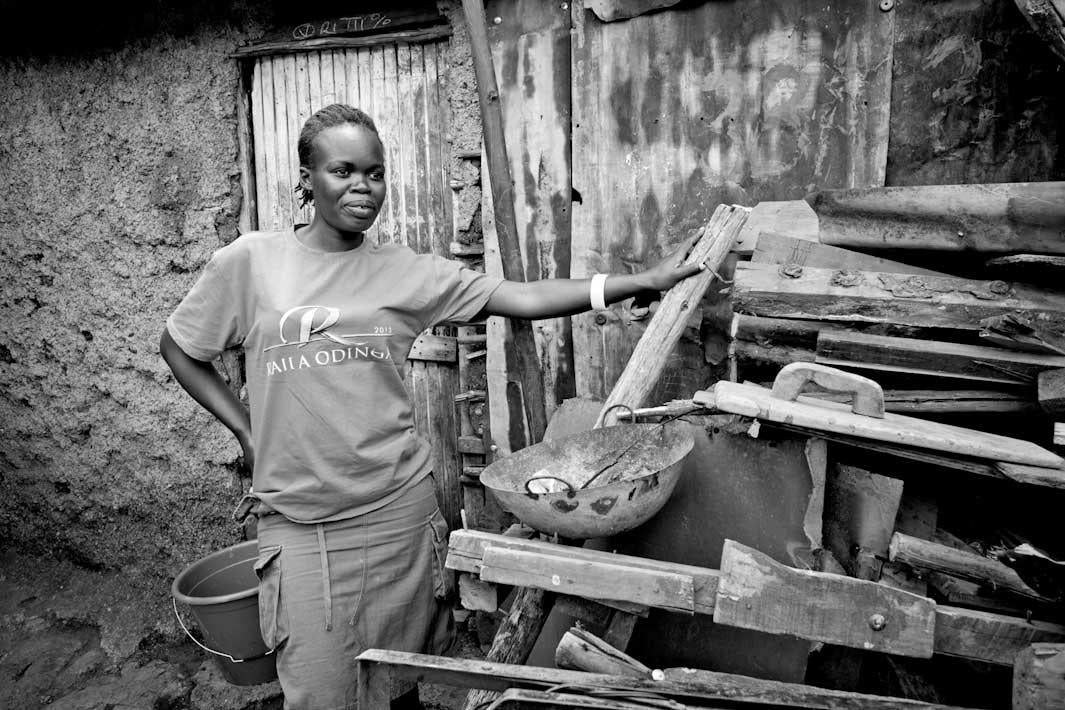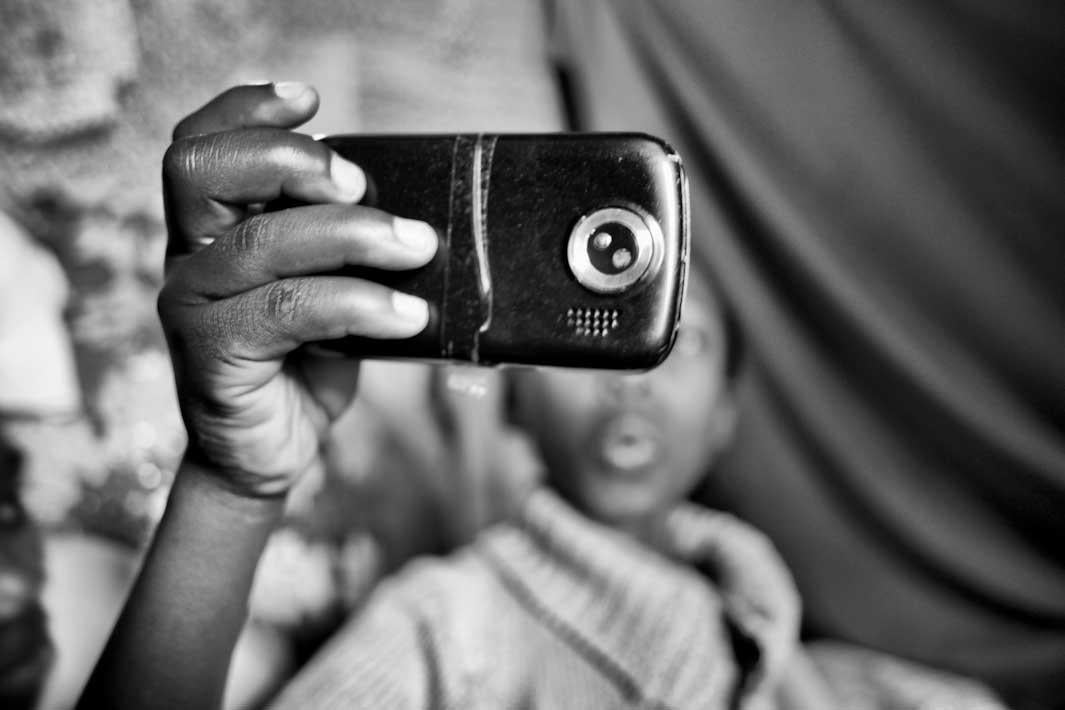 Burkhart decided to call the project "Slice of Heaven" because after the first day of shooting, rather than the bleak dreariness one might expect from visiting a slum, all she could remember were the smiling, laughing faces of the people she had photographed. "I thought that truly this place is a slice of heaven," she said. "To my mind, heaven is a place devoid of earthly possessions. What makes heaven what it is, is a state of being—being loved, being joyous, detached from the trappings of this world. Of course we are human and have basic human needs like work, shelter, health, and education—thus the title."
Early in the process, Burkhart felt like a conspicuous foreigner, as many people honked their horns or stared at her, calling her muzungu or "white person." But once she was deep inside Kibera, many of the residents were accustomed to seeing outsiders (POHK has been working there for years), and she felt the residents were happy to see her. All the subjects she photographed were given a print. "For one mother, the print I gave her was the only one she had ever seen of her two young children and just could not stop staring at it," Burkhart recalled.
"I went to Nairobi with a sense of confidence in my skills and an attitude of openness," she said of the experience. "I knew I was where I was supposed to be.
Burkhart has already planned another trip for February for three weeks and has found a donor who will underwrite her visit, which will also be funded through Toilet Hackers. POHK has held fundraisers and auctioned off some of Burkhart's prints to raise money. Signed archival pigment prints can be ordered by going to her website, with all proceeds benefiting POHK.