Though it belongs—or appears to belong—to the gutter-bound caste of celebrity biography, A Life of Barbara Stanwyck: Steel-True, 1907-1940 puts one in a philosophical frame of mind. Author Victoria Wilson, vice president and long-time editor at Knopf, has devoted over 15 years and nearly 1,000 pages (including endnotes, but not the index) to what is only the first of a two volume affair. Meeting this effort raises, at a particular slant, the questions that forever dog biography, the tireless, thankless, pack mule of the literary arts: What amount of detail makes a life? What quality, what selection?
Stanwyck is 33 at the conclusion of Steel-True, which averages 26 pages for every year of her life. I made the calculation to suggest extravagance, but the number instantly looked a little cheap: That's about two pages per month, a few lines a day. Faced with what Janet Malcolm, in The Silent Woman, calls the teeming, "disorderly actuality that is a life," all biography is doomed to some nagging sense of failure, the whiff of ghostly insult. Its most popular form—in the last century anyway—the newspaper obituary, rated by the word, suggests complete surrender to this fate.
Despite all that, by its heft and by other means, Steel-True courts the definitive. Barbara Stanwyck, born Ruby Stevens of Brooklyn in 1907, star of stage and screen, died of congestive heart failure in 1990. The first posthumous Stanwyck biography—a brisk, gossipy volume by Axel Madsen—appeared four years later; Wilson's book joins two others published in the last year. Steel-True's first pages tell a sad tale: By age 4, Ruby had lost her Canadian-born mother to a trolley accident and her father to the Panama Canal. She spent the rest of her childhood shuttling between the care of foster homes and that of her three much older sisters (one of whom, Millie, performed on stage). "And some of this story is true," Wilson observes of the Stanwyck foundling legend—the whole truth requiring the kind of myth-busting industry the author is clearly prepared to apply.
After staggering to the finish of Steel-True (which concludes, in typically centrifugal style, not with Stanwyck, but with a long, evocative quote from Hitchcock's Foreign Correspondent), I turned to the Madsen, if only to satisfy one of biography's most powerful illusions—that of presenting a story in full. No matter how humane or respectful the treatment, the form's appeal remains somewhat morbid: They do tend to die in the end. Prone to this strain of morbidity as a teenager, I returned over and over to biography, especially Hollywood biography. Manny Farber said that every movie transmits the DNA of its time. Movie stars are carriers too, their images touched with myth, their lives with myth's human shading and frailties. As much as anything else, that junction seemed to hold the secret of how the best lives are lived.
For Stanwyck, as for most movie stars, timing was key. Her style, which favors unfussy naturalism and pure wellsprings of emotion, appealed to directors like Frank Capra, and fell in sync with depression-era Hollywood's burgeoning interest in realism. Alongside Busby Berkeley fantasias came The Miracle Woman (1931), So Big (1932, based on the Edna Ferber novel), and Stella Dallas (1937), for which Stanwyck received her first Academy Award nomination. Later, her roles in The Lady Eve and Double Indemnity would fuse the words "tough-talking" to her name. But at 14 she thrilled to Sarah Bernhardt's Memories of My Life, and had this to say of her early reading habits: "I read nothing good, but I read an awful lot. Here was escape! I read lurid stuff about ladies who smelled sweet and looked like flowers and were betrayed. I read about gardens and ballrooms and moonlight trysts and murders. I felt a sense of doors opening. And I began to be conscious of myself, the way I looked, the clothes I wore."
In a later era, young Ruby might have inhaled grotty paperbacks about the drama kings and queens—Joan Crawford, Frank Capra, Clark Gable, William Holden—who became her friends. Lurid Steel-True is not; Ruby Stevens would have scratched her head. Wilson's measured style and scholarly application suggest an affinity with Peter Guralnick's double-volume life of Elvis Presley, alpha specimen of the "serious" celebrity biography. Guralnick didn't hedge or shy from his subject's outsize, gaudy legend, but persisted at its side, where he found and treated with intelligence, compassion, and healthy skepticism an exceptional human being and significant product of his time.
If more icon-friendly contemporaries like Bette Davis, Joan Crawford, and Katherine Hepburn burn brighter in the cultural imagination, Stanwyck doesn't lack for critical respect. Wilson treats her with a restorative seriousness, a great capacity for discursion, and a biblical grasp of lineage. The author appears most comfortable building around her subject—pouring foundations, scraping connective bricks, lowering signposted turrets into place, raising crested flags. The result is a curious blend of excess and restraint, where astonishing contextual and historical detail presides over a more attenuated grasp of the woman at the center of the story. Rather than whittling from research materials the figure of a notable woman, her experience and character, Wilson uses a mountainous volume and density of information to set her subject into a kind of molded relief.
For someone like Stanwyck—so stubbornly elusive that she's hardly recognizable from one of this volume's many photographs to the next—the latter approach makes sense. Double sense, given that her life grazed so much 20th-century mythos. Hoofing on Broadway by age 16 (and eventually in Ziegfeld's Follies), Ruby Stevens wasn't much of a dancer, but she could work, and she could move—even in the chorus, she held the stage. She also had an expressive, richly authoritative voice. Within a few years, technology would meet the challenge of these combined gifts: After Stevens made her successful debut as Barbara Stanwyck, dramatic stage actress, the talking pictures came to collect one of their most electric, emotionally daring performers.
Wilson's account of the 1924 name change suggests the fanatical depths of her research: In Stanwyck's telling a producer, finding "Ruby Stevens" too burlesque for the serious theater, assembled "Barbara Stanwyck" from a 25-year-old playbill listing Jane Stanwyck in the title role of Barbara Frietchie. But Wilson can't find evidence of such a program, or a Jane Stanwyck, and presents in its absence an apparently random 1906 playbill, for a comic opera called Dream City, listing players Addison Stanton and Dorothy Southwick. What if, Wilson wonders, the producer conflated these two surnames, adding a Y "to make it appear more regal"? (At such moments, exhaustive is a word that cuts both ways.)
The context-driven approach, like biography in general, has its problems. Even the most frivolous practitioners—the slanderers and secret-dumpers, the ecstatic and the malign—can't do without the verifiable basics. And though claiming what Werner Herzog calls "the accountant's truth" is impossible where the accounts and memories of others are concerned, standard biographical practice equates such less-than-stable information with public record. (I am thinking in particular of Steel-True's relayed accounts of a botched abortion at age 12 that left Stanwyck unable to bear children and of her rape by the brother of her sister Maud's husband when Stanwyck was 14.) This is where point of view and its efforts toward narrative and interpretive coherence come in, helping to shape the author's theory or rough idea of a life, rather than claiming the thing itself. The degree to which a biographer pretends objectivity varies, the pretending does not.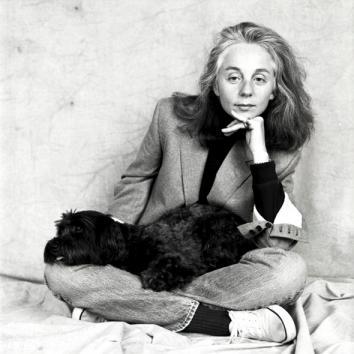 Wilson resists these efforts in Steel-True, testing the limits of biography with impressive and sometimes frustrating mettle. The voice of Steel-True is passive, reportorial, almost choral. (The author asserts herself most when critiquing Stanwyck's various screen performances.) Applied to Wilson's landmark recovery and synthesis of 1920s and '30s Broadway and Hollywood history, it works beautifully. Each of Stanwyck's projects (and those of her husbands, vaudeville star Frank Fay and Camille dreamboat Robert Taylor) merit a kind of Hollywood Almanac entry: mile-deep background on the material, the writer, and the director; casting follies; even deeper journeys into plot summary; what the film cost, what everyone was paid, what it made; and finally, what Variety and the gang had to say. There are limits, for even the most interested reader, to this approach; massive blocks of situation tend to obstruct a fluid sense of story. But Wilson is a bold and determined architect, and ultimately succeeds in tracing, via some of Hollywood's most brilliant minds and celebrated careers, the evolution of both an industry and an art form during one of its most hallowed and productive periods.
Applied to Stanwyck herself, the effaced point-of-view can leave the reader mystified. In lieu of a more sustained, meditative take on Stanwyck herself, Wilson offers occasional, unabashedly descriptive interludes; distributed across 860 pages, they suggest a kind of long hello. "She was lusty, bantered about, was full of wit. She played tennis, went to the fights, didn't gossip, and took trouble on the chin. She minded her own business, smoked with an unaffected pleasure thought of as masculine, exuded plenty of sex, but never used it to further her career," we learn on Page 298. Eleven pages later: "When she loved, it was with an elemental intensity that was almost bitter. She was reserved, seemingly undemonstrative, direct, a good sport … a straight shooter, honest, and would go through hell for someone she loved." From Page 858: "She was not an indecisive woman—fluttering, coy, flitting from one uncertainty to another. She knew her mind and spoke it."
Conflicting accounts tend to pass without comment. She was, we are told, a consummate professional, deeply principled, not "actressy," unpretentious, real, fiercely loyal. She also ditched her old dancer pals, changed her number after each shoot, disliked fat people as a rule, and demanded proper tea service on set promptly at four, "served on big trays brought by uniformed waiters in white coats." Where one friend calls Stanwyck a whiner who relished playing the orphan, a few pages later another calls her "tough" and "cool, very, very cool." Some of her principles beg further inspection. Stanwyck and Taylor were on the wrong side of Hollywood's communist witch hunt. She would become the highest paid woman in the country but seemed allergic to taxes, breezed through picket lines, and refused to join the newly formed Screen Actor's Guild, later chaired by Ronald Reagan. Wilson's admiration for the tough, very, very cool version of Stanwyck is evident, but after almost a thousand pages it's odd to still feel like we're taking her word for it.
Though work emerges as the great love of her life, Stanwyck's marriage to Fay dominates much of Steel-True, and it is here that her contradictions—natural enough in the continuum of a personality—weigh heaviest on the reader. Fay was violent and controlling, an alcoholic who toward the end of their marriage was beating Stanwyck, endangering their toddler, urinating on the heads of her dinner guests. Their marriage provided one inspiration for the original A Star Is Born, a zeitgeist-wrangler since remade several times. In one of the deftest and most invigorating of the book's digressive plunges, Wilson spends 12 fascinating pages charting the convergence of characters and lore that brought one of Hollywood's favorite auto-narratives into being. Applied to Stanwyck's abusive seven-year marriage, the tone of considered remove grows increasingly conspicuous, and problematic ("Loyalty, self-sacrifice, and service, which she never disassociated from affection, enabled her to stick by Fay"), as the story degenerates into something a little too shabby, too Babylon—something, well, out of A Star Is Born—for Wilson's purposes.
Or perhaps Steel-True only suffers from the affliction that strikes "definitive" reckonings of all worthy enigmas; it appears most impenetrably chaste in the wake of occasional, enlivening blasts from Stanwyck herself, quotes recalling her screen persona's tossing head and glittering eyes. "Love floors women," she said in the wake of her first divorce. "Women who battled life with their bare hands; women who have faced joblessness and hunger and death and illness … collapse, fall to pieces, turn to water when they fall in love. It hits them between the eyes and takes the heart right out of them and plays ball with it." Tell it, the reader thinks, only to be told more than she might wish to know about A Message to Garcia (1936). But soon comes another sizzling clue: "There's such romance in living my own life as I wish to live it," said Stanwyck. "And it's dangerous because no woman can live in marriage this way. Perhaps, no one can live this way, for long, safely. There's such passion in peace, that I can't believe it isn't dangerous. And even if it is, life is dangerous."
Post-Fay, anyway, having been "immunized" against the kind of feelings that threaten self-betrayal, Stanwyck appears to have done her most dangerous living on screen. Steel-True does more to elucidate the relationship between Stanwyck's life and her times than that binding her life and her art—the drive not just to work but to master this new medium, make good on its promises, push to extremes, play ball with our hearts. Once again, the star's words do much to satisfy the unreasonable desires we bring to the stories of the exceptional, famous dead. "It's gone and done," Stanwyck said, describing the purge of screen performance, "and you did it and you feel a little bit of emptiness after it's over. You thought it had left you, but it hadn't. You say to yourself, I hope she lives."
—
A Life of Barbara Stanwyck: Steel-True, 1907-1940 by Victoria Wilson. Simon & Schuster.
See all the pieces in this month's Slate Book Review.
Sign up for the Slate Book Review monthly newsletter.