For the camera-shy, it can be easy to turn away from a photographer. But what happens when you're getting tired of having a lens in your face—and you're the one taking the pictures?
Patricia Lay-Dorsey struggles with that at times since 2008, when she began documenting her life dealing with chronic (primary) progressive multiple sclerosis, which she was diagnosed with in 1988.
"As photographer, I am always looking for the most unexpected, intimate and truthful reflection of my life that I can find," she wrote via email about her series "Falling Into Place." "But as subject, there are times I want to close the door on the photographer and shut her out because she wants too much from me. But what can I do? She and I are the same person. … Maybe I can put her off for a while but she always gets her way in the end."
That stubborn side seems to be a constant in Lay-Dorsey's life. Always attracted to the arts, she used both fine art and writing to express her feelings about what was happening to her body due to MS. She eventually focused on photography in 2006 because she said she "was tired of words and just wanted to take pictures." After initially taking self-portraits that focused on her changing body from an aging perspective, she decided to work on a series about the day-to-day life of a person with a disability—herself.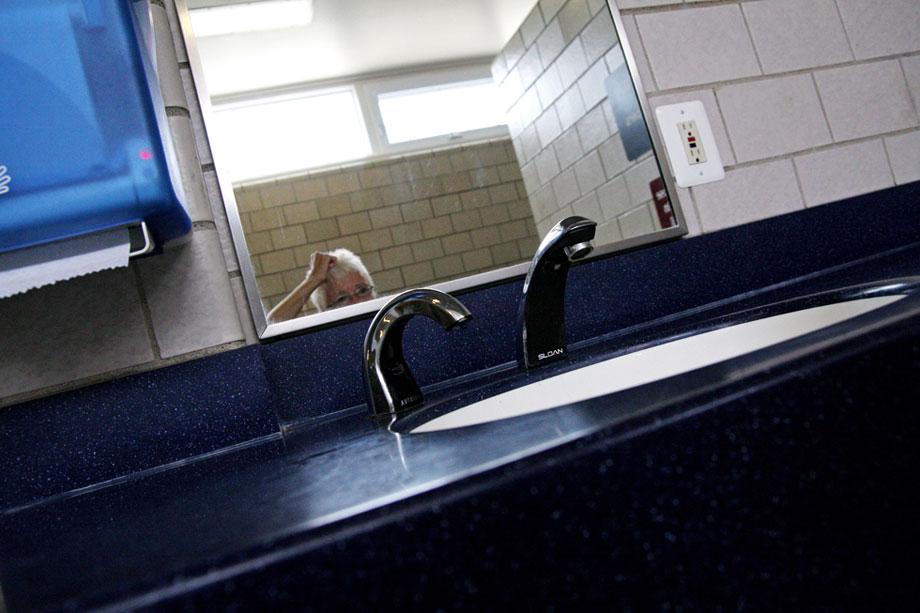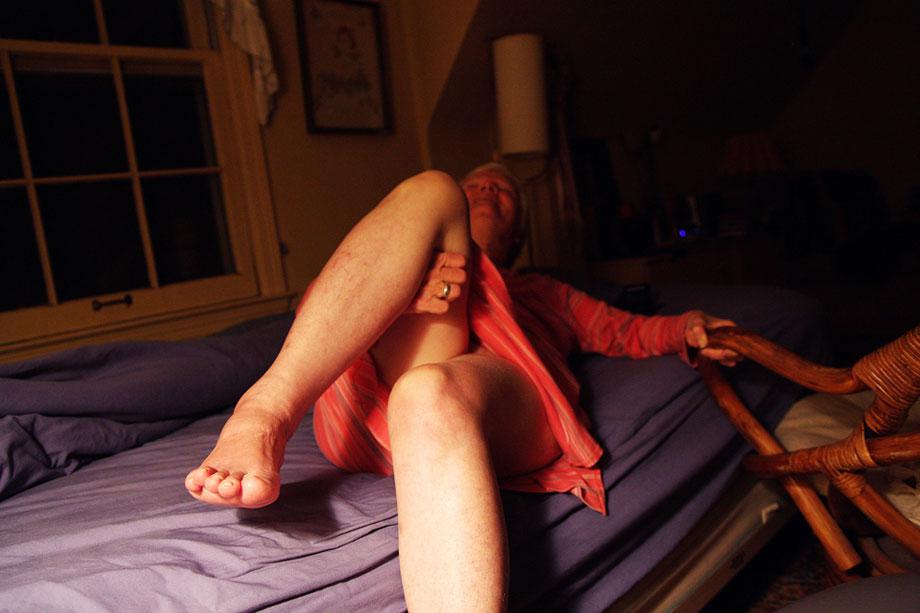 Taking self-portraits during vulnerable—and, to her, embarrassing—moments was something new for the previously athletic, hard-working, multitasking woman who now struggled to get in and out of bed. "I'm still not sure why I let myself show such images in 'Falling Into Place.' Maybe it was just time to face up to the reality of what I live every day," Lay-Dorsey said. "Whatever the reason, I have found a greater acceptance of my disability by photographing it. After five years of documenting all aspects of my life, I no longer feel embarrassed by some of its more awkward moments. My life has become normal in its own way."
Lay-Dorsey said she's had to deal with frustrations from a photographic point of view, too. She said that over time snapping the shutter release button on her camera has become increasingly difficult, causing her to miss shots. As a result, for self-portraits, she slows down her process, using a 10-second timer or a remote-controlled shutter release that is easier for her to operate.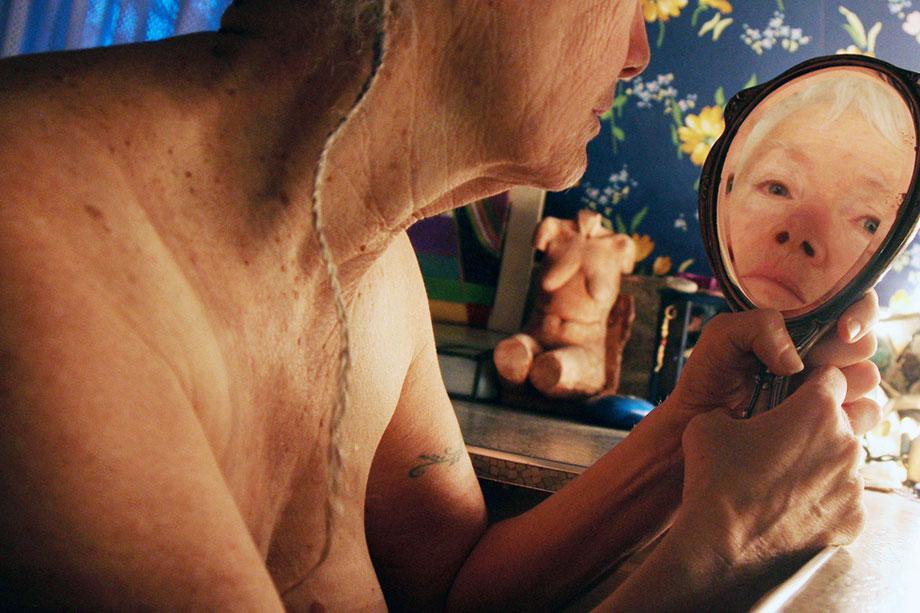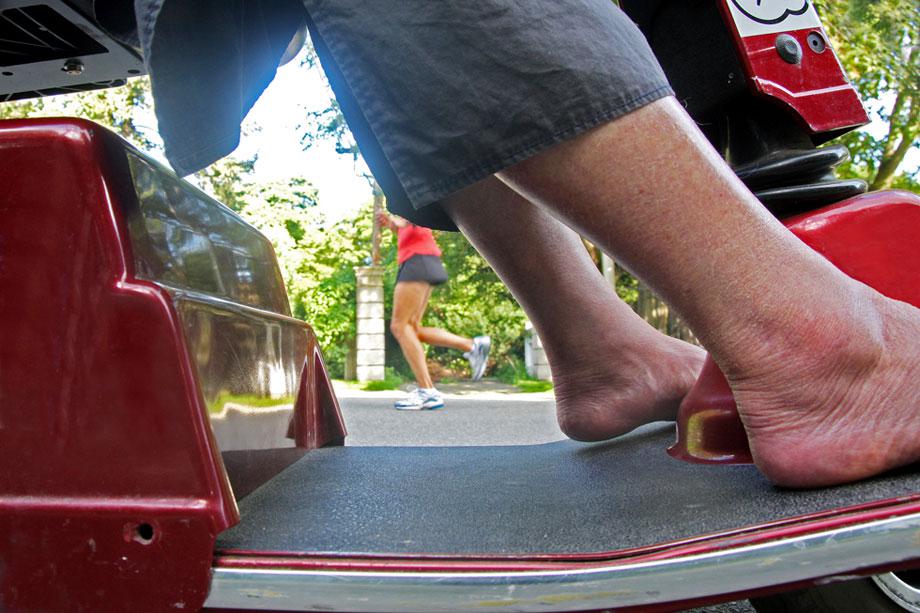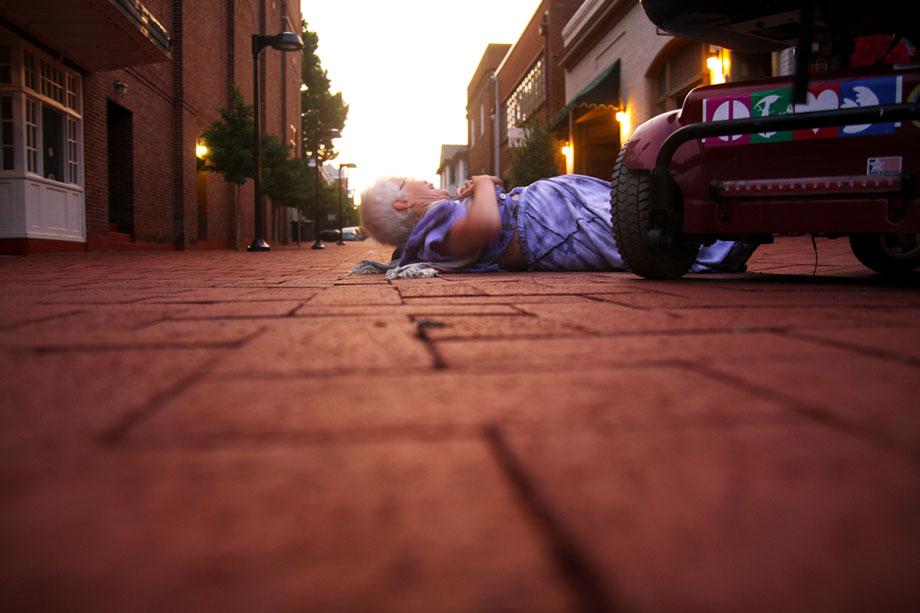 Although many of her portraits are planned, she said she's has also had a few "happy" accidents along the way, citing the image of her lying on a red brick paved road after falling from her scooter as an example. While rushing to get a shot of herself at dusk in Charlottesville, Va., Lay-Dorsey went too fast on her scooter and ended up on the ground, with her head inches from hitting the pavement. Two men responded to her cry, helped her into her scooter, and collected her camera that she had set on the pavement.
"Only then did I remember I'd set up a timed shot," she recalled. "I looked at the LCD screen and saw that the frame was in focus and perfectly composed. I was a little banged up but it was worth it. I mean, how else could I have gotten that shot?"
That shot falls into a category Lay-Dorsey never edits from her series: images that show her falling. "I am unrelenting in my demand that each self-portrait in this project be an authentic reflection of my day-to-day life. No constructed fantasies, or exaggerated drama. No wishful thinking or beautified scenarios. Even if I set it up, everything has to be as close to real life as I can get," she said.
Lay-Dorsey is currently working on publishing a book about "Falling Into Place" and has a Kickstarter running until Oct. 25.