This article originally appeared in Sports on Earth, which publishes daily thought and opinion on the day's sporting news.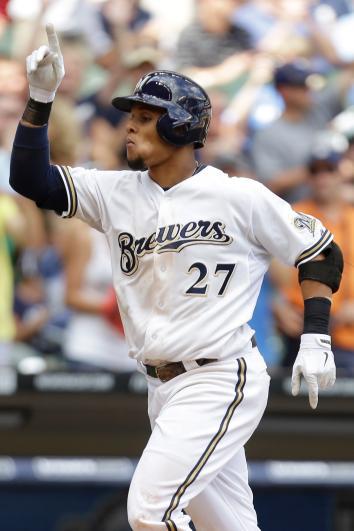 Never before in the history of baseball have Latino players been so emboldened. Years of success for Latino players have caused a new generation, who grew up watching Latino stars, to demand a larger place in the game. This group believes they deserve to have a say in how the game is played. It is as much their game as it is anybody else's. 
Not satisfied to be meek bystanders, modern Latino players have begun to impose their own attitudes on a game that, in previous years, had asked them to curtail their behavior to appease a mostly white power structure. But no more. Latinos have become an integral part of the game, and their presence, once under constant threat, now is assured. Baseball needs Latino players not only to improve the talent pool, but also to appeal to a growing Latino audience. 
Several years ago Sandy Alderson, then Major League Baseball's liaison to the Dominican Republic, threatened a group of coaches, trainers, and scouts in Santo Domingo that if they did not adhere to a new set of rules and regulations for signing amateur players, then MLB's presence on the island would disappear. It was an empty threat then. It's more of an empty threat now. Baseball is not leaving Latin America, period. 
Such an environment is the backdrop to the start of the Division Series pitting the pool-jumping, Yasiel-Puig-bat-tossing Los Angeles Dodgers against the Atlanta Braves, who have become the de facto guardians of the game, America's team, protectors of everything that is perceived to be good about the sport.
In two well-publicized incidents this season, the Braves were applauded for playing the game the "right way" after lashing out on the field against two overzealous Latino players who had celebrated hitting home runs. (It's worth noting the Braves' policing hasn't been entirely limited to Latinos—earlier this year, they plunked Bryce Harper twice, after they deemed he had not rounded the bases quickly enough after a home run.) Most recently, Braves catcher Brian McCann was so appalled by Milwaukee Brewers' center fielder Carlos Gomez's behavior after hitting a homer against Paul Maholm that McCann impeded Gomez's path to home plate. Gomez never touched home, although he was eventually credited with a home run, soon after being ejected from the game for starting a melee.

Gomez's behavior was undoubtedly over the top—he yelled at Braves players all the way around the bases—but his reaction was precipitated by having been thrown at twice in the last few years by Maholm, for previously having flipped his bat after a couple successful at-bats.
The other incident occurred when the Braves were angered that Marlins rookie Jose Fernandez had been visibly frustrated on the mound after allowing several base hits in a game against Atlanta. Braves players yelled back at Fernandez, which angered him even more. Fernandez eventually hit a home run in that game and celebrated all the way around the bases, which almost started a full-out brawl.
Fernandez apologized after the game for his behavior, although I'm not quite certain why he had to do so. He hadn't hurt anyone. His only crime was to exhibit a passionate reaction, which itself hardly seems like much of a crime.
The underlying question in the reaction to these incidents—and several similar other ones this year involving Latino players, including Puig—seemed to be why these players couldn't simply behave like they are supposed to? Why couldn't these guys play the game the "right way"?
The framing of the incidents in this manner is ignorant and prejudicial. What exactly is the "right way" to play the game? Who decides what the "right way" is? And why can't bat flips and celebrations be considered the "right way"?
Forget about the stats vs. scouts argument: The biggest dissonance in the game right now is between the showmanship of Latino players and the stoicism of the old guard. Some believe it is the fight for baseball's soul. Some believe that allowing such behavior will irreparably damage the game. It's a silly argument, of course, but it's happening. 
A bat flip is not meant to ridicule a pitcher for having allowed a home run. The act is more of a celebration of an accomplishment. What is the harm in that? Furthermore, does the retaliatory action of throwing a baseball at someone really justify the perceived insult? 
"That baseball is a weapon," Yankees manager Joe Girardi said this year, incensed that Boston Red Sox starter Ryan Dempster had plunked Alex Rodriguez. "It's not a tennis ball where it's soft. It's a weapon, and it can do a lot of damage to someone's life, and that's why I was so upset by it. You can't just start throwing baseballs at someone. It's scary."
Gomez certainly didn't have to be—and probably shouldn't have been—so vengeful about his home run against the Braves, but can you really blame him? He had been thrown at previously by Maholm simply because he'd flipped his bat. At some point, Gomez was going to reach a breaking point. And it never would have come to that if baseball simply modernized to reflect the attitudes of the almost 30 percent of players on its rosters who are foreign-born. 
It may be that the style of baseball that has been played for decades, and was developed during a mostly all-white era, has been long-lasting, but that doesn't make it any better than another style of play. 
So far, no one has been able to convince me that admiring a home run or pumping a fist after striking someone out somehow damages the fabric of the game. It might be showy and, yes, in part egocentric, but it doesn't change anything about how baseball is actually played. 
The Dominican Republic's triumph in the World Baseball Classic this year showed everybody that flash can equal substance and that baseball played in a not-so-serious manner can be fun to watch. The Dominicans boisterously celebrated each hit, each strikeout, each win, and the world did not implode, the seams did not come off baseballs, and anarchy did not reign in clubhouses. 
Baseball will have to adjust to the changing racial dynamic of the game, just as the NBA and NFL did when they became predominantly black-populated leagues. Basketball and football changed off and on the court and field, and eventually, the NBA and NFL embraced these changes and shrewdly marketed the game to a broader audience. Even the NFL, which critics call "the No-Fun League," allows simple celebrations like a touchdown spike or a fist-pump. Attitudes in baseball must change as well. 
Baseball has recently tried to ease Latino integration. For the past several years, many teams have sent some of their young American prospects to the Dominican Republic for the Instructional League. During their stay, American players tour several of their Dominican teammates' hometowns, with the hope that a greater understanding between the two sides will develop. In some ways it does, but inevitably a separation between the two cultures reoccurs when players return to the United States. Clubhouses are as segregated as ever, with both sides preferring to hang out with their own people.
Full integration in clubhouses will probably never happen, and there's no shame in that. Latino players will always feel more comfortable conversing in their own language. As long as the two cultures understand each other on the field, baseball is headed in the right direction—but right now there's a large gap.
For the entirety of their presence in the game, Latino players have been the ones to change their behavior, their attitudes, and their language in order to be given a chance to play professional baseball. The power of the modern Latino player dictates that it's now time for baseball's old guard to be the ones to change.