Celia Cruz, the matron saint of salsa, got her own Google doodle today to mark what would have been her 88th birthday (though the precise date is disputed). The impeccable strength and wide range of her voice, combined with a powerful stage presence, has left a lasting legacy in Cuban and Latin music, a decade after her death and five decades after she began her musical career in Havana, Cuba. And though she gained international acclaim later in life, her best work comes from her teenage and young adult years, while still in Cuba and shortly after arriving in the U.S. in 1959.
Originally named Úrsula Hilaria Celia de la Caridad Cruz Alfonso de la Santísima Trinidad, a mouthful of Catholic symbolism, Cruz, like salsa itself, had her musical beginnings in the pre-revolutionary rhythms of rumba, a traditional afro-Cuban genre that is predominantly percussion, featuring complex rhythmic patterns and vocals with tightly structured harmonies. As in her well-known '70s hit, "Quimbara," her earlier recordings blended these drumming and dance traditions seamlessly. The songs that came to represent her would many times have an additional element of irrepressible joy and badassery: "Sopita en Botella," for example, was a feminist reply to "El Vive Bien," a rumba song about a man who lives off of his love interest's hard work. Cruz responds (in my translation): "Listen, partner/ Don't expect me to bring you your soup in a bottle/ Your cook is gone, you couldn't handle her."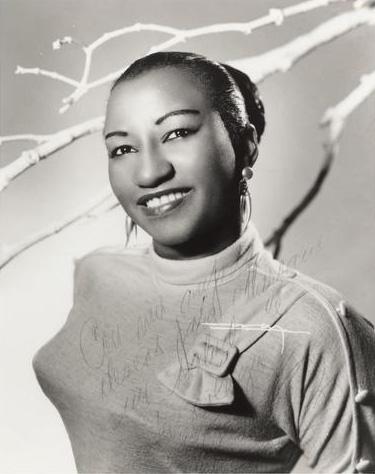 In her later years, her music evolved to appeal to a wider, more Americanized audience, and she gradually left behind her more romantic and traditional signature sound. (Cf. Shakira, before and after her American debut.) To fans of Cruz's original recordings with La Sonora Matancera, these commercially successful albums had a strong Miami flavor, heavy on pop production in the style of Emilio Estefan. If you compare the lyrical depth of "Dile Que Por Mi No Tema," or the melodical sultriness of "Melao de Caña," with, for example, "La Negra Tiene Tumbao," it's clear that something subtly beautiful was lost and replaced with the sharper beats of the Miami party scene in mind.
Nevertheless, her voice never lost its strength or its characteristically sweet-and-sour timbre. The Queen of Salsa could give soul to the most superficial and soulless '90s salsa-pop. As she sang on "La Vida Es un Carnaval," life for her really was a carnival.