We have already seen what Nicolas Cage's face can do when randomly added to great scenes from classic movies. But what can the man's incomparable visage do for your insomnia?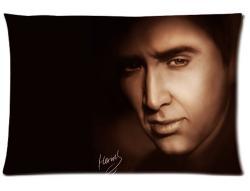 "The sleep has been perfection," says one satisfied customer, Zach Anderson, who surely purchased the item in question, a pillowcase bearing the handsome face of Nicolas Cage, and really did have the following thing happen to him: "The first night I dreamt of stealing the Declaration of Independence then stopped rogue marines from dropping poison gas on a sporting complex. The next night I dreamt I was a sorcerer, then foiled the plans of several felons aboard an aircraft."
Anderson is not alone: Adam Popovich "decided on a whim to purchase this pillowcase, thinking it would be funny," and now he "can't stop thinking about pachinko, and I can't stop holding this pillowcase, now housing my very own pillow." ("Any hardcore fan of Nicolas Cage knows about his extensive love of pachinko, and his many commercials filmed in Japan, expressly for pachinko companies," Popovich explains.) "It comforts me, makes me believe the world is a good place."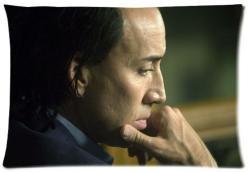 Such restorative rest can no doubt be yours with a simple click of the mouse. And if the pillowcase that Popovich and Anderson picked out does not appeal to you, consider your many other options: thoughtful Cage, say, or steamy Cage. There is a pillowcase for every stripe of Nicolas Cage obssessive.
Sweet dreams.