In every way, the 2012 French Open women's singles final appeared to be a mismatch. Maria Sharapova, the winner of multiple grand slams, towered over Sara Errani, who was in her first grand slam final, in both size and stage presence. As the two 25-year-olds met at the net for their pre-match photographs, Errani barely cleared Sharapova's shoulder. There was one listed category in which the 5-foot-4 ½ Errani led the 6-foot-2 Sharapova, though: weight. According to their Women's Tennis Association profiles, Errani weighs 132 pounds, while Sharapova comes in at 130.
Sharapova's body mass index, using the height (6-foot-2) and weight (130 pounds) listed on her WTA profile, would be 16.68. That puts her close to the BMI of a human with a Barbie doll's proportions, which has been estimated at 16.24. According to the New York Times Health Guide, people with a BMI less than 17.5 are "considered to be at risk for health problems related to anorexia."
But in person, as well as on television, Sharapova—who did not play at the U.S. Open due to a shoulder injury—hardly looks gaunt. While undoubtedly slender, she has broad shoulders, toned arms, and muscular legs. In other words, it would not take a trained carnival weight guesser to estimate a number well north of Sharapova's listed 130 pounds.
While Sharapova's measurements are the most outlandish on paper—she is the only one of the 110 players in the 2013 WTA Media Guide with a BMI less than 17.5—she's hardly the only player whose listed weight fails the eye test. When compared against one another, or simply against logic, many of the players' weights seem very, very wrong, all somehow erring on the low side. The 6-foot Kristina Mladenovic, the only other player in the media guide with a BMI under 18, is listed at an incredible 132 pounds. Caroline Wozniacki, who is 5-foot-10, supposedly weighs a paper-thin 128.
When I asked Max Eisenbud, Sharapova's longtime agent, about his client's suspect metrics, he didn't insist that the Russian star, the highest-paid female athlete in the world, does in fact weigh 130 pounds. Instead, he said, "I don't know too many women that like to speak about their height and weight. But if you look at all sports, the height and weight is never right. Not just tennis." He added, "I think this is way down on the list of things the WTA needs to focus on."
The point here is not to shame these women for weighing more than what is listed. Rather, the bigger issue is why the weights of women's tennis players are an official statistic in the first place. Because there's no compelling reason for us to know how much Maria Sharapova or Caroline Wozniacki really weighs.
Why are the listed weights of women's tennis players so inaccurate? While vanity is undoubtedly a reason, another is simply outdatedness. Players fill out their WTA player information cards when they first make it on the tour, typically as teenagers. Though players are inclined to submit new heights as they grow taller, adding a parallel increase in the weight column is not as natural an impulse.
The men's and women's tours rely on the players to report and update their own heights and weights, a fact that recently led John Isner to move into a tie for the title of "tallest man in tennis" at age 28. Men's players, according to ATP representatives, do regularly change their official weights after adding muscle or beginning a slimming nutritional regimen.
But the men, too, are not immune from fudging the numbers. After qualifying for the ATP tournament in Cincinnati in August, 18-year-old Mackenzie McDonald told the press that he's hoping to improve his physique, saying he only weighs 140 pounds, or 142 "on a good day." After his press conference, an ATP representative gave McDonald a player information card to fill out, and he bumped his weight up to 145.
That sort of rounding error is minor, however, compared with what's standard for women, according to players and tour insiders. A representative of the WTA says the tour tries to make sure listed heights and weights are "reasonable," but could not recall a submitted height or weight ever being rejected. Unlike the men, women who add muscle rarely contact the tour to adjust their listed weights, and so the numbers stand, presenting often wildly unrealistic ideals for those who might look to emulate the players' proportions.
As bogus as many of the weights may seem, on-the-record indictments are unsurprisingly quite rare. Writing for the New York Sun in 2007, Tom Perrotta challenged Serena Williams' listed weight of 135 pounds, as Williams entered that year's Australian Open in noticeably less impressive physical condition than normal. "She's at least 20 pounds heavier than that, probably more," Perrotta wrote. He also cast doubt on the amount of time she said she had spent training in the offseason, writing that "by the look of things, many of these workouts involved a remote control and a 50-inch plasma screen."
Proving Perrotta somewhat wrong, Williams would go on to win the tournament, dominating Sharapova 6-1, 6-2 in the final. But proving him somewhat right, Williams is one of the few players in recent years whose listed weight has increased. In late 2007 the figure on Williams' profile was bumped up to 150 pounds. In late 2011 it would be adjusted again slightly, to 155 pounds, where it has stayed since.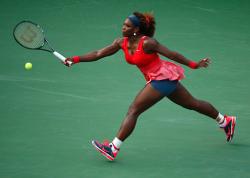 Did any of her fellow players notice the change? I asked several of the top women if they ever looked up an opponent's weight before a match.
"I usually check height," Williams told me. "I never check weight, just height."
Recent Wimbledon champion Marion Bartoli says she never looked at the weight numbers either, and added that she doubted their veracity anyway. "Women are always cheating on their weight," she said with a loud laugh. "That's our mistakes, actually. But it doesn't really matter."
German player Andrea Petkovic tells me she now weighs 70 kilograms (that's 154 pounds) but is listed at 69 kg (which, like McDonald, she says is her weight "on a good day"). Petkovic says the most absurd weight listings on the tour send the wrong message. "It's like the things with celebrities who have their babies, and they do like a million photo shoots and look amazing after a month," Petkovic says. "And they have four kids, and nobody knows they have five nannies also, you know? It puts a lot of pressure on the common people, I think."
The pressure is not only on everyday people, but on up-and-coming players. Taylor Townsend, the 2012 Australian Open junior champion, had her weight turned into a flashpoint after the USTA initially benched her from playing in tournaments so she could get in shape. The 17-year-old Townsend, who has played infrequently at the professional level, has not yet filled out a player information card, so the "weight" line of her WTA profile remains blank to date, but will need to be filled in as soon as the WTA decides she has become a prominent player.
"For me personally, I didn't have any [weight] issues, so it wasn't a big deal one way or the other," says Chanda Rubin, a player-turned-broadcaster. "I can see, though, that a player that really had issues with that, that might be a little traumatic or uncomfortable, and be an issue for them."
But why should Townsend, or any other player, ever need to provide her weight to the public, and possibly feel pressured to lie about it? Tracy Austin, who won the first of her U.S. Open title at age 16, says players starting out on the tour are especially vulnerable. "You're talking about girls that are on the road, oftentimes very young, and going through extreme highs and lows emotionally," says Austin, who's now a broadcaster. "So these can be very difficult times and very trying times, and I don't think weight should be emphasized."
In a perfect world, it might be refreshing if every woman on tour happily reported her real weight, removing all stigma from the scale and showing that athletic women can come in many sizes. Mary Carillo, another former player-turned-television commentator, theorizes that today's muscular players would weigh more than fans expect, noting that "it would actually be cooler if their weight was heavier than they looked." In reality, though, Carillo says that weight is "a ridiculous stat. And I'm not sure that it does any good at all. Because people are always going to question it, so it ends up being pretty bogus."
Andrea Petkovic agrees. "I don't think they need to know this," she says of players' weights. "I mean, they see the bodies, they see the girls, and they can judge for themselves if they really want to—although judging is not great. But if they really want to judge, they can judge by the looks. They don't need to know."
College athletic departments have thought along these lines for years, declining to publish the weights of female athletes. This is immediately noticeable in sports such as basketball, where the men's roster will nearly always have each player's weight listed, while the women's roster lists none.
Unlike the NFL, where potential players are weighed and measured for drafting purposes at a league-sanctioned combine, there is no party in tennis that would stand to gain from knowing a player's weight.
The WTA representative I spoke to agreed that weight was not vital to publish, but said removing the statistics "would be more of an issue than leaving them in," adding that the category was already built into television graphics. Broadcasters, however, say graphics can easily be changed, and that a player's poundage gives little insight into her playing style, and therefore isn't necessary to tell the story of a match.
"Other people will say, well, they're out there in the public, so it should be a stat that we should know," says Austin. "But if it's a stat that we should know, then it should be accurate. And if it's not going to be accurate, why have it? And it's clearly not accurate. And if women are sensitive about it, and it's not accurate, it's not working."
For her part, Petkovic believes that a player's weight alone has little bearing on her ability to win a match. "That doesn't make a difference," she says. "When I was 15, I sucked as a tennis player. But I was 10 kilos lighter."