According to an article in the Baltimore Sun, there are roughly 16,000 vacant homes in Baltimore that the city plans to restore or destroy to replace with green spaces and housing redevelopment over the next 10 years. Many of the homes to be torn down are row homes, built in the late 1800s.
Photographer Ben Marcin lives in a Baltimore row house with his wife, Lynn. Several years ago, Marcin, a self-taught photographer who bought his first camera at 27, began noticing lone row houses in the blighted sections of the city. "For me it was a fascinating sight: a solitary structure, well over 100 years old, sometimes 40 feet tall and less than 20 feet wide," he wrote via email. "An amputee shorn of its former neighbors, yet still retaining architectural details and other touches, proclaiming the heights of an earlier era."
Marcin began photographing the individual homes during his visits to the desolate neighborhoods. He edited them into a series he calls "Last House Standing." Many of the homes in the series are still occupied, though the city of Baltimore plans on using eminent domain to demolish largely vacant blocks.
Marcin then began using the "bird's eye" feature of Bing Maps to scour aerial photographs of other nearby cities including Camden, N.J., and Philadelphia to look for similar buildings to include in the series.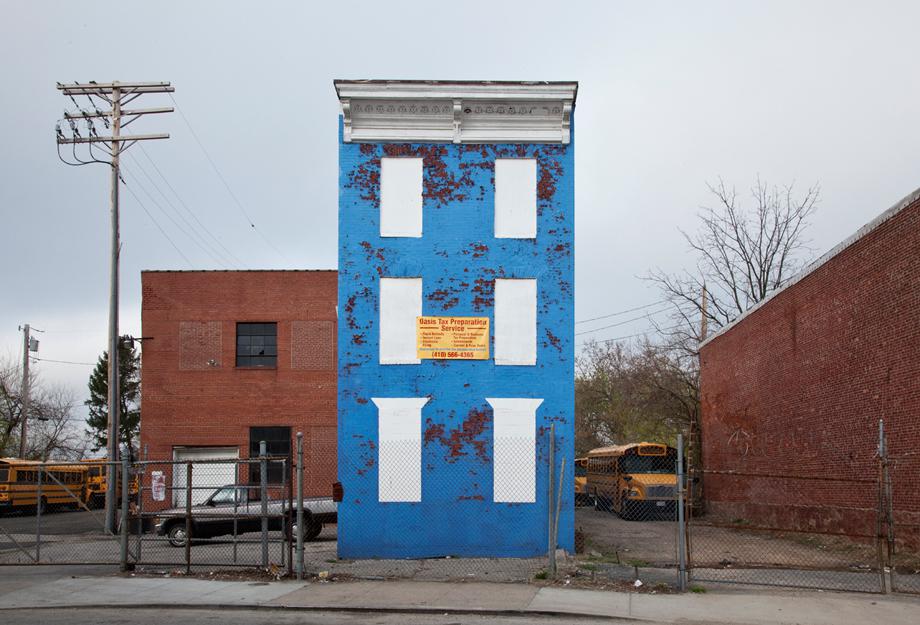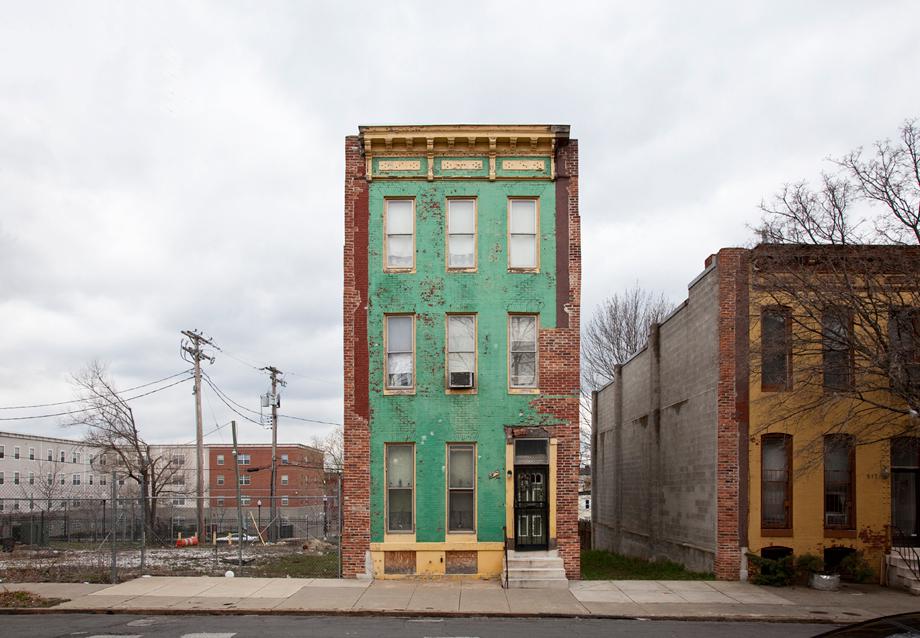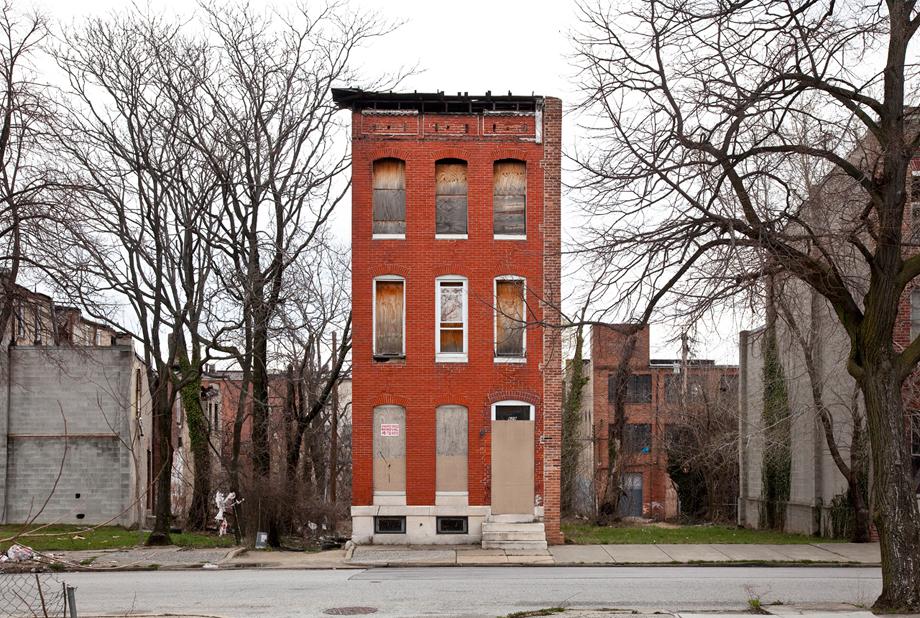 Whether photographing homes, trees, or homeless camps, Marcin approaches his work with a formal portrait-style approach rather than a documentary one. For "Last House Standing," this allowed him "to create a sense of real isolation. … By framing the houses in the semi-abstract way that I did, I was hoping to shine a light on them while at the same time keeping them in their environment," he said.
The style of shooting not only underlines the isolation of the homes but also gives the building an almost prideful appearance. "When you look at a row house that is still attached, it is easy to miss many of the unique details of the building—the elaborate cornices, the old-style brickwork, the tall windows with the glass that isn't perfectly flat. These features are much more apparent when the house stands by itself," Marcin said.
Those details seem almost out of place when compared to the housing constructed today, which instead of being built to last more than 100 years like their row-house counterparts, are "designed to maximize the profit of the developer," Marcin said.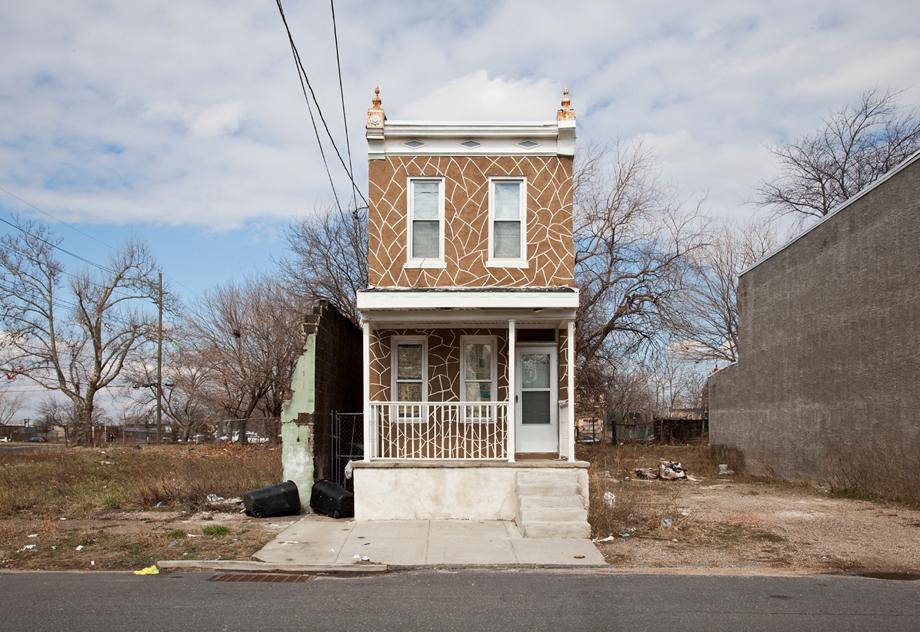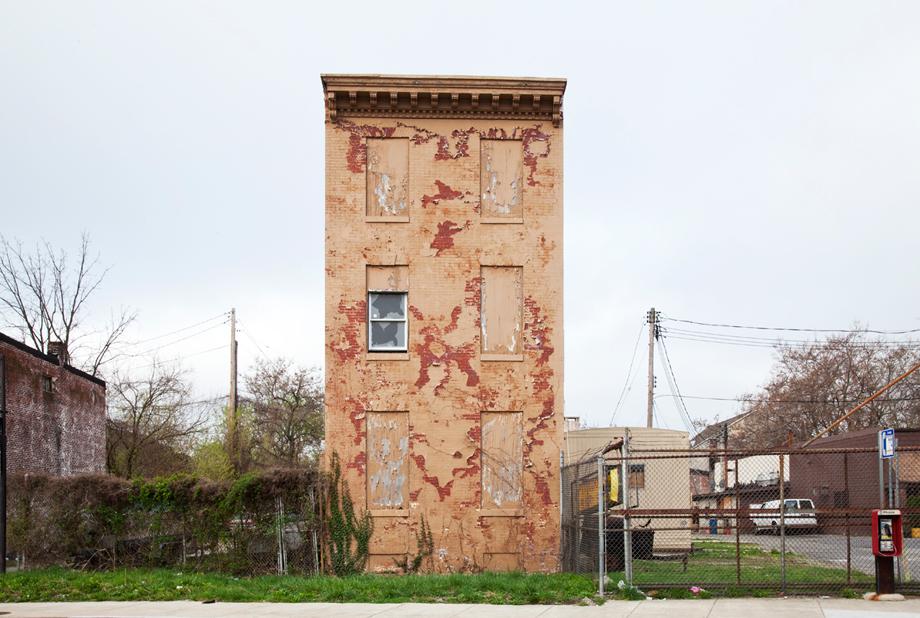 This housing trend was apparent when Marcin and his wife bought their row house 15 years ago and were provided with a list of all the previous owners. "I remember there were only three or four different owners during the first 60 to 70 years," Marcin recalled. "By the 1950s and '60s, our house started to change hands much more frequently. The folks we bought the house from in 1998 had been there for only four years. I am not a sociologist, but to my mind, this phenomenon seems to mirror some of the big social and demographic changes that took place in this country during the time our house has been around."
Marcin said he feels for now he is through with "Last House Standing" and considers it a completed project. He and his wife edited the project together, though it's Lynn, who has a formal photography education and career in the gallery business, who often has the final say about which images make the final cut. "I try to plead my case for the discarded photographs, but in the end, I almost always agree with her decisions," Marcin said.
Many of Marcin's images can be seen by appointment at C. Grimaldis Gallery in Baltimore.