Weilun Chong came upon the idea for his series, "Please Mind the Gap," when he ignored that very reminder and nearly lost his cellphone in the space between the train and the platform in Singapore's metro system. 

Chong, an advertising art director and photographer on the side, became hooked on the idea of capturing unique moments in that small, significant space between places. For the next three years, he photographed "almost religiously" on his daily commute to work and on weekends.
Initially, he was indiscriminate about his shots, just happy to capture any subjects in the gap. "But I slowed down a lot in the last two years, paying more attention to interesting characters on the station platform, some unexpected gesture or behavior during that split second," Chong said via email.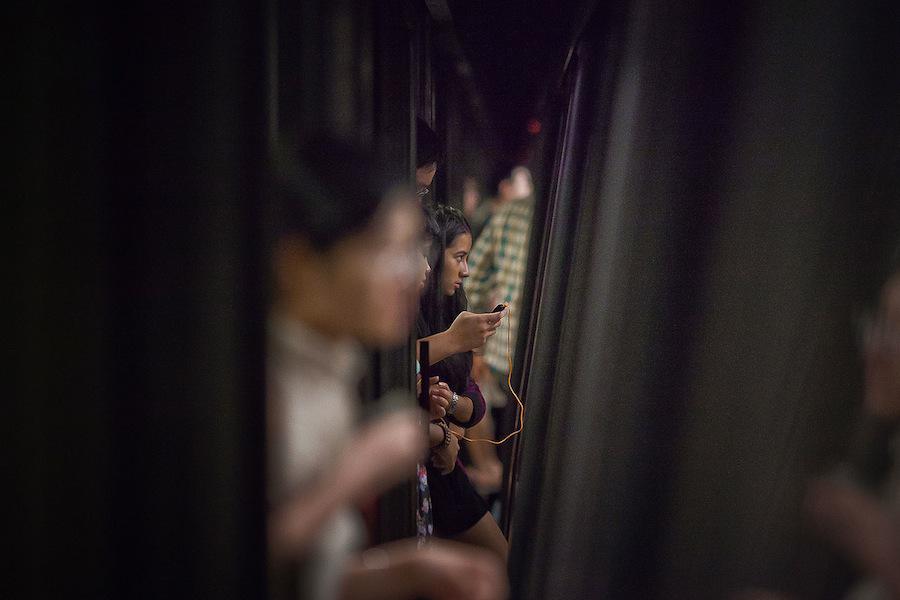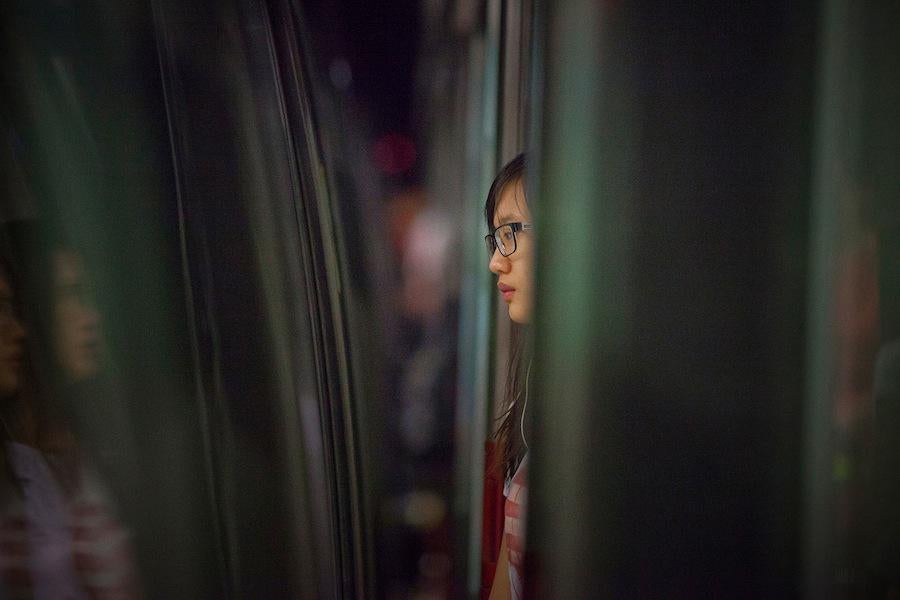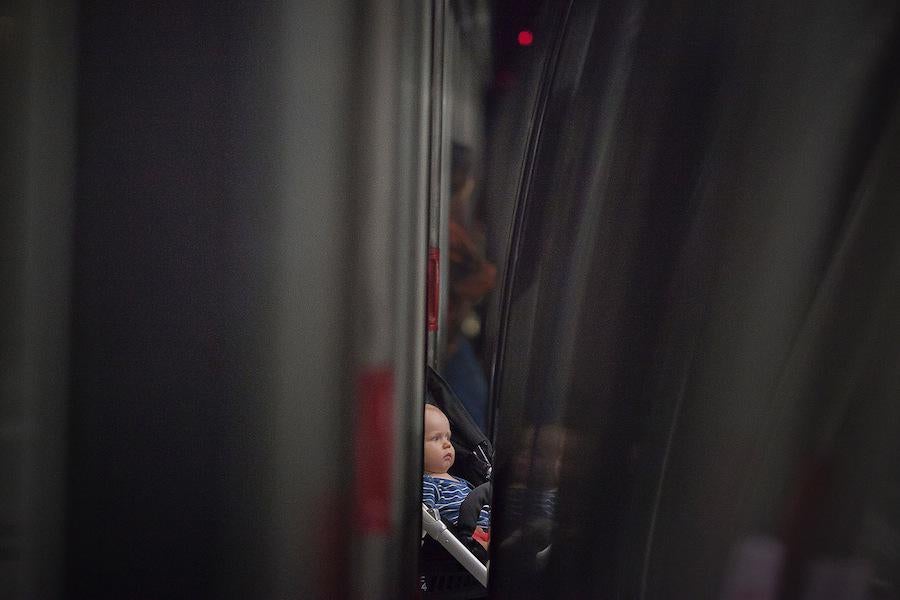 Getting those moments wasn't easy, and he had more misses than successes. Often, Chong said, he'd have his focus locked on a subject, only for that subject to suddenly speed up or for another person to unexpectedly enter the shot. "I always lament the potential good shots I witnessed but missed," he said. "A pregnant lady touching her tummy, looking down and smiling. Someone in a mascot costume boarding the train. A man with his head titled upwards, hand clasped in hand as if praying on his way out of the train … "
Due to Chong's positioning at the next train door over, commuters in the cabins and on the platforms could see him photographing, but his subjects usually couldn't. "It sounds creepy, but I prefer to see myself as a quiet observer," Chong said. 

Chong said it would have been nearly impossible to get a permit to photograph in Singapore. But although photography is not really encouraged in the country's Mass Rapid Transit (or MRT), it is not officially banned, so Chong forged ahead. "I had my fair share [of] run-ins with the MRT staff and authorities, which discouraged me sometimes, but there was nothing a simple apology couldn't do," Chong said.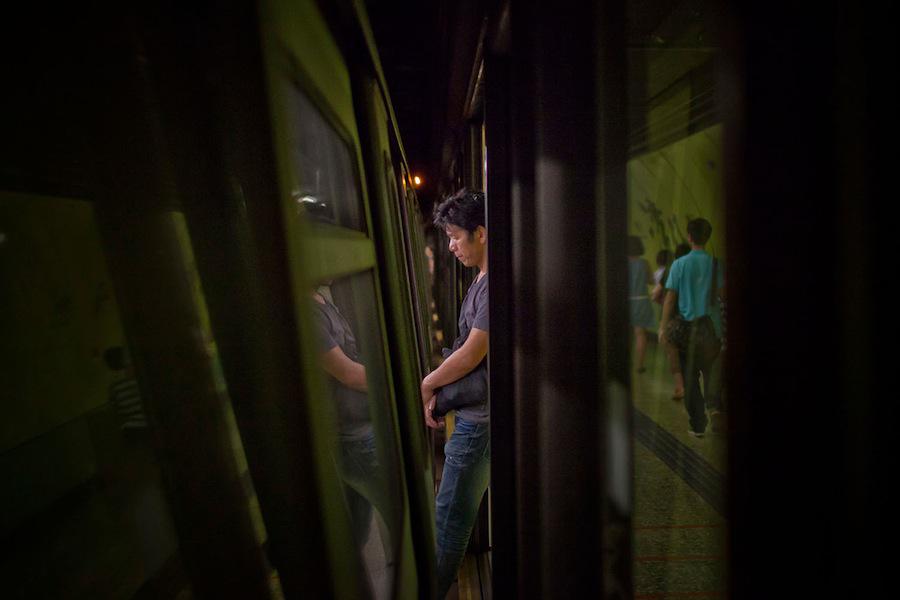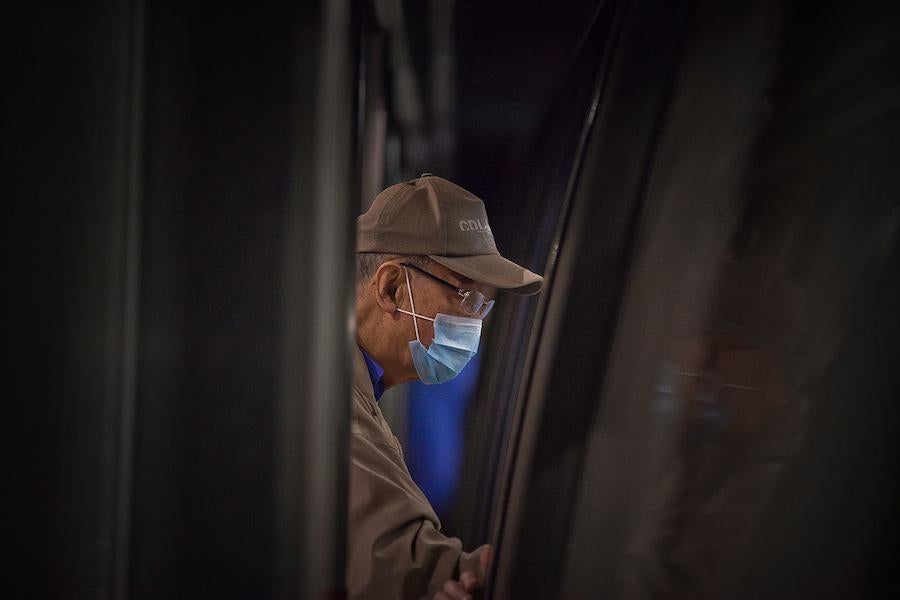 A year after starting the series, Chong had the idea to try photographing in Hong Kong's metro system, known as the Mass Transit Railway. On a short trip there, he gave it a go, but only ended up with three useable shots. He said he hopes to return to Hong Kong to continue the series.
Photographing in Hong Kong, he said, wasn't too different from photographing in Singapore. "I had about the same time to shoot every time the train pulled into the station, except the train and platform doors in Hong Kong shut (or rather, slam) faster than the ones in Singapore," Chong said. "People who saw me photographing across the gap gave me that same peculiar look."