It was a big deal when Kerry Washington was revealed as the cover girl for Vanity Fair's August issue. An actress who's been around for more than a decade and who has finally hit big as the star of the hit ABC political drama Scandal, she is the first black woman who's not Beyoncé to pose solo on the front of the mag since 1993.* And since this is the publication whose annual Hollywood issues tout the "next big things" and the A-list elite, the significance of this (along with her Elle cover in June) cannot be overstated.
Washington isn't the only black woman in Hollywood who's currently experiencing a high point in her career. This summer has brought forth more welcome news, with the election of Cheryl Boone Isaacs as the first black female president of the Academy of Motion Picture Arts and Sciences, and Internet star Issa Rae's deal with HBO to co-write and star in her own comedy series based on themes from her popular Web series, The Misadventures of an Awkward Black Girl.* (This comes after last year's equally promising news that Rae is developing another sitcom under Scandal creator Shonda Rhimes' company, though that project has yet to be sold.) Combined with the Oscar talk swirling around the performances of Oprah Winfrey and Octavia Spencer for Lee Daniels' The Butler and Fruitvale Station, respectively, this seems to be a pretty great year for black women in film and television. Perhaps, even, this is evidence of  "the Obama effect" on Hollywood, as Sharon Waxman wrote for the Wrap a couple of weeks ago?
Not even close. The "Obama effect," for those new to the term, is a tidy phrase that implies that our black president has inspired the country to do better in all walks of life, from improving test scores for black students to moves toward greater diversity and inclusion of nonwhites. Waxman cites as her evidence of Hollywood's improved stance toward blacks a meeting where names of the "hottest" current celebrities were bandied about. Washington and Parks and Recreation star Rashida Jones, she with the "piercing blue eyes and mixed race parentage," were the first names mentioned, she writes proudly.
As easy as it may be for Waxman to measure equality in perceived hotness, it's even easier for actresses of color to tell you that Hollywood still has a long way to go when it comes to black representation, and especially black female representation. Viola Davis made the case very clear when she deemed the current state of black actresses as being in a "crisis mode" during a discussion on Oprah's Next Chapter. "We're in the same category," she told Winfrey and fellow guests Alfre Woodard and Phylicia Rashad. "Whereas if you take a Caucasian actress, you have the ones who are the teens, in their 20s, 30s, 40s, 50s, and they're all different. There's roles for each of them." But when you see a black woman in a movie, she's usually playing a "sassy" character in a service job (nurse, receptionist, housekeeper) or a bland girlfriend, wife, or best friend to a white lead. (Or if she's really made it, she gets to take starring roles in creative cesspools made by Tyler Perry.) With little exception, that was essentially Kerry Washington's career prior to Scandal, which became the first network TV drama in nearly 40 years to star a black woman.
It's not just that black actresses are auditioning and not getting cast in larger roles—it seems that they are frequently absent from the casting process entirely. If a film isn't readily defined as a "black film" (one with a predominantly black cast that will supposedly only appeal to black audiences), casting directors are rarely able to imagine that there are talented actresses of color who may be right for a certain role. As reported by Nina Shen Rastogi in Slate, Berkeley Law professor Russell Robinson's three-month sample of casting breakdowns found that 22.5 percent of roles were specified for white actors, while 46.5 percent were unspecified. "According to most of his sources," Rastogi explained, "a role with no ethnic designation would be implicitly understood by talent agents and actors to be Caucasian—meaning that, in Robinson's final tally, 69 percent of open film roles were presumed to be reserved for white actors."
Consider the recent casting update for the heist drama Focus, which is set to star Will Smith. Kristen Stewart backed out of the project last month reportedly because she didn't want to play the love interest of the 44-year-old Smith. (She's 23.) The role has been recast with relative newcomer Margot Robbie, who is also 23. While several news outlets took pains to mock Hollywood's obsession with pairing older actors with significantly younger leading ladies, pretty much no one pointed out the other glaring aspect of this casting news: The list of women who were up for the role—Michelle Williams, Rose Byrne, Jessica Biel, and Olivia Munn—is almost entirely white.
Perhaps this is not an inclusive list, and there were in fact women of color who tested for the role. But it's more likely that a black actress was never even considered in the first place, even though the role of a novice con artist doesn't appear to be race-specific, none of the proposed women are proven box-office draws, and there are several established women of color who would match those white actresses in age and/or talent. (Washington, Tika Sumpter, Meagan Good, Rosario Dawson, Zoe Saldana, Jurnee Smollett, to name a few.)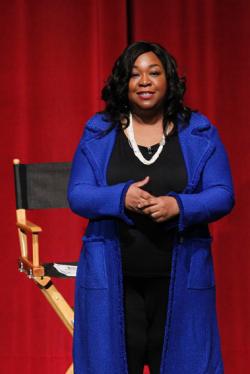 These perceptions laid out by Hollywood's casting system spill into the public's perception of whiteness-as-default. Take, for instance, last year's uproar over the casting of black actors in The Hunger Games—for characters that are described in the original book as having "dark brown skin." Or David Camp's telling disclaimer in Washington's Vanity Fair profile, written in parentheses, that immediately follows his description of Shonda Rhimes and Betsy Beers' search for black actresses for the lead in Scandal: "Olivia was conceived as a black woman because her inspiration, Judy Smith, is black." Can you imagine someone explaining the casting of Ray Liotta in Goodfellas by noting that his character's inspiration was also white?
And although no one will argue that today's black actors as a whole have reached equality in the Hollywood studio system, they have been demonstrably more successful than their female counterparts, thanks in part to Hollywood's continued "boys' club" system. Will Smith's role in Focus was originally conceived with Ryan Gosling, Brad Pitt, and Ben Affleck in mind; his characters in I Am Legend and Hitch were also written as white. His black peers, Denzel Washington and Jamie Foxx, have also been cast in roles meant for white actors.
Meanwhile, Viola Davis, Alfre Woodard, Angela Bassett, and others—today's current crop of older black actresses who are also critical darlings—have never even come close to matching the commercial success (and thus the ensuing plethora of creative opportunities) of their black male peers.
And there's little grooming of younger black actresses in the same way that Hollywood is constantly searching for the next young white ingénue. Twenty-one-year-old Shailene Woodley is currently that "it" girl after her wonderful performance in The Spectacular Now, and before her were dozens of young white actresses: Natalie Portman, Reese Witherspoon, Saoirse Ronan. Yet 19-year-old Keke Palmer, who impressed in Akeelah and the Bee and had her own successful Nickelodeon series for three seasons, has yet to receive any similar career opportunities or attention. (Black male youth actors fare similarly as their female counterparts do, though it's worth noting that Michael B. Jordan, currently getting Oscar buzz thanks to Fruitvale Station, is now being touted as a "young Denzel.")
One problem, of course, lies in the overwhelmingly white and male executive suites of most networks and movie studios. Often it takes a woman of color in a position of power to see the value of black actresses that others overlook; so long as Rhimes continues to promote the work of others like Rae while creating popular shows with ethnically diverse casts like Scandal and Grey's Anatomy, actresses (and actors) of color will get their shot at high-profile, challenging work. But it shouldn't be up to Rhimes alone. The Academy has already started to turn a new leaf, welcoming a number of minority artists as members, including Kimberly Elise and Michael Peña. Here's hoping networks and studios follow suit so that there are more underrepresented performers for this suddenly diverse committee to choose from come Oscar season.
Correction, Aug. 14, 2013: This article originally stated that Kerry Washington is the first woman of color besides Beyoncé to appear on the cover of Vanity Fair since 1993. Washington is the first black woman other than Beyoncé to pose solo on the magazine's cover since 1993. The article also stated that Cheryl Boone Isaacs is the first female and first black president of the Academy of Motion Picture Arts and Sciences. She is the first black female president of the Academy of Motion Pictures Arts and Sciences.