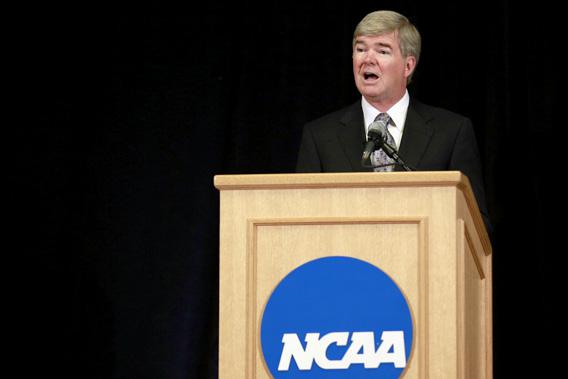 When I became the president of the NCAA in 2010, I didn't expect to become the president of the United States. But I was honored and humbled that the American people—as well as our corporate champions at every Fortune 500 company—chose me, Mark Emmert, to lead this great country forward.
As we've seen over the last few years, the college sports business model is the key to unlocking the hidden power of the American economy. The NCAA is currently reaping the benefits of a $10.8 billion deal for the broadcast rights to March Madness. That contract made me realize that we had been mismanaging other major industries for decades, particularly with respect to labor costs.
The major sports leagues, as you know, were the first to recognize the wisdom of the NCAA approach. While basketball and football players have long been forbidden from joining the NBA and NFL directly out of high school, baseball, soccer, hockey, golf, and tennis prodigies could start collecting salaries as relative youngsters. Now, that discrepancy has been fixed. With every athlete in every sport now required to pursue a college education for three years, pro leagues have found it easier to evaluate talent and callow players like Bryce Harper and Mike Trout can now mature on college campuses before they hit the big stage. Everybody wins.
To be sure, the changes in Hollywood took everyone by surprise. The small children, teenagers, and early-twentysomethings who populate our favorite TV shows and movies have always been paid for their work, and that system made sense for a long time. But consider that the kid from Modern Family gets free on-set tutoring, free access to the country's best acting coaches, and free catered meals from Los Angeles' finest restaurants. He also earns invaluable media exposure—a televised, primetime showcase for his comedic talents. Getting a paycheck on top of all that is almost obscene. Just ask any single mother busting her hump to put three square meals on the table for her kids each day. I'm sure she'd snap up Rico Rodriguez's unpaid-labor agreement for her precious children without thinking twice.
Critics of my administration have called this new approach "indentured servitude." That is shameful rhetoric. Given how many children still want a career in motion pictures, you could argue that these tykes should be paying us. A hefty salary wouldn't just imperil Beasts of the Southern Wild star Quvenzhané Wallis' amateur status. It would also endanger one of this great nation's most-valuable cultural and economic engines. Yes, the big studios bring in billions in revenues, but profit margins are tiny. The money that critics believe should go to teen sensation Elle Fanning? It simply doesn't exist. And even if there was some huge stockpile of cash sitting around unclaimed, how could we possibly decide how to distribute it? The big stars, we'd all agree, would get the biggest chunk. But what about the 5-year-olds in the background of muffler ads? The dozens of nubile 19-year-old women that populate our music videos? There's no possible system that would be fair and equitable, so it's not worth trying to create one.
Wall Street, too, has learned many valuable lessons in recent years. The credit crisis taught our leading investment banks that risk management is of the utmost importance. As a consequence, I have pushed every major firm to require its junior analysts to "go to school" during the first five to 10 years of their careers, learning by the side of trusted senior advisors. Though they don't earn wages during this probationary period, the daily steak-and-martini buffet provided by Goldman Sachs and others is more than adequate. The fact that the steaks and martinis are served out of a large trough does not concern me, nor should it concern the American people. The financial sector can and will police itself. Also, the trough is gold-plated.
Everyone in the United States has benefitted from this new way of doing business. The country's top media conglomerates have been imbued with the spirit of amateurism, revitalizing the great newspapers that mean so much to the American public. With McDonald's liberated from paying its fry cooks, America's fast food titan now has more to spend on improving Happy Meal toys. And Wal-Mart is doing really, really great. Really great.
As Fortune 500 companies have begun to right-salary their young employees, executive compensation has of course increased. This is only natural. In college sports, the money that would otherwise go to the athletes who everyone loves to watch instead gets transferred to the coaches, athletic directors, and NCAA executives.  The same principle applies across the entire business world. CEOs operate in an increasingly high-pressure environment, one in which a rival firm's decision to take away its workers' salaries must be matched with great haste. Without steady growth in executive pay, it's hard to see how this system can survive.
I'm confident that America's new age of prosperity will last for as long as I'm president. And when my two terms are up, I will proudly go back to the simple life I once knew: selling Johnny Manziel T-shirts out of the back of my car.
---