In the micro-fable "On Exactitude in Science," Borges invented a map so detailed that it grew to be the same size as the empire it represented. It was pure fantasy, of course, but not only because the map was so big. Any facet of any place contains such a rich and contested history of perceptions that it would be just as hard to keep the map that small. As Brian Teare points out in his tender and bountiful new book of poems, Companion Grasses, "a detail overwhelms / Entirety."
That statement, itself a quotation from Roland Barthes, along with dozens of other quotes Teare drops in midstream (or, more appropriately in this context, midfield; part of the book's impetus was an attempt to identify, with the help of a field guide, the grasses he saw on his hikes through Northern California and New England), is essential to the way the world becomes surfeit here. These poems have a loose mastery that lets them combine intimate observation—"gulls' / flight   pattern a graft / to updraft," the ocean's "sheet of silver / surface shook by light"—with a rangy awareness of all the people and ideas that accompany, inform and interrupt us in our seeing, even once they're gone.
Here in his fourth book, Teare (whom I've edited but never met) has made, among other things, an elegy in the key of attention, one that marks the importance of our loss by working hard to see what remains—which in this case means both the pastoral environment and the traditions through which we encounter it. It's no surprise that he does it so well. His last book, Pleasure, was an astonishing attempt, in the wake of his partner's death from AIDS, to make sense and strangeness out of the ways we elegize. Two deaths spur this new book's closing—those of his father and his friend the poet Reginald Shepherd—and it's hard not to feel the loss of his previous partner shadowing another long poem, this one about new love.
And then there's the grass itself, echoing Whitman's "beautiful uncut hair of graves," which does indeed seem like a stay against loneliness in this book. Teare translates that into an image
articulated by seed
                                    & dispersal, the radical
            scatter of energy, green
just before dry July sun
& the risk of wildfires
            some seeds […]
            depend on for release.
In these lines, as in so many of this book's poems, Teare makes sound into a plausible substitute for seeing, creating energetic networks of syntax and alliteration that, in their alertness, openness and intricacy, stand in for what he calls "my favorite thing : / when space shrinks, time / expands."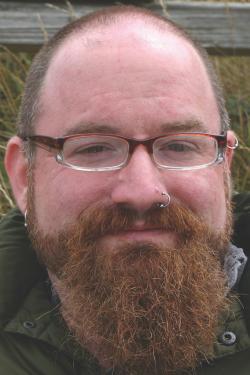 The book's final poem, the elegy for Shepherd, takes its title from the yellow star thistle, an invasive plant whose "uncanny design / ensures its slow destruction of an ecosystem : // it chokes out healthy grassland flora, even kills grazing animals / that might control its spread." The thistle, he insists, "is not metaphor," though of course it is: Shepherd died not from AIDS, which he did have, but because his doctors took too long to diagnose a cancer whose symptoms blended with those of AIDS.
It makes sense that Teare resists metaphor, the ways that our thinking exploits the materials it finds, even as he can't help making those connections. And it allows him to ask, with a human thumb on the scale, just how human we are willing to be. "Who wouldn't wish to linger in the material world," he asks, "that won't spare me or let me hold a living hand to him : / all spring I'll return // to bring grief to the field."
My favorite poem in the book may be the one that precedes "Star Thistle." The final poem finds its ambivalence in the ways that grief involves us in selfishness and illusion; this poem, an untitled response to his father's death, finds it in the very relationship it mourns: "how near I was to him / in my ambivalence," Teare writes. It's a magnificent reckoning with our inheritance. Earlier in the poem, he asserts:
                        We will
            have to begin as our forebears
            did, with the desire to sing,
                        bareheaded, full of sentiment, up
                                    past oaks & graves & empty
                           corral reclaimed by grassland[…].
The father and forefathers overlap. Teare will eventually connect his dad to:
                        Heidegger, Ives, Duncan,
            & the idea of California,
            all four essentially crazy
                        with ambition, injured,
                                    unethical, genius, sweetly
                        suckered by beauty
                                    & the thought of beauty.
He loved all of them, he explains, the way he loved his father: "before I knew anything / about him."
This is part of the reason I love this book so much. Our poetry is often fueled by theoretical concerns, and it's hard to turn away from their demands, but they often yield poems that seem uncooked, unpalatable, and cold. Here, though, they are felt, fabric, like the "annual / weave of leavings" he recalls the "pale green / stems infiltrating" in spring. They help to form "the resultant music / dissonant not because of distance // but because of our proximity / to each other."
Teare sets up the poem's ending with another quotation:
                        a silence endless
                                    as the air into which our fathers
                        last looked out, thinking, like Thoreau,
            "Here was no man's garden
            […]
                                    It was Matter, vast, terrific…
                        the felt presence of a force not bound
            to be kind to man." It's how
            our fathers' rest ends in us :
                        we stand & start toward the angle
                                    the afternoon light leans against
                        the long stone wall
                                    farther up the ridge : it's there
                        the path ascends to Atlas Peak
            where we'll bury their vision in air—
Sitting here with this book that quotes so much so intelligently, I want to go on quoting more. And that is, in some ways, the point. Companion Grasses is a long and loving attempt to quote a little of one person's encounter with a little bit of the world, even as some of what it quotes insists he shouldn't. It's a book of remarkable humility, schooled by suffering, in which humility ends up feeling like a bold and compassionate choice.
—
Companion Grasses by Brian Teare. Omnidawn Publishing.
See all the pieces in this month's Slate Book Review.
Sign up for the Slate Book Review monthly newsletter.