The worst baseball card of all time is not the kind of bad that creeps up on you. Glance at 1996 Pinnacle Foil No. 289 for half a second and you'll see that two things are very, very wrong. First, Bob Hamelin's enormous head takes up most of the frame. Second, the small portion of the card that is not consumed by Hamelin's melon is filled by a placard. That placard, which is being held by Bob Hamelin, reads "BOB HAMELIN." The Hamelin-held "BOB HAMELIN" sign is in turn partially obscured by a golden triangle with a name embossed on top: "BOB HAMELIN."
The card's commitment to badness never wavers. Consider the fact that the "BOB HAMELIN" sign looks like it's about to slice Bob Hamelin's chin off. There's also the defeated look on Hamelin's face, which—along with the blinding glare on his oversized glasses—makes it look like he's being interrogated by the baseball police, or perhaps being held against his will by a designated-hitter-collecting maniac. The "Pinnacle 1996" logo in the upper-left-hand corner conceals the Kansas City Royals logo on Hamelin's cap, part of a recurring pattern of hiding terrible things behind other terrible things. And what's that written on the underside of Hamelin's hat bill? Just in case there's any question that the man on the Bob Hamelin card holding the "BOB HAMELIN" sign is Bob Hamelin, there it is in black marker: "HAMELIN."
Some people believe that a bad baseball card is one in which a player looks like a nerd, has an afro or a unibrow, or is talking on an enormous cellphone. These are not bad cards. A bad baseball card is one in which errors of composition, design, or production conspire to turn a 2.5-by-3.5-inch piece of cardboard into a memorabilia crime scene.
The experts agree: 1996 Pinnacle Foil No. 289 is a very bad baseball card. "It's so jarring and awful, a collision of unpleasant forms and surfaces," says Josh Wilker, the author of the memoir Cardboard Gods. "I fear for anyone dwelling too long on this card. There should be contests to see who can last the longest staring at it before screaming into the night." Beau and Bryan Abbott, proprietors of the site Baseball Card Vandals, give 1996 Pinnacle Hamelin their highest praise, calling it "awesomely terrible." Dave Jamieson, author of Mint Condition: How Baseball Cards Became an American Obsession, wonders if someone at Pinnacle really hated Bob Hamelin and wanted to make him look bad on purpose. (The blog Royals Review agrees with this theory.)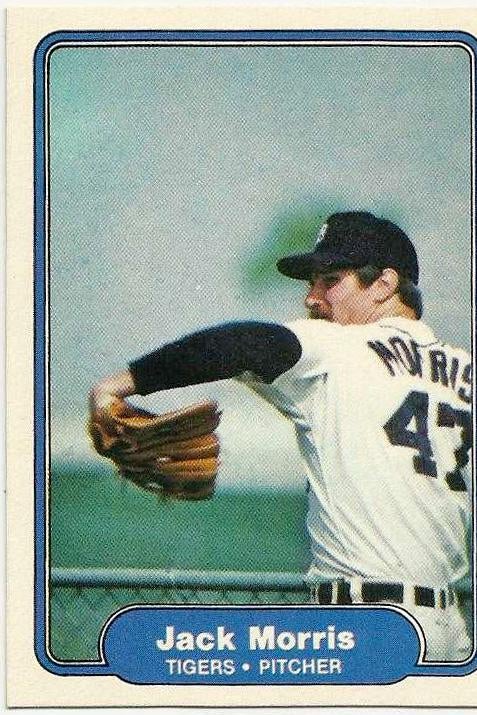 "We did try to be creative with some of the photos that were used on cards. That was definitely one of them!" says Shawn Heilbron, who was the communications and marketing manager for Pinnacle in 1996. Heilbron, now a senior associate athletic director at Oregon State University, says the photo was likely taken at the Royals' media day. "Players were typically asked to hold up a sign with their name so they could be identified easily," Heilbron says. "Usually, the guys would hold the sign down low so it would not be in the shot. The image on that card was likely an outtake from that."
Jamieson doesn't buy it. He argues that Hamelin's alleged poor sign-holding technique is no excuse for producing such a lousy baseball card, especially when the bar for quality is set so low. "It's easy to make a mediocre one," says the Mint Condition author. "Just tell Bob Hamelin to put a bat on his shoulder and smile or not smile. Most cards are exercises in mediocrity."
Jamieson believes that the worst baseball cards come from the worst baseball card eras. In the 1970s, when Topps had a monopoly on the hobby, there was no market pressure to create a beautiful, compelling, error-free product. The stats on the back were often full of mistakes. The photos would be out of focus. And instead of reshooting a player after he switched teams, the company would instead do a terrible job airbrushing the new club's logo onto his old hat.
Increased competition from Donruss and Fleer in the early 1980s did not guarantee that every card would be a winner—see the 1982 Fleer Jack Morris card on the left. Still, the 1980s and early 1990s were a relative golden age for card aesthetics, with old-line firms like Topps forced to up their game to compete with new rivals and upstarts like Upper Deck bringing higher production values to the hobby. But by the mid-1990s, Jamieson argues, more was not merrier. The rising belief that baseball cards were "cardboard gold" led a whole bunch of companies to flood the market with hologram-and-foil-bedecked, mass-produced collectibles. Some of these cards were snazzy. Some were … less snazzy.
Pinnacle Brands first got in the sports card game in the mid-1980s with Sportflics, which used a lenticular printing process to make the images appear to move when you tilted the card. The company started producing cards under the Score trade name in 1988, then released its first Pinnacle baseball issue in 1992. The 1996 Pinnacle Foil set that changed humanity forever is marked by gold foil triangles that jut up from the bottom of the frame, often seeming to stab players in the groin. This was just one of a mind-boggling array of different sets that Pinnacle brought to market in 1996, including Pinnacle Aficionado, Pinnacle First Rate, Pinnacle Starburst, Pinnacle Team Spirit, and Pinnacle Christie Brinkley Collection. Given all the cards the company was cranking out, at least a handful were bound to stretch the limits of human decency. Such was the baseball card market of the 1990s. And this, too, was a sign of the times: In 1998, two years after Pinnacle Foil No. 289 came off the presses, Pinnacle Brands filed for bankruptcy. The baseball card bubble had burst.
The arc of Bob Hamelin's career coincides perfectly with that of Pinnacle Brands. The Elizabeth, N.J., native made his minor-league debut in 1988, finally cracking the Royals' big-league roster five years later. In 1994, the slugging DH cracked 24 home runs, beating out Manny Ramirez to win the American League Rookie of the Year award. The Hammer, though, was out of the big leagues for good after hitting .219 for the Milwaukee Brewers in 1998.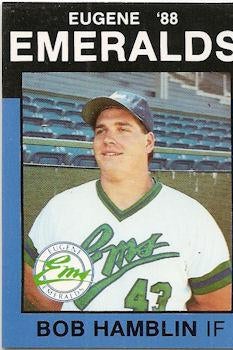 Hamelin is now a scout for the Boston Red Sox, and he says he couldn't ask for a better job. He also looks back on his playing days with fondness, a nostalgia trip that's easier to take when you've got piles of your old baseball cards around the house. That's one benefit of playing in the Pinnacle era. Hamelin, who was in the big leagues for just six seasons, has 119 different cards listed on Sports Card Source, and that doesn't even include 1995 Tombstone Pizza No. 3. The most valuable of those cards, according to COMC.com, is worth $5.75. Depending on where you look, the 1996 Pinnacle Foil No. 289 is valued at anywhere from 33 cents to 39 cents.
Having a huge stash of cards comes in handy, Hamelin says, when the mailman asks if you really played in the majors or when your kids' friends are looking for a souvenir. The 1994 Rookie of the Year says he still gets around 200 cards in the mail each year from autograph seekers. Sometimes, he admits, he'll swipe a few if someone sends more than a dozen in a single envelope.
He's seen that Pinnacle card before, and it reminds him of spring training. One day each year, players would go into some auxiliary room, he says, and get herded through 15 different stations—one for ESPN to take a headshot, another where you'd hold the bat on your shoulder for a card company, another where you take a swing. Each player would hold a sign so all the different photographers know who they're shooting. Most of the time, the guy with the camera chose the best image. This time, Hamelin says, "Maybe they accidentally erased every other picture."
Bob Hamelin does not think the worst baseball card of all time is the worst baseball card of his career. The first time he ever appeared on a card was in 1988, when he played for the Class A Eugene Emeralds. That time, they spelled his last name wrong.
In the end, then, perhaps Pinnacle Foil No. 289 shouldn't be regarded as an example of everything that can go wrong with a baseball card. Rather, we can focus on how Pinnacle got it right. The company didn't just spell Hamelin's name correctly—H-A-M-E-L-I-N is written out three separate times in all its glory.
Yeah, I don't think so. This is, and will perhaps always be, the worst baseball card of all time. But don't feel too bad for Bob Hamelin—he's got 118 other cards that he can hand out to the mailman. "Sometimes they get it, sometimes they don't," he says. "They didn't get it on that shot."