Brow Beat is following the Beatles in "real time," 50 years later, from their first chart-topper to their final rooftop concert. Fifty years ago this month, the Beatles played their final show, after almost 300, at Liverpool's Cavern Club.

When John Lennon's band, the Quarrymen, first played the Cavern Club, they nearly got kicked off the stage. It was 1957, and the Cavern was still a club for trad jazz. The Quarrymen were hired to play skiffle, but John Lennon wanted to play rock and roll. After he ignored the protests of his bandmates and launched into songs by the likes of Elvis and the racially integrated doo-wop group the Del-Vikings, club owner Alan Sytner sent a note to the stage: "Cut out the bloody rock."

That night, it looked like Lennon might never be invited back. But six years later, when John Lennon brought his group by for their last show at the Cavern, the times had changed. The Quarrymen had become the Beatles, they had played the club almost 300 times, and they had transformed the venue into the center of Liverpool's exploding rock scene.
The Cavern itself was never much of a space, but it had its sentimental value. Down 17 steps, it used to be a basement wine cellar, complete with brick walls, vaulted ceilings, and an almost total lack of fresh air. McCartney described it as "sweaty, damp, dark, loud, and exciting." George's mom, Louise, called it "a dump." Beatles associate Adrian Barber may have summed it up best: "a shithole—but with soul."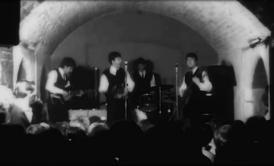 When they first started there, and it was still a jazz club, it didn't help that Lennon hated jazz and all its fans. "Jazz never gets anywhere, never does anything," he said, "it's always the same, and all they do is drink pints of beer." Still, the Beatles itched to play the Cavern because jazz clubs were one of the only places that people actually paid attention to the music.

And they made the best of it—partly by including things other than music in their performances. Much of what they did was comedy: skits and jokes and impersonations. Frequently the electricity would cut out—according to Louise Harrison, the place got so sweaty that the  perspiration would drip onto the equipment and cause a short—but the Beatles would fill the time by leading sing-alongs, leading the crowd in singing silly tunes like "Coming 'Round the Mountain" or the jingle from the Sunblest bread commercial.

By 1961 they were playing several Cavern sets per week, often performing more than once in a day, and had won a loyal following (including groupies). It was in this environment that they first grabbed the attention of future manager Brian Epstein, who later described his first impression of the band:
They were not very tidy and not very clean. They smoked as they played and ate and talked and pretended to hit each other. They turned their backs on the audience and shouted at people and laughed at their private jokes. But there was quite clearly enormous excitement. They seemed to give off some sort of personal magnetism. I was fascinated by them.
The only footage we have from the Cavern shows comes from after Epstein began managing the group and persuaded them to get rid of their jeans, their leather jackets, and their drummer, Pete Best. The clip, filmed by Manchester-based Granada television, is from one of their first shows with Ringo, and many of the local fans are not happy. They play Lieber and Stoller's "Some Other Guy," and at the end a heckler shouts, "We want Pete!"
As important as the Cavern was to the Beatles, by the time they played their last show there, on Aug. 3, 1963, they had outgrown it. They got 5 pounds for their first gig there; by the end, they were getting 300. The place remained as sweaty as ever, and during that last show, when the power went out, John left the stage. According to Tony Crane of the Merseybeats, who opened for them, Lennon said, "We never should have come back."
Read more recent posts from Blogging the Beatles
Quiz: Who Wrote It, Lennon or McCartney? The With the Beatles Edition
How Lennon and McCartney Wrote "She Loves You"
Quiz: Who Wrote It, Lennon or McCartney? Please Please Me Edition
When John Lennon Was Simon Cowell
The Beatles Overtake Their Idols
The Beatles Get Their Own Show
Did John Lennon Have a Secret Affair With Brian Epstein?
The Songs the Beatles Gave Away
The Beatles Meet the Stones