Is there a Good Will Hunting curse? Are Damon and Affleck stuck in a zero-sum game? Are they doomed to forever see-saw, with their careers trading off in fame and glory?

Our highly scientific analysis says yes. Rarely since their 1997 hit have they succeeded at the same time, and as soon as one star begins his ascent, the other comes hurtling back to Earth.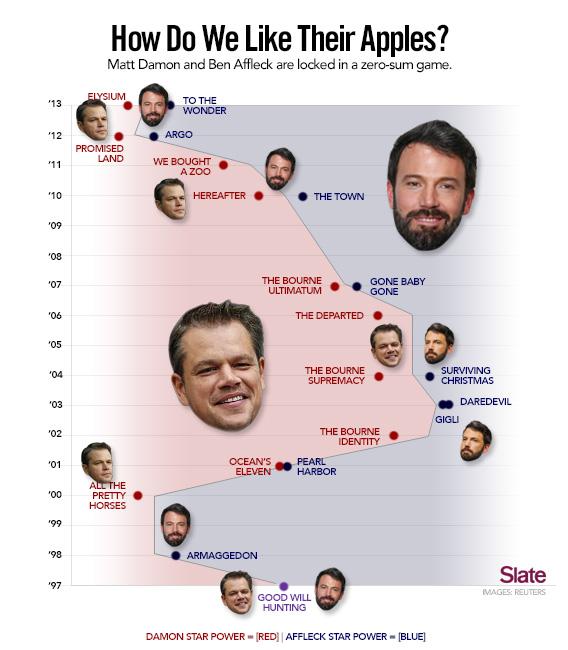 First Affleck prospered in blockbusters like Armageddon and Pearl Harbor while Damon's more critically acclaimed efforts culminated in the mostly forgotten All the Pretty Horses. (Horses got widely panned while Armageddon sailed into the Criterion Collection.) Then Damon struck gold with the Ocean's and Bourne series while Affleck moved on to a historic series of flops. (In the days of Paycheck and Surviving Christmas, Gigli was only the beginning.) Then Affleck rebounded as a director, leading to his self-directed star turn in Argo, which brought home big bucks and a Best Picture Oscar. Damon bought a zoo.
How can they end the curse? Clearly they must reunite and rekindle the magic of their 1997 classic. In the meantime, Damon needn't worry too much about Elysium, which has been a disappointment both with critics and at the box office. If Affleck's next movie, Runner Runner, is half as bad as it looks, Damon's star will shortly be back on the rise.