The writer Albert Murray passed away on Sunday evening at age 97. His life was long and busy, and he found many hours in the day—so many that substantive obituaries, such as the one that appeared on Page 1 of yesterday's New York Times, can't possibly do it justice. Nor can I. But here, at least, are a few things you might not know about one of the most original stylists in American letters, a philosopher of the blues, who championed resilience and improvisation against the cold certainty of life's uncertainties, and helped articulate and explain the dynamic synthesis that is American culture, as much black as it is white, if not more.
As a photographer, he was a serious amateur. And yet two of his photographs are in the permanent collection of the Metropolitan Museum of Art. How did this happen? They are photos of a block, Lenox Avenue between 131st and 132nd Streets, and they are also studies for "The Block," one of Romare Bearden's most ambitious works, which has been called a critique of Robert Moses along the lines of Jane Jacobs, and which was conceived on the terrace of Murray's apartment, overlooking the block. You can watch them discuss it on Murray's terrace in 1981. Murray gave titles to many of Bearden's works, wrote wall text for his art. When Bearden had to write something, Murray often ghostwrote it.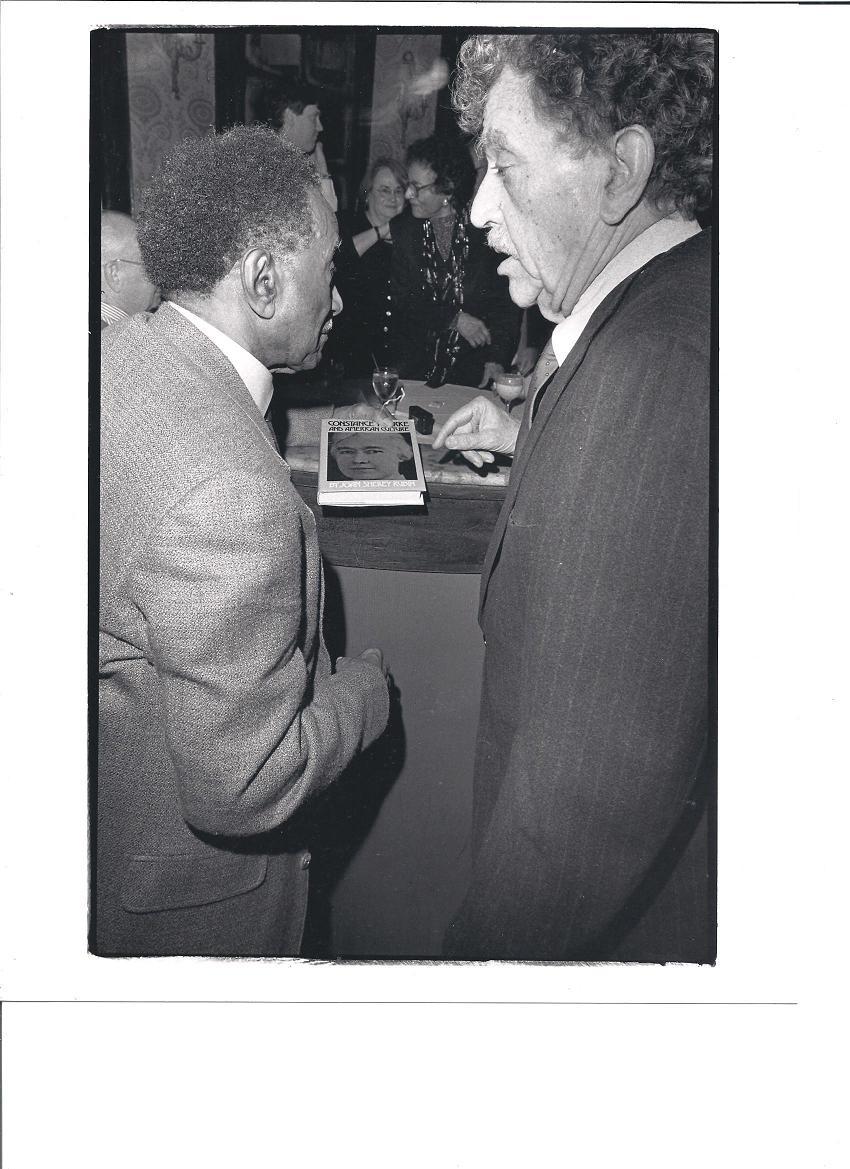 Albert Lee Murray was Al to those closer to his age, but Mr. Murray, always, to me. Mr. Murray published one volume of poetry, at age 85. The New York Times obituary suggested that his poems were small-scale and personal, and perhaps some are, but that hardly describes his extraordinary poem about William Faulkner. He contributed a chorizo recipe to a book edited by Faulkner's niece, The Great American Writers' Cookbook. Murray was an epicure. But once in a while, he would eat at McDonald's. He loved now-vanished Manhattan restaurants, and ate pig's feet for good luck on New Year's Day. He married Mozelle Murray in 1941. They had a daughter, Michele.
His mother and father were very young when he was born in Nokomis, Ala. His mother was about to attend college. They gave him up for adoption. His father, John Young, served in World War I and went on to manage the power plant at Tuskegee Institute. The Youngs had deep Tuskegee roots and connections. Murray got to know him prior to beginning classes there in 1935. Murray had a very different experience at Tuskegee than his classmate Ralph Ellison. His adoptive father, Hugh Murray, was a laborer who also managed a semi-pro baseball team that included a pitcher named Satchel Paige. Hugh Murray couldn't read, so young Al sat in the dugout with the rulebook at hand, ready for arguments with the umpires.
Albert Murray taught James Baldwin how to swim, in France in 1950. He criticized Baldwin harshly in a 1970 essay, but they appeared in a 1977 documentary together. He was generous to young people trying to learn and harsh on established figures when he thought they were faking it. He liked television: Soul Food and A Different World. Sometimes we watched golf on television together over the phone.
Albert Murray crashed on Ma Rainey's couch. He wrote a recommendation letter for Tom Wolfe.  He forgot what he did with a letter of praise from Saul Bellow. (I found it eventually, though Mr. Murray didn't seem too concerned about it.) When Bill Clinton moved his office to Harlem, he sent over an aide with some kind of "Bill Clinton" medal for Murray. But Lyndon Johnson is the president who understood Murray. And vice versa. Murray's South to a Very Old Place (1971, a finalist for the National Book Award) includes a rollicking verbal jam session in which middle-aged and elderly black folks in Mobile riff on the Civil Rights movement. Johnson's former aide Jack Valenti wrote to Murray in 1972, and told him that LBJ read the section out loud to him, adding, "you should know that the President found what you wrote, poetically and structurally, as well as emotionally, to his taste."
Murray helped co-found Jazz at Lincoln Center in 1987 and worked as a board member there in subsequent decades. There's an annual jazz band competition for high school students called Essentially Ellington, and for years, Murray judged the essay component.
His final novel was published in 2005. Toward the end of the book he has riffs on two of his favorite writers: Joan Didion and Edna St. Vincent Millay. Reviewing it in Harper's, John Leonard wrote the book was "less kiss-kiss bang-bang…than elegy, reverie, memory book, and musical score, as well as a thank-you note to the entire sustaining community of black America."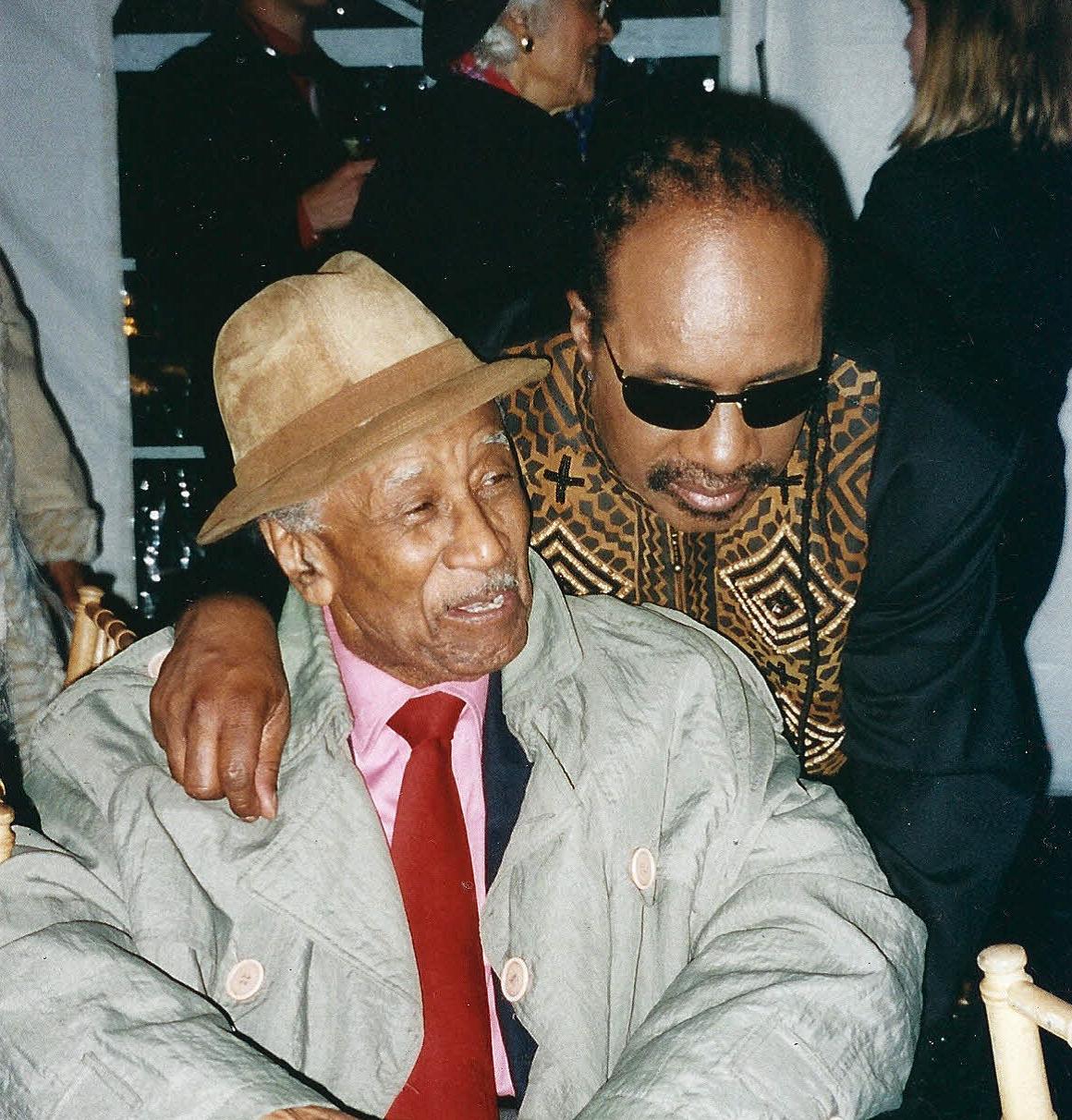 I spent four years driving Albert Murray around Manhattan, and double that sitting by his bedside. He was as comfortable at the American Academy of Arts and Letters as he was at his Harlem barbershop. Once, when he was overdue for a haircut (which he rarely let happen), I pushed him in his wheelchair from his apartment on 132nd Street in Harlem to his barbershop on Lenox Avenue—the same stretch of Lenox Avenue that inspired Bearden's "The Block." Murray's white hair was looking a little wild. His barber, Jason, exclaimed "Albert Einstein Murray!" Murray laughed heartily—his laugh was deep and life-affirming—and said, "That's my context, man! Particles and waves!" He then explained the Second Law of Thermodynamics, and much else. His riff didn't go exactly like this passage toward the end of his last novel (in which Scooter, protagonist of Murray's four-volume bildungsroman, recalls his college roommate), but the spirit was the same:
There is no guaranteed all-American movie-concocted melodramatic resolution out there, my ever so appropriately ambitious and unimpeachably sincere young man from the northbound L & N Railroad outskirts of Mobile, Alabama. Take it from old Geronimo, your newfound fellow trailmate from the South Side of Chicago. There is only the ultimate actuality of the entropy (repeat, entropy) of the void, upon which he impose such metaphorical devices as AND, as in (andoneandtwoandthree-andfourand) and one, and two, and three, and four and so forth, from which we also get 'and so it came to pass and so on it went, time after time after time, as has been recorded here, there and elsewhere.
Jay Lamar, who directs the Center for the Arts & Humanities at Auburn, wrote this to me in an email last night: "In my mind, I think I thought he would live forever, urging us to be better human beings, better artists, better citizens, raising us beyond our raising, no matter where we came from."