"When I'm in London," Roger Ebert once said, "I hardly ever go to the movies."
Ebert died on April 4, at age 70. Much has been written about his elegant prose, his film industry clout, his hallowed public standing and, in the end, his fortitude in the face of cancer. But much less is known about another essential Ebertism: his anglophilia.
Ebert—the lifelong Chicago newspaperman—loved Britain. Each year he visited at least once, but often many times. He dreamed of moving to London. In his 2011 memoir Life Itself, he wrote, "I felt a freedom in London I've never felt anywhere."
But few Ebert devotees know that in 1986, Ebert penned a love note to the Old Smoke in the form of an all-but-forgotten little book called The Perfect London Walk. Co-written with Daniel Curley, who had been Ebert's mentor at the University of Illinois, the slim volume is a gushing, gluttonous, and Dickens-filled homage to Ebert's favorite town.
"For twenty years, my favorite pastime has been to walk around London," Ebert wrote in 1986. "However, there is one walk that is more than just familiar. It is a ritual. It is one I have taken every time I have visited London. I have walked it in snow and sleet, in rain and cold, in burning hot drought, and, most often, on perfect spring or autumn days. I have walked it fifty times with a hundred friends, and I am not half through with it yet."
This is why, on a recent Tuesday morning, I found myself cursing Roger Ebert from the heart of Hampstead Heath, an expansive public park in north London. I had followed Ebert's 30-year-old instructions to the T. At the summit of Parliament Hill—where, legend has it, Guy Fawkes planned to observe the destruction of the Parliament buildings by anti-government plotters in 1605—I had turned my back squarely to cityscape, walked downhill "at about eleven o'clock," continued "in a generally northwest direction," crossed a meadow, and found "a tree with a curious knob on its trunk" and "a little ditch beside it."
Ebert had advised me to "hop across" the ditch. I could have walked around it, but I'd wanted to play by his rules. This being England, however, it was raining. And I slipped mid-hop, narrowly saving my copy of the book from muddy ruin.
The Perfect London Walk begins with "a stroll through the leafy streets of Hampstead" and ends with a plunge "into the Gothic gloom of Highgate Cemetery." In between, walkers following Ebert's steps visit museums and old manor houses. We stand outside a café that was formerly a pizza parlor that was formerly a bookstore where George Orwell worked and wrote. We gingerly inch down Swain's Lane, the narrow passage leading to Waterlow Park where, in 1626, "on a cold winter day while riding in his carriage, Sir Frances Bacon conceived the notion that refrigeration might retard spoilage."
Walkers are not exactly sent off the beaten path. But even if the stops are familiar, the book is delicious in its detail. Ebert and Curley advise readers on appropriate walking attire and list bus routes at length. They suggest particular benches to rest on and tall trees to admire.
For all this, The Perfect London Walk is a terribly unusual book, one without any aspiration to timelessness. Or, perhaps, its authors trusted that London would remain timeless enough to render their book indefinitely useful.
Just as the light rain was morphing into a proper shower, I found my way to the other side of the Heath, and up the road to the Spaniards Inn, where Ebert had sent me for lunch. Dick Turpin, the celebrated highwayman, used to frequent the Inn—perhaps, Ebert mused, "sizing up the travelers as they maneuvered past and deciding which ones were worth robbing." Charles Dickens was also fond of the place. It was in Inn's garden that Mrs. Bardell of The Pickwick Papers was arrested for nonpayment of legal costs in her lawsuit against Mr. Pickwick.
Ebert's attachment to the Inn, however, was more epicurean.  "It was there I first tasted a banger," he later wrote. Today, instead of "bangers and mash," the Inn serves "free-range Gloucester Old Spot sausages" with "cider gravy."
***
In 1966, Ebert, finishing up a year abroad at the University of Cape Town, passed through London on his way home to Illinois. His professor Daniel Curley was also in London, on sabbatical, and the two met up. Curley led Ebert on a stroll through Hampstead Heath. The Perfect Walk was born.
A few years later, on another trip to London, Ebert bought a copy of the guidebook Nairn's London from a bookstand in Leicester Square. By then, London was Ebert's favorite town, and walking his preferred method of imbibing its riches. Ebert spent the next few years working through Nairn's 450 "best things in London."
While in Chicago, Ebert maintained a steady diet of English novels. His friendship with Paul Theroux was, in part, based on their shared anglophiliac reading habits. Later, Ebert morphed from admirer to proselytizer. In the '80s, he starred in a chintzy but good-hearted television series called Focus on Britain, produced by the British Tourist Authority. On YouTube, you can still watch him reclining in a boat, as it drifts along the River Cam by Cambridge University—or talking history amid the poetic ruins of St. Mary's Abbey in York.* In the '90s, he cajoled publishers into reissuing Nairn's, and wrote his own breathy introduction to the 2001 edition. He was fond of quoting (and tweeting) Dr. Samuel Johnson: "Sir, when a man is tired of London, he is tired of life."
In 2011, Ebert got word that his favorite London hotel, 22 Jermyn Street, was being torn down. Dismayed, he wrote a 4,465-word blog post, waxing poetic about the hotel's gas heaters and butter sandwiches and hopelessly eccentric owner. Henry Togna Jr., son of that owner, had taken over from his father a few years before the hotel was shuttered. I recently met him at a private club near Hyde Park, where I was ushered into a remarkably upholstered drawing room by a receptionist in a scarlet dress. Togna and I talked about Ebert over stiff drinks (at noon).
Togna explained that his relationship with Ebert grew tense when he decided to renovate his father's hotel. Ebert had grown attached to its crumbling charm. At one point, midway through the renovations, Ebert stopped by to examine the construction firsthand. In particularly, he was keen to see the new bathtubs. "He wanted to check out if he would fit if the tub!" Togna remembered. "He was quite chunky at the time … but he slipped right in. He said: 'This is fine. I will continue staying here. This is a comfortable tub.' "
When the hotel was torn down, Togna Jr. acquired an oil painting of the old building. "I sent it to Roger," he told me, "because it was his London home."
***
I ordered my copy of The Perfect London Walk the day after Ebert died, after catching mention of it in several obituaries. The book was printed in both the U.S. and the U.K., but in just one small edition. On Amazon.co.uk, I nabbed a copy for a paltry £8.75. Evidently, others had the same idea. The book has virtually sold out. When I checked Amazon.com recently, a single new copy was retailing for $520.61. (The market for used copies has since gotten somewhat better.)
But following Ebert's path all these years later, the book proves its durability. Changes to the walk, where they need to be made, are slight: Kenwood House is closed for construction, but I was still able to roam the stately grounds, which are sprinkled with a comically large number of park benches. Hampstead Tea Rooms is still in operation, though it no longer serves pastries from the window.  The plum tree outside Keats House is long gone.
But Ebert's "extraordinarily gnarled tree" still rests in its "shady passage," and The Freemasons Arms still serves "substantial fare," and waterfowl still swim on the waterfowl pond in the Heath. Paths still fork where Ebert says they do.
Around 4 p.m., I came to the end of the walk at Highgate Cemetery, where Karl Marx's ostentatious tomb (a giant bust) towers over the more modest gravesites of other notables, like Mary Ann Cross (aka George Eliot).
Leaving the cemetery, I found my way back to Highgate Hill Street, where The Perfect London Walk presented me with two options: I could go to Highgate for tea or I could return home for tea. (Tea either way, of course: Ebert always preferred a Lapsang Souchong.) Exhausted, I set off for my less literary East London abode.
A few weeks later, I spoke with Ebert's widow Chaz on the phone. We talked about the Perfect Walk, which Chaz has taken many times. One memory stood out, which she recounted in the present tense:
"The funniest thing happens when Roger and I take the walk—when we get to Parliament Hill. This is so uncanny … but each time we've done the walk, there has been someone at the top of the hill with the book. Roger will walk up to them and say: 'Oh, I see you've got a copy of the book. Any questions?' And they will say: 'Oh, you're Roger Ebert! That's great! Is this included with the book?' Meaning: Does he stand at the top of the hill to give directions?"
Chaz wanted to know how much the walk had changed. "I'm going to be in London soon," she explained. "I'm going with my book and I'm going to do the walk. Maybe I'll sprinkle a few of Roger's ashes along the way."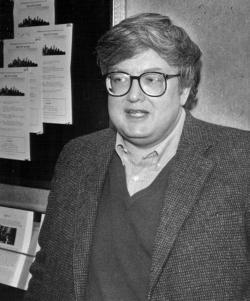 In his sickest days, Ebert wrote, when he was too frail for cross-Atlantic travel, "I started walking around this London in my mind." Mentally, he'd start out in his hotel lobby, before turning down Jermyn Street. His first stop would be at Wiltons, where he would order "roast turkey with fresh peaches, and raspberry syllabub for dessert." Roger Ebert, unable to make it to London, imagined London; unable to eat, his jaw gone, he imagined what he'd devour. For, after all, he needed to be fortified for the day of walking ahead. 
In the end, the Perfect Walk is something much more than a stroll. In his memoir, Ebert reflected on his habit of taking the same walks over and over. "These rituals are important to me," he wrote. "I have many places where I sit and think, 'I have been here before, I am here now, and I will be here again.' "
Throughout Ebert's writing, the act of walking without purpose acquires a certain religiosity. In this vein, the Perfect London Walk functions like a pilgrimage, a trip to be repeated over and over, step by step. And always at a pace that befits reflection: "I was not a fast walker," Ebert said, "but I was steady. Walk too fast and you miss the show. I doodled. Dawdled. Moseyed. Sat down and thought.  Gazed into space." To take Ebert's walk just once is not to experience it in full. Take it enough times that you lose yourself in it, even while walking the path. If you can't make it to London, find your own perfect walk in the perfect place you love the most. At the end, at the moment when you are too tired to go on, stop for tea.
Correction, July 12, 2013: This piece originally misidentified the River Cam as the River Thames. (Return to the corrected sentence.)
—
The Perfect London Walk by Roger Ebert and Daniel Curley. Andrews McMeel.
See all the pieces in this month's Slate Book Review.
Sign up for the Slate Book Review monthly newsletter.