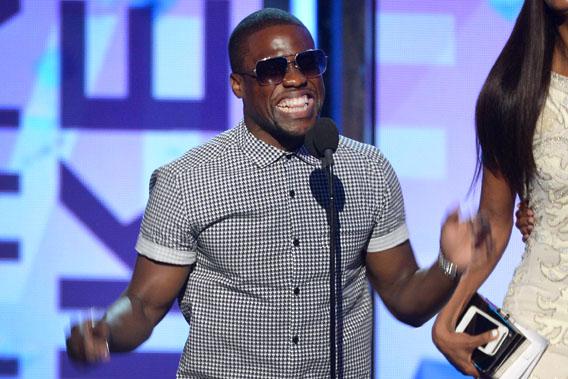 In December 2011, W. Kamau Bell declared Louis C.K. "the current heavyweight champion of stand-up comedy." The verdict was pretty much unanimous by then: 2011 was the year of Louis. So, for that matter, was 2012. But what about 2013? C.K.'s FX show is off the air for a stretch; his most recent special, though excellent, did not grab the attention of the American public to quite the same degree as his paradigm-shifting self-distributed one from 16 months before. Perhaps, for the first time in a while, there's an opening for an ambitious comic to step up and call himself the new king.
Enter Kevin Hart. Bell ended that 2011 column with a warning to C.K. that "Hart wants a title shot," and Let Me Explain, Hart's second stand-up special to hit the big screen (after Laugh at My Pain, one of the highest-grossing indie movies of 2011), is not shy about its royal ambitions, from the cringe-inducing tag line on the poster ("Witness the Rise of a Legend") to the several-minute-long highlight reel from Hart's European tour, presented early on in the movie as proof that Kevin Hart is no "local ass bitch."
The infomercial feel of those few minutes may be more than some viewers can forgive—but I suspect most will get over it, for two reasons. First, Kevin Hart is real damn funny, and once you've laughed, hard, for an hour, you'll excuse the initial bit of self-promotion. Second, Hart's advertisements for himself betray an insecurity that feels deep-seated and sincere, and which gives emotional oomph to some of his best routines. It's what most distinguishes him from truly swaggering stand-ups like Eddie Murphy, Hart's most obvious influence.
Such moments of vulnerability are less frequent here than they were in Laugh at My Pain—which is still Hart's finest hour, and which displayed a Cosby-like capacity for creating great comic characters out of immediate family members, a talent not much utilized this time out. But there is some finely wrought confessional humor nonetheless, much of it about Hart's recent divorce—or, rather, the cheating (and the lying about the cheating) that led to that divorce. Not to mention the jealousy inspired by the cheating. Hart recounts, for instance, the time he found his wife in the trunk of his car, aiming to spy on her wayward hubby. (Exposed, she ran back to the house and bafflingly pretended it never happened.) He talks about the times she did confront him, and perfectly mimics the postures, rhetorical and otherwise, that men and women often strike in those sweaty, teary, shouted-then-whispered exchanges. Finally he describes a failed attempt at Ecstasy-fueled reconciliation, miming the love he made to a bean bag chair, having flopped with his soon-to-be ex-wife.
Throughout, Hart makes full, frenetic use of his physical talents, probably unmatched among current stand-ups. He is, maybe, a little too frenetic, too frequently at full speed. But when he gets rolling, the laugh lines come quick, one after the other, and he kills. I saw Let Me Explain in a packed screening on 34th Street in Manhattan, and one extended riff about Hart's fear that a homeless man will touch his lip and give him a "bum bump" (the whole bit is as silly as that sounds) got sustained, crescendoing, make-him-stop guffaws from nearly everyone in the audience.
It's not the most intellectual routine. And Hart is not one to stop himself and wonder if he's leaning a tad heavily on the "crazy woman" motif, or using the word bitch a bit much, or giving into gay panic when telling the story of riding behind another man on a horse and thrusting into him inadvertently with each gallop. Some people may be put off enough by these mild forays into sexism and homophobia to stop laughing. I wasn't.
Hart makes himself the butt of his jokes, and he never seems hateful. He works very hard for his laughs, and he doesn't hide his sense of accomplishment. Hence that European highlight reel—and hence, too, an earnest moment at the end of Let Me Explain, in which Hart, after his last joke, expresses his gratitude and amazement that he, the little 5-foot-5 guy from north Philly, has sold out Madison Square Garden, and in general come as far as he has. He says he doesn't want to "be a bitch," but then he goes ahead and cries anyway. It's an unlikely note to go out on, but also a reminder that Hart has always been an underdog in this fight. And even if the title isn't indisputably his—yet—there was a victory in there somewhere.
---