This article is adapted from Mark Kurlansky's  Ready for a Brand New Beat: How "Dancing in the Street" Became the Anthem for a Changing America, out now from Riverhead.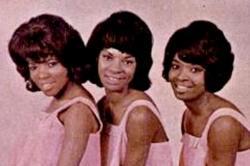 In Detroit, with the Beatles at their heels, Motown was still searching for the perfect sound for young America. Among the more recent Detroit people who had come to Motown looking for opportunities was Ivy Jo Hunter, a horn player. While Berry Gordy and Mickey Stevenson had been picking up talent in the local clubs, Hunter was away in the Army. When he returned to Detroit in the winter of 1963, he found work shoveling snow. He also sang R&B in local clubs. He occasionally helped out young groups and was overheard by Hank Cosby, a saxophone player at Motown, giving tips to one group. Cosby recognized that this small man with a fast and mischievous sense of humor had a deep understanding of music. Hunter's response to the offer of a job at Motown was, "It pays better than shoveling snow." That was about as high a praise for Motown pay as was ever heard.
Neither he nor Martha Reeves could exactly remember this, but they thought they had once gone out on a date. They had met at a rent party, a common practice in urban black communities where people would throw a party in their own home and charge admission for music and dancing or sometimes gambling. The goal was to earn enough money to pay the rent.
In 1964, just as that throbbing summer of discontent was getting started, back in the Motown bubble Hunter worked on a song with Stevenson and Marvin Gaye. Stevenson and Gaye had done many songs together, and Hunter would go on to do songs with Gaye, and songs with Stevenson, but this was the only song the three did together.
The exact evolution of the song is unclear. The one thing Stevenson and Hunter both agree on is that Gaye contributed the phrase "dancing in the street." He, of course, did not invent the phrase. In past centuries it was a common expression connected with carnivals, especially in black culture. Dancing in the street was celebrating.
At Motown, songs were not written the way Rodgers and Hammerstein did, combining a composer and a lyricist. Everybody did a bit of everything. "Once you start writing," said Stevenson, "it comes as a collaboration." He could not give any specifics on who wrote what, but he did say, when asked about the meaning of the song, that it had come to him and Gaye when driving through the city on a hot summer day, watching kids of different races playing by fire hydrant water spouts. Gaye said to him, "Dancing in the street." So to Stevenson it was a song about integration.
Hunter recalled that most of the song was written in the attic of the home of Stevenson and Kim Weston. "I was writing this melancholy song, and Marvin Gaye was listening and said, 'That's no melancholy song, that's dancing in the street.' "
There are conflicting versions of how Martha Reeves came to sing this song. It is agreed that she just happened to be in the studio on the right day. It also seems to be true that Weston had been offered the song first. Guitarist Joe Messina recalled that "Kim Weston" was the artist name on the music he was handed for the session. The story that Weston did not want the song and that Gaye seized on Martha on a whim as a replacement is at best an exaggeration. When interviewed, Weston denied turning down the song and said that she wanted it. Furthermore, Reeves, in her autobiography, said that she initially did not like the song. Later in an interview, she backed off slightly from that, saying that it was just a momentary feeling. "I was not impressed. I don't want to dance in the street. I want to dance on a big stage or a big elegant ballroom."
Stevenson said that Weston, his wife, had been assigned the song. The track had already been made, and they needed a demo tape for Weston to study. This was the usual practice. The artist would spend two days studying the song with the tape before the recording session.
Stevenson said he had never intended it for Reeves. But she was extremely professional and reliable. Late one night, according to Stevenson, they wanted to make the demo tape for Weston, and Reeves was still there. Stevenson said that he and Gaye and Hunter were in the studio working on a demo tape on top of the finished music track. After hearing the track with Paul Riser's arrangement, Gaye and Hunter were concerned that Weston's usual heavier approach was not well-suited for the light feel of the song.
According to Stevenson, they had Reeves listen to the song twice. Then she sang it.
According to the oft-repeated legend, she tore through the song brilliantly, and then they had to tell her that they had made a mistake and failed to record it. So they did it again. This myth was destroyed in the fall of 2011 in her old Eastside family home, a two-story white-shingled, purple-trimmed house with a yard enclosed by a chain-link fence.
Reeves was sentimental about the house where she had grown up, where she learned to sing at the kitchen sink, the oldest girl of 11 children, assigned to washing the dishes; the house where she used to play with the child Stevie Wonder to keep him out of everyone's way at the studio. The house is full of posters of concerts and recordings from the 1960s and 1970s and shelves of scrapbooks. Reeves liked to go there to think and to talk. We were sitting on the lumpy old furniture in the living room and she was explaining about how they failed to tape the first take and how she had to do it again, and how this irritated her. As she spoke, she was playing the famous recording. I asked her which take she thought was better, and before she could answer, Hunter interrupted with a sly grin and said, "Look at me. I'm sitting in a studio with an artist you don't want to upset. Do I say, 'Do it again,' or do I say, 'The machine wasn't on'?"
Reeves slapped her thigh with a look of shock on her face. Forty-seven years earlier she was tricked into redoing a recording and producing her best and most famous work. Not only that, but Hunter revealed another fact that she had never known. She had been "up for a release." At Motown, artists were often the last to know things. "Up for a release" meant that either Gordy or Stevenson had put the word out to the approximately 15 songwriters that they wanted a new song for Martha and the Vandellas. Holland-Dozier-Holland would have had the option on them because they had written their last hit. But other songwriters could try to steal them away. "Dancing in the Street" was just the song to do that.
Reeves said, "I just sang it the way I felt it." As she sang, she thought about being an Eastside teenager, on a porch, with one of the small portable record players that had become available in the 1950s, playing 45s while kids danced to the music out on the street.
When she finished the second take, she looked up at the small and crowded control room, where Gaye, Stevenson, Hunter, and engineer Lawrence Horn were. Reeves said, "When I saw grown men up in the window slapping each other, I knew."
That is not exactly how Stevenson remembered that moment in the booth. Reeves' voice was just as he had observed at her first audition: "not great, but a unique sound." It was neither sweet nor beautiful, but it had an undefeatable power that some would call sexy, others edgy, some even said political. Jon Landau called it "a straight, tough soul voice." In the words of drummer Stephen Jordan, "Her voice was pleading and not super aggressive. It makes you feel good." It had that element of the church music with which she had grown up. Whatever that force was, it had never been more evocative than on the recording they just made.
But Stevenson had a problem at home with Weston, to whom he had promised the song. He remembered:
"She finished the song. Ivy Jo looked at me. Marvin Gaye looked at me. And they both said at the same time, 'What you going to do, William R.?'
I say, 'What you mean?'
They say, 'You know exactly what we mean.'
'It do sound like a hit, don't it?'
Hunter, who had a huge bush of hair, a giant head on a small body because he had vowed not to cut his hair until he had a hit, said, 'Sound like it? I'm going to the fucking barbershop.'
Then Stevenson said, 'Well, I got to take this into Kim.'
To which Gaye replied, 'And do what? You are the A&R man. Your word is the best song goes on the best person. Isn't that your word?' "
Stevenson had established a sacrosanct rule that the artist who had shown herself or himself to be the best singer for a song was the one who got it. He had always insisted that it didn't matter whose toes got stepped on, including his own. If you could show that you were the best singer for the song, you got it. Now that moment had come.
According to Weston, the reckoning that Stevenson was dreading never happened. The next time she heard the song was when she heard Martha and the Vandellas singing it on the radio.
—
Adapted from Mark Kurlansky's  Ready for a Brand New Beat: How "Dancing in the Street" Became the Anthem for a Changing America.