The cover of next week's New Yorker, drawn by Jack Hunter and titled "Moment of Joy," celebrates the fall of DOMA by showing Sesame Street favorites Bert and Ernie snuggled on the sofa of their sparsely appointed living room. As they learn the news of the Supreme Court's decision on a black-and-white television, Bert drapes his arm lovingly around Ernie, while Ernie rests his head on Bert's shoulder.*
It's a cute image. Everyone loves Bert and Ernie. But it's a terrible way to commemorate a major civil-rights victory for gay and lesbian couples.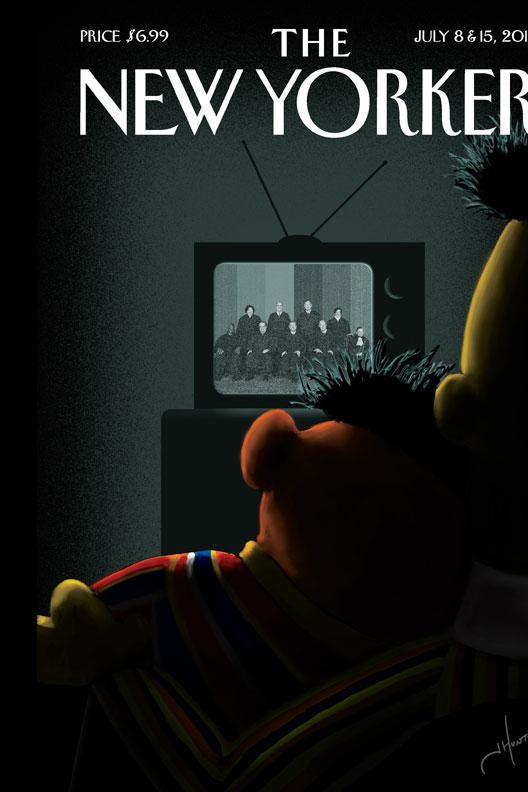 You see, Bert and Ernie aren't lovers. Back in 2007, the president of the Children's Television Workshop said that they "do not exist beneath the waist." Then, two years ago, the Children's Television Workshop declared:
Bert and Ernie are best friends. They were created to teach preschoolers that people can be good friends with those who are very different from themselves. Even though they are identified as male characters and possess many human traits and characteristics (as most Sesame Street Muppets™ do), they remain puppets, and do not have a sexual orientation.
That's not the only lesson Bert and Ernie have to impart. You see, straight America, there's a difference between same-sex friends and gay lovers. Does America contain households in which lovers pass themselves off as best pals? No doubt. And as prejudice against gays and lesbians fades, more of these ambiguously gay couples will declare themselves. But that doesn't mean that every pair of cohabiting friends is madly making out on a nightly basis.
Bert and Ernie clearly love each other. But does Ernie suck Bert's cock? I don't think so.
(All that said, whoever goes to Pride this weekend dressed as Bert and Ernie is going to gay heaven.)
Correction, June 28: This post originally attributed Bert's pose in the cover to Ernie, and vice versa.