In the opening moments of a new TV show that premieres this week, a disheveled, hammer-wielding woman stands over her sleeping husband, considering whether to kill him. Deciding against homicide, she heads down to the kitchen, where she chugs a beer, greedily rips into a massive hoagie, and chokes to death.
A viewer watching Save Me's opening scene this Thursday might place the show in the tradition of cable staples like Weeds, United States of Tara, or Enlightened: comedies in name only, in which middle-aged women struggle with big issues—financial disruption, mental illness, corporate corruption—as they try to keep their families together. After all, there's Anne Heche, an intense, often misunderstood actor, playing the heck out of the lead role—just as the often ill-used actors on those other series made the most of the great characters cable finally gave them. That death scene—which turns out to be premature; hours later, Heche's Beth Harper wakes up and discovers she can now talk to God—is even reminiscent of the "how they died" vignettes that used to open episodes of HBO's Six Feet Under.
But Save Me isn't a cable series; it airs on NBC. Barely. Its premiere date comes one day after the official end of the 2012–13 TV season, and the network plans to air two episodes back-to-back each week. The burning-off of Save Me, once the network's great comedy hope, represents the problems inherent in networks' increasingly frequent attempts to ape the success of the cable channels further down the dial. It turns out that networks might think they want to make gritty, morally complicated cable-style dramas—but when it comes time to find a place for them on the schedule, these shows don't look like such good bets anymore.
This time last year, Save Me was the second sitcom picked up by NBC, and according to several reports, the network was "very high on the series concept"—indeed it was said to be a "favorite" of Bob Greenblatt, the head of NBC Entertainment, who came to that job from Showtime. That long-ago enthusiasm perhaps explains why it's even airing at all—another one of the comedy series NBC ordered last spring, Dane Cook's Next Caller, was never broadcast, even though four episodes were filmed.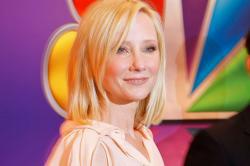 I've only seen Save Me's pilot, and I found it to be a mediocre mashup of the vaguely familiar and the totally weird. Still, it's definitely not the worst of the 2012–13 comedies, and Heche is appealingly frenzied. As Daniel Fienberg put it in Hitfix, if Save Me were on Showtime, "we'd probably be talking about Anne Heche as a possible Emmy contender, because she's got her best part in years and she embraces every peculiar, not-entirely-likable aspect of this character." But on NBC, it's a problem if a sitcom doesn't deliver laughs, and this one doesn't. It's an even bigger problem if network shows don't attract a big, broad audience, and it's hard to imagine Save Me doing that, either.
The question is why NBC chose to pursue a show whose sensibility seems so at odds with network needs in the first place. You can't blame executives for trying something different (and what better vehicle for a Hail Mary pass than a series about an unlikely prophet of God?), but it's hard to think of a cable-like show that has succeeded on the network end of the dial: Freaks and Geeks, My So-Called Life, Smash—all would almost certainly have enjoyed longer lives somewhere besides network TV. The most cable-like network show in recent memory, NBC's Southland, had to move to cable just to make it past its first season. But still, network executives greenlight shows that seem thoroughly wrong for the networks. Maybe they're driven by hunger for awards or prestige or name-brand creators. More charitably, maybe they simply let their hearts race past their heads, falling in love with complex programs and only later realizing what a poor fit they are at the network. Either way, these are expensive mistakes.
The path from pilot-season favorite to summer burn-off is a long one, and the complete story of how Save Me went off the rails might never be known, given how unwilling TV writers and execs are to talk on the record about the many, many series that don't work out. But according to Deadline.com, Save Me's first showrunner, Alexa Junge, was replaced after filming just one episode, and production was halted until her replacement—Darlene Hunt, who created Showtime's The Big C—could come on board. That decision cost the network quite a bit of money, presumably, and also delayed production so that Save Me wasn't even ready to premiere until the tail end of the season.
Of course, NBC could have held it until the fall, but it has chosen to try big, broad sitcoms then—a Romeo and Juliet family story, star vehicles for Sean Hayes and Michael J. Fox, with another couple of classic family comedies held in reserve for midseason. The chances of Save Me returning after this summer run are infinitesimally small—though Heche is gamely promoting the show as if it were a viable property—but if there is even the remotest possibility of it finding an audience, it will be when TV tastes change as the mercury rises.
Television's business model is hopelessly inefficient—for every one of the more than 50 2013–14 shows that were announced last week, there are two or three more pilots the networks sank millions of dollars into but eventually abandoned. And every year the networks kill series without airing episodes they've already produced. It's been decades since Cheers and Friends, which had stumbled in their original airings but found their fan base in summertime reruns, so I'm sure Save Me's producers are bummed-out by their warm-weather slot on the schedule.
Then again, running during the season is no guarantee of success, either. NBC ordered five other comedies in May 2012: Next Caller, 1600 Penn, Animal Practice, Go On, and The New Normal. It may only be because it hasn't yet premiered, but right now Save Me is the only one that hasn't been canceled. Yet.