Brow Beat is following the Beatles in "real time," 50 years later, from their first chart-topper to their final rooftop concert. 50 years ago this month, the Beatles went on tour with one of their idols, Roy Orbison.

According to Roy Orbison, when he was first asked by Brian Epstein to tour England with the Beatles, he responded, "What's a Beatle?" Orbison was fresh off hits like "Only the Lonely," "Crying," and "In Dreams," and his popularity was rising fast in the U.K., but he wasn't yet used to Mersey Beat bands with such goofy names. It was his first U.K. tour, and, as Orbison later recalled, he didn't know what to expect. But the president of the Roy Orbison Fan Club wrote him a letter, explaining that touring with the Beatles would be terrific for him. They were No. 1 in England, Orbison's fan explained, and would get him more exposure. There was, at first, no doubt about who the headliner would be.

The Beatles certainly knew who Orbison was. He was one of their greatest idols, and Lennon had modeled their first No. 1 on "Only the Lonely." Later, when the Beatles were photographed with Orbison, Ringo, in particular, looked more than a little excited to be with him: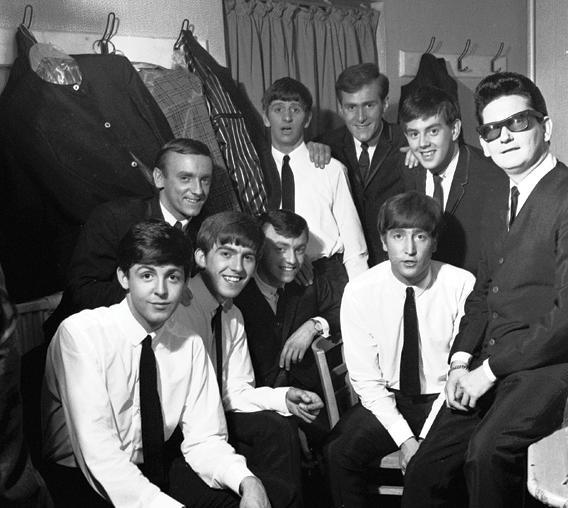 Nonetheless, by the time Orbison arrived in the U.K., his one-time opener had surpassed him in popularity. In a concession to audience demand, Orbison graciously agreed to share co-billing, and to let the Beatles close out each night.

Not that Roy Orbison would let himself simply be upstaged. Though he was greeted each night with a roar of screaming Beatles fans, clamoring to see their favorite band, he countered, rather ingeniously, by telling his band to play the first song pianissimo (as Spencer Leigh tells it), so that the audience had to hush in order to hear him. Once the crowd had quieted down, Orbison had no trouble transporting them with a few ballads. "It was pretty hard to keep up with that man," Lennon later remembered, "He really put on a show, well, they all did, but Orbison had that fantastic voice." Harrison agreed:
He'd had so many hit songs and people could sit and listen to him all night. He didn't have to do anything, he didn't have to wiggle his legs, in fact he never even twitched, he was like marble. The only things that moved were his lips—even when he hit those high notes he never strained. He was quite a miracle, unique.
The band would set up behind Orbison as he finished, hidden behind a curtain, and Harrison remembers listening to him do encore after encore and thinking, "How are we going to following this?" Ringo put it more bluntly: "It was terrible, following Roy. He'd slay them and they'd scream for more."

Of course, the Beatles were beginning to grow quite a repertoire themselves by this point. Their standard set consisted of "Please Please Me," "Love Me Do," "Some Other Guy," "Do You Want to Know a Secret," "From Me to You," "I Saw Her Standing There," and "Twist and Shout." So they didn't fare too poorly either. Beatlemania was starting to set in, and they were being pelted by jellybeans night after night, just because George had mentioned liking them in an interview.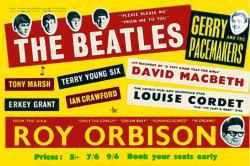 The competition between the two groups spilled over to the tour bus. Paul later remembered how at the back of the bus Orbison would be writing songs like "Pretty Woman," and it would just about make them jealous: "He would play us his song," Paul said, "and we'd say, 'Oh, it's great, Roy. Have you just written that?' But we'd be thinking, 'We have to have something as good.' " As would later happen with groups like the Beach Boys and the Rolling Stones, their competitiveness with Orbison inspired them to produce some of their best work. For his part, McCartney was writing such songs as "All My Loving," which he began composing on the tour bus and worked out on the piano at one of the venues.

The rivalry between the artists didn't stop them from becoming friends—25 years later, Harrison would work with Orbison again, as part of the Traveling Wilburys. But within months, the Beatles wouldn't need to share billing at all. When they went out on tour again in November, the tour was billed only as "the Beatles Show."
Read more recent posts from Blogging the Beatles
The Beatles Get Their Own Show
Did John Lennon Have a Secret Affair With Brian Epstein?
The Songs the Beatles Gave Away
The Beatles Meet the Stones
John Lennon Has a Secret Wife and Son
The Beatles Rock a Boarding School
The Beatles Lead a Movement
The Beatles Become the Headliners