Many mothers take their children to the zoo. Photographer Robin Schwartz took it a step further and brought the zoo to life by photographing her daughter, Amelia, in a lifelong series of intimate, fantastical portraits with animals.
Many of the images of Amelia with dogs, cats, monkeys, kangaroos, elephants, and other animals were included in the monograph, Amelia's World, published by Aperture in 2008. Since then, Robin and Amelia have continued to add to the series.
Schwartz began taking pictures with her daughter when her mother passed away when Amelia was 3.
"I was always a daughter first even though I had a little kid," Schwartz said about her relationship with her mother. "I was always a daughter until my mother died, and then I wasn't. I didn't want to be separated from Amelia."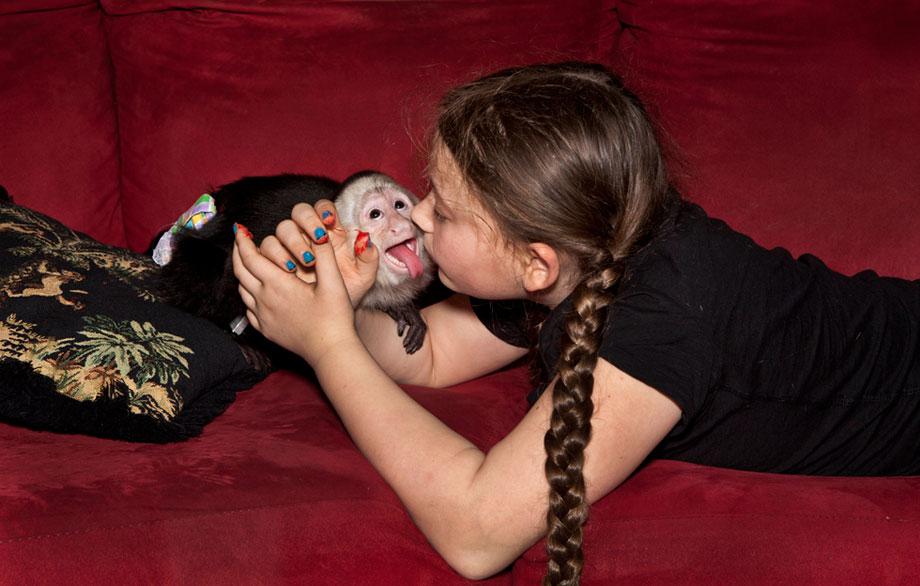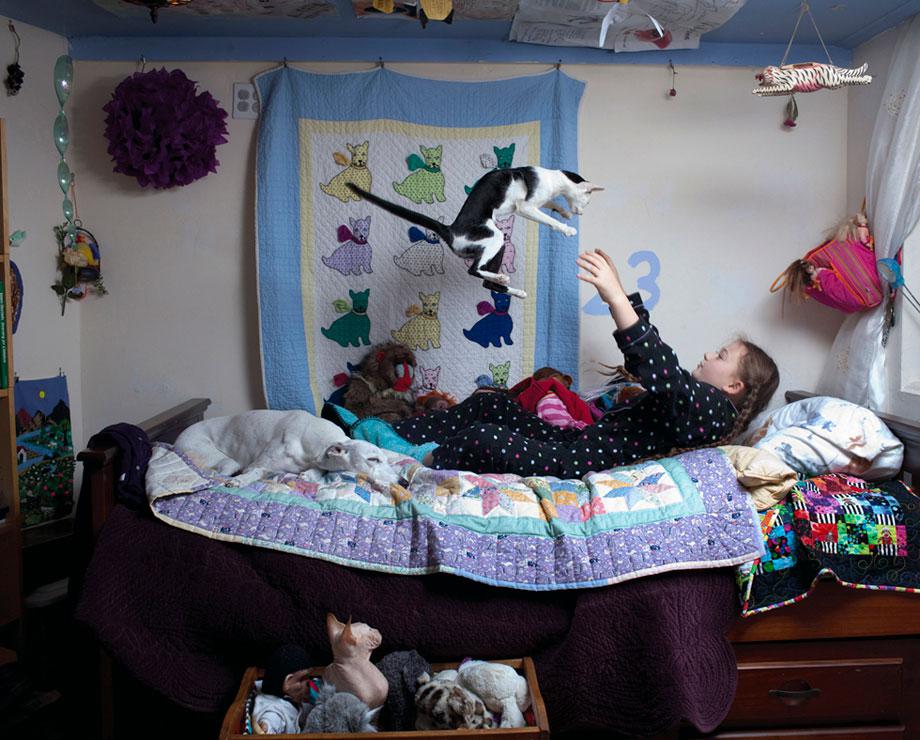 Depressed after her mother's death, she and Amelia hung out at the Metropolitan Museum of Art in New York, and it was a memory from eighth-grade Spanish of a Diego Velázquez painting, Las Meninas (currently in the Prado in Madrid), that helped inspire Schwartz to pick up a camera and take a shot of Amelia and their dog Nora.
Already known for her work as an "animal photographer," Schwartz had published a collection of images in 1993 titled Like Us: Primate Portraits, a series of black-and-white images of animals in whimsical, perfectly composed human-like situations.
"I was born an animal lover," Schwartz said. "I am discerning, but I'm comfortable with animals. I think people can be … nuts, scary, and cruel to each other and to animals. With my projects, though, I meet the best people, the ones who take a chance with me and my daughter; I barter for access, and I am so grateful for their generosity."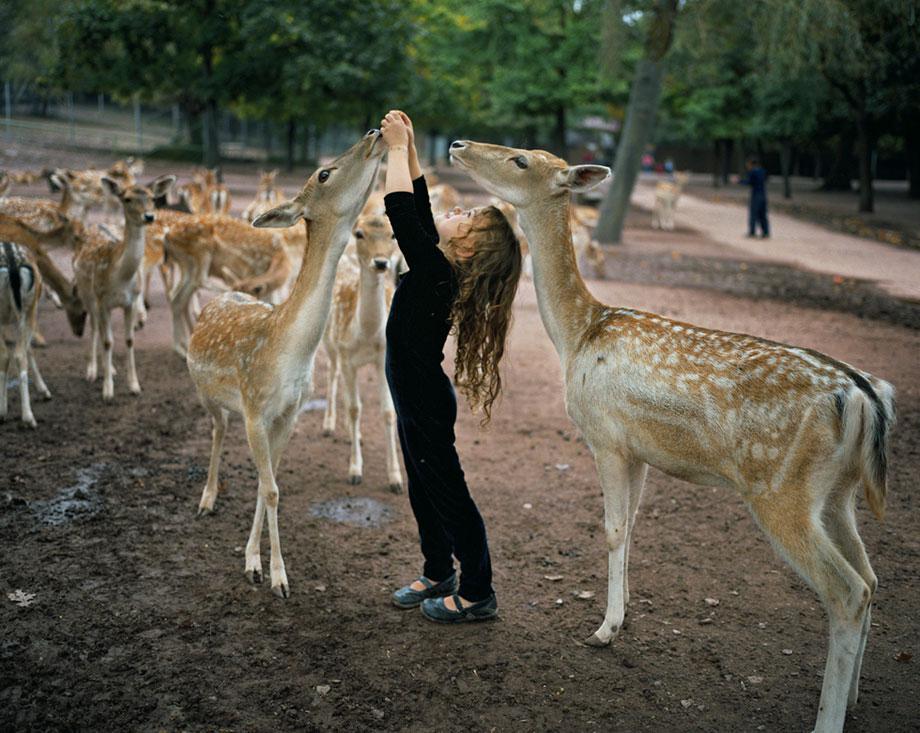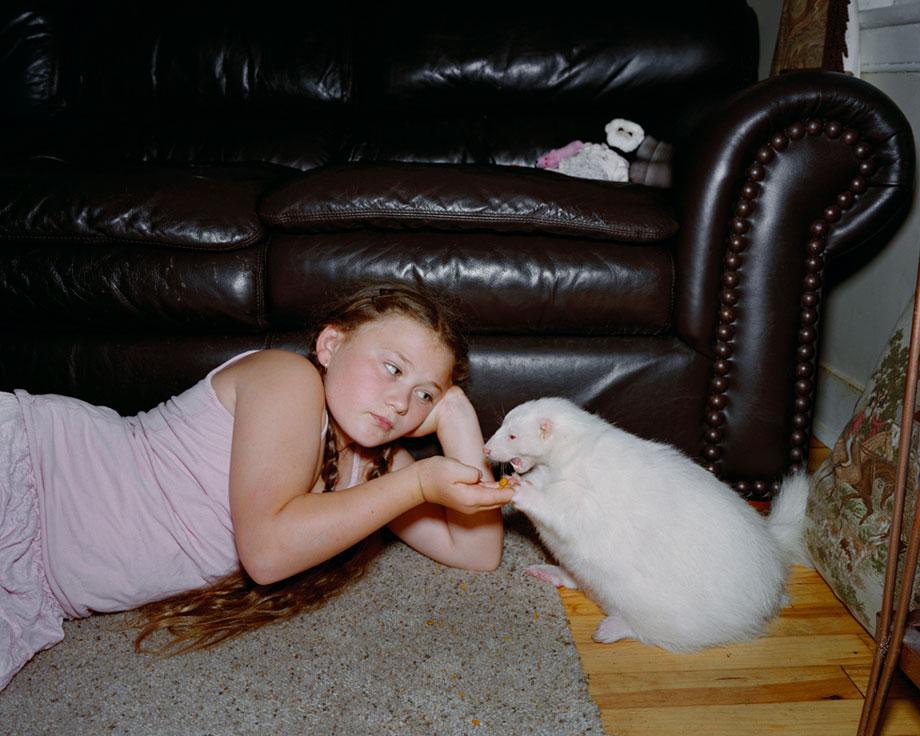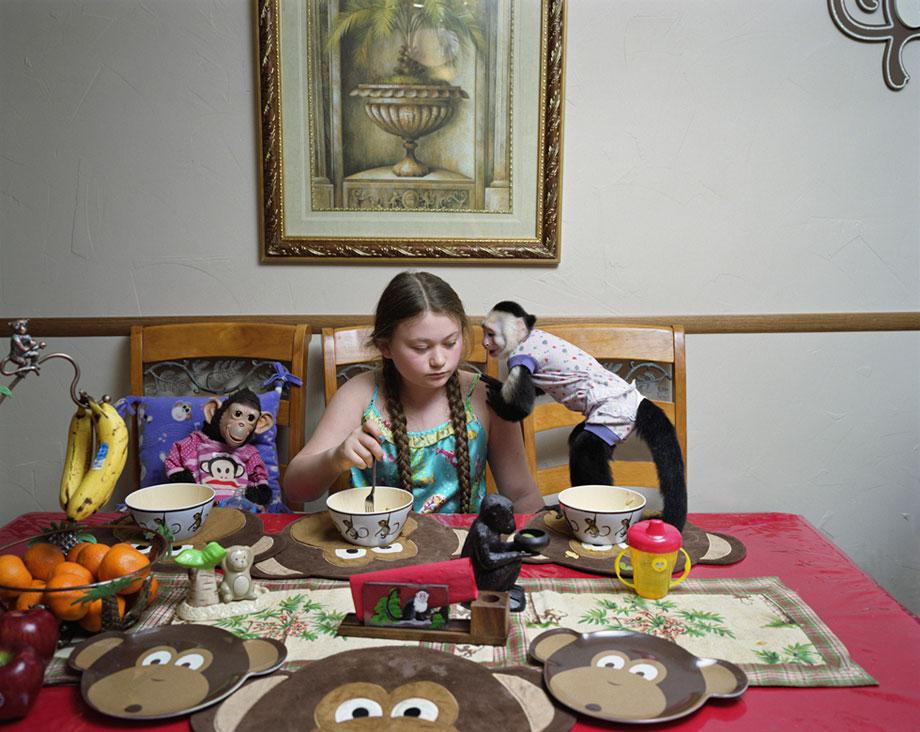 Schwartz has been teaching photography since 1985 at William Paterson University, where she is currently a tenured assistant professor in photography. She said working on the project with her daughter has been a nice way to spend time with Amelia.
 "I want to do things with her. I work all day, I come home, and I'm really tired. This is a thing we do together," Schwartz said. "She's brave, she doesn't think about it, with animals she doesn't work at it, she's calm, but she's not animal-centric like I am."
Schwartz is unsure how long they will continue to work on the project. Life and art—especially when animals and people are involved—can be a precarious thing.
"Things only last a certain amount of time," Schwartz said. "With animals you sort of know that, but I didn't understand there would be such a change (with Amelia) … I didn't understand hormones."
Some of Schwartz's work is currently on view through June 16 at the Center for Photography at Woodstock, part of the Photography Now 2013 show juried by Kira Pollack.