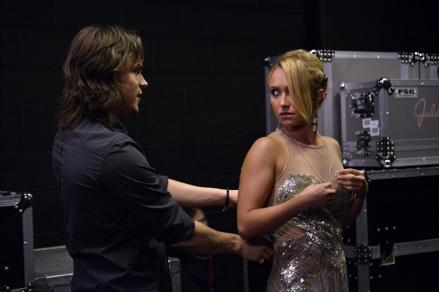 An observation from Slate senior editor Dan Kois: Nashville has really short scenes. They are walk-into-a-room, say-a-pithy-line, and exit-short. Strum-a-wistful-chord-on-my-guitar-and-cut-to-a-commercial short. My highly unscientific tabulation of Nashville scene lengths reveals that the vast majority of the show's scenes end before the two minute mark; meanwhile, a common industry rule-of-thumb for average scene duration is three minutes. 
There is nothing wrong with short. (I am short, and I am OK!) But it's worth asking what Nashville gains from this practice of collage, when it dabs our screens with an almost pointillist combination of tiny moments, rather than letting its storylines play out.
As an ensemble drama, Nashville needs to keep tabs on a large cast of characters. Short scenes make that possible—they ensure that we don't get so engrossed in Scarlett that we forget about Juliette—and they make it easier to imagine that events are occurring simultaneously. To watch Tandy and Rayna discussing Rayna's night with Deacon, and then seconds later to see Coleman and Deacon doing the same thing, is to become doubly aware of the irresistible Rayna-Deacon symmetry that powers the show. It's just a breath away from the split-screen that electrified 24, and like that device it seems both practical (lots of twists and turns to keep up with) and thematic (as if the show takes place in a breathless, untidy universe, where things just keep happening all at once).     
Rapid-fire scenes emphasize the breakneck quality of so much of what Nashville is about: stardom, addiction, romantic love. They link together like sequences of flashbulb memories, or vivid distillations of experience, creating the sense that the television world is sharper, cleaner and more orderly than ours.
Or, I don't know, maybe they're just a concession to logistics. But they. Are. Short. And. Perhaps. That's. Why. The. Occasional. Long. Song. Is. Fabulous.  
---