On May 4, 1970, four Kent State University students were killed and nine injured when members of the Ohio National Guard opened fire during a demonstration protesting the Vietnam War.
In 2010, the site of the Kent State University shootings was placed on the National Register of Historic places by the Department of Interior with support of the Ohio Preservation Office. Carole Barbato**, a communication studies professor at Kent State University who was a junior there in 1970, spoke to Behold about some of the more than 4,000 images (many from student photographers) the university has in its archive related to the events around May 4. Since 2001, Barbato has taught a course titled "May 4, 1970, and Its Aftermath" and she also led the photo selection process for the May 4 Visitors Center.

"It's a difficult story to tell," Barbato said. "It's a very complex story. There are still many unanswered questions." Barbato spoke about her personal and historic knowledge about the famous images, sharing her insight and observations about the killings 43 years later:

Mary Ann Vecchio was a 14-year-old runaway from Florida. She was hitchhiking and found her way to Kent on May 1. I talked to Mary Ann, who told me people were nice to her and told her to come crash at their house. She was told there was going to be a rally on Monday, so she went. It was such a fluke how she had arrived at Kent. And she was pushed up the hill just like everyone else. … You can see the guard pushing students up the hill, 113 of them shooting tear gas. The majority of people went to the right of the building, but the guards split and went to the left and right, and when the shots were fired, Mary was to the right of Jeff Miller and went running, and John Filo and Howard Ruffner, both student photography majors, were literally clicking almost every step until you see that iconic image that Jerry Lewis our sociologist called the "American Pietà" because it does have such an emotional connection to it.
In John Filo's photo there is a fence post that goes right behind Mary Ann Vecchio that makes it look like it's coming out of her head. Some magazines got rid of it because it was distracting and cropped it so it was just Jeff Miller and Mary Ann. But in the original one you can see the shock of other students turning around; she said she was screaming for help; she felt so helpless.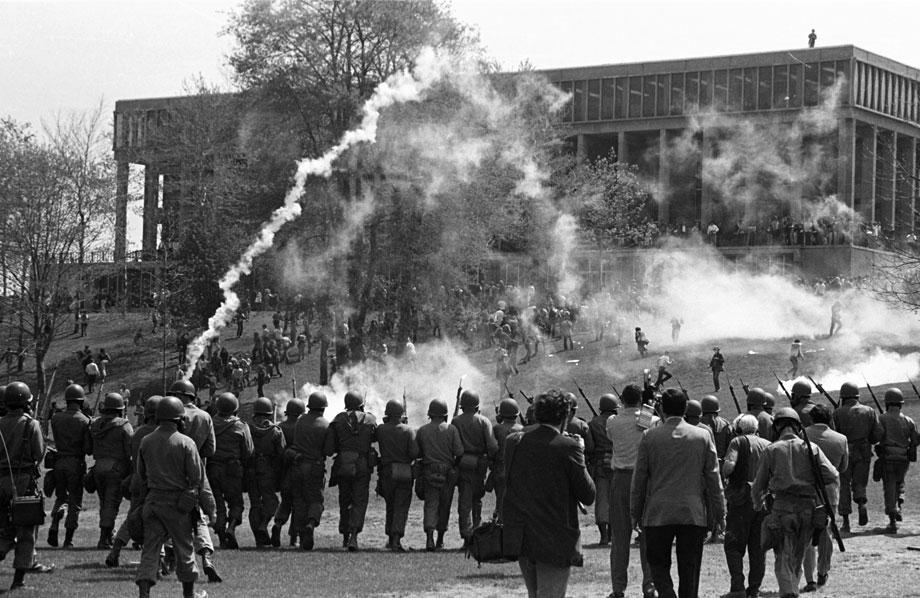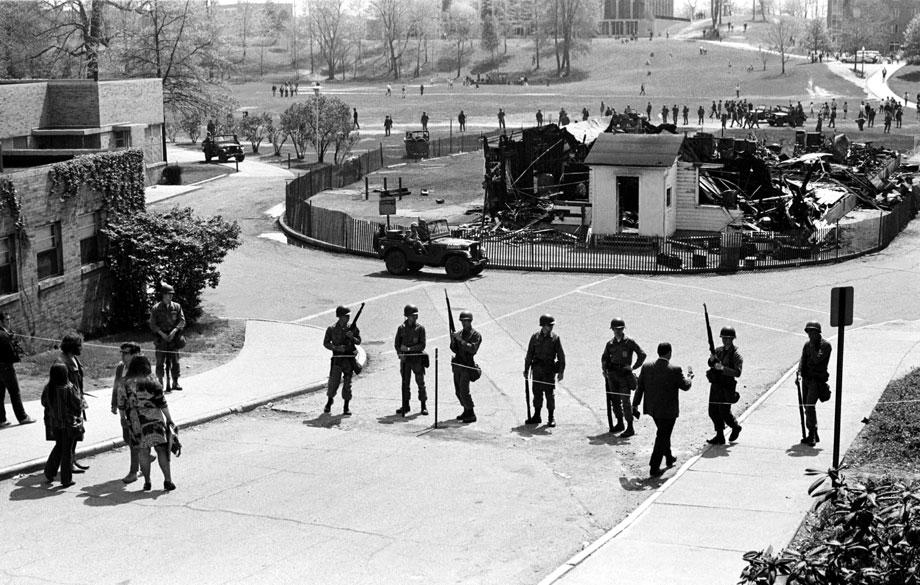 Kent was the place where bands played, where Joe Walsh played before he was in the Eagles. People would come to Kent to hear music and it [Friday, May 1] was a great evening and it turned into a pretty ugly scene (between protestors and local police).
The ROTC building, that was burned [on the evening of Saturday, May 2]. Nobody was ever arrested, nor were they ever convicted, no students whatsoever; it's still a mystery about who burned it down. Did students try to burn it down? Yes they did. People from all over the country tried to burn down ROTC buildings, but it didn't result in killings. That's why it's hard to tell the story, because you see these images, the burned-out ROTC building, and what do you see? Guardsmen guarding it. That's what we saw Sunday. People came by and would bring their babies in baby carriages to see the remains to see what "these whippersnappers" were doing, and that became the excuse for killing people two days later … so we have this very complicated story that people like to tell in a linear fashion and show causation. You had this, therefore that. It doesn't work that way; it isn't that kind of a story because some of the folks that were there on Friday were not there on Monday [May 4 for the rally], like myself. [Barbato had planned on going but was persuaded against it by a public address professor.]"To this day I think 'what if I did go?' 'It could have been me.' I knew Sandy [Schreuer]. We were both taking classes at music and speech, she was walking to class going to a midterm exam when she was shot in the neck."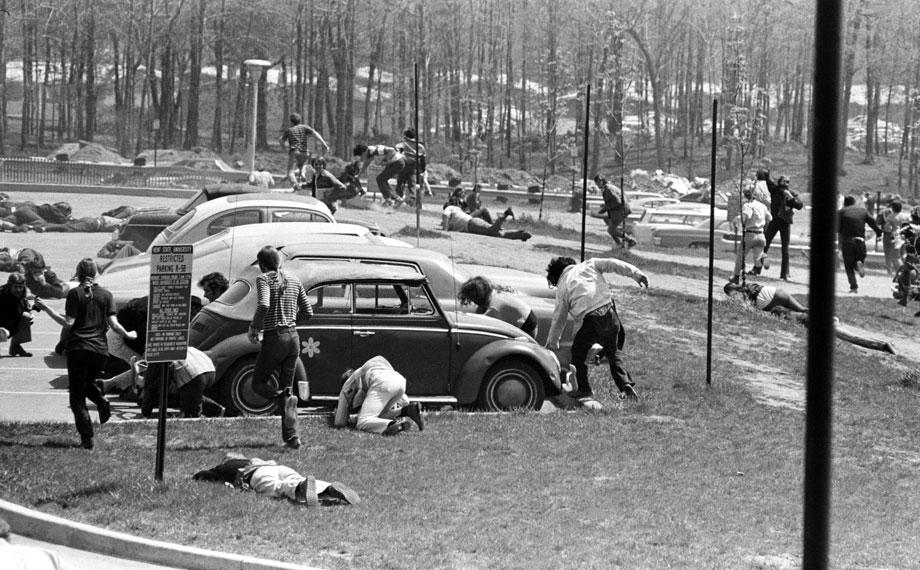 There is a little flower power on the VW. The last car, kind of a rag-top convertible next to the light color VW, that's where Bill Schroder was killed. All the kids in the front, none of them died, but Bill Schroder died right there. The other folks who were shot aren't in view in this particular photo. This was done with a telephoto lens, which makes the trees seem closer than they really are. Those trees are probably a good 500 yards away. These kids were running for their lives is what they are doing. If you count 13 seconds [the estimated amount of time when the Guard opened fire] there were 67 shots. Thirteen seconds doesn't sound like a lot, but when you think about it, it's endless. The people who heard the first two bullets and had to wait for the other 65 to be shot, they talk about it just seeming like a lifetime.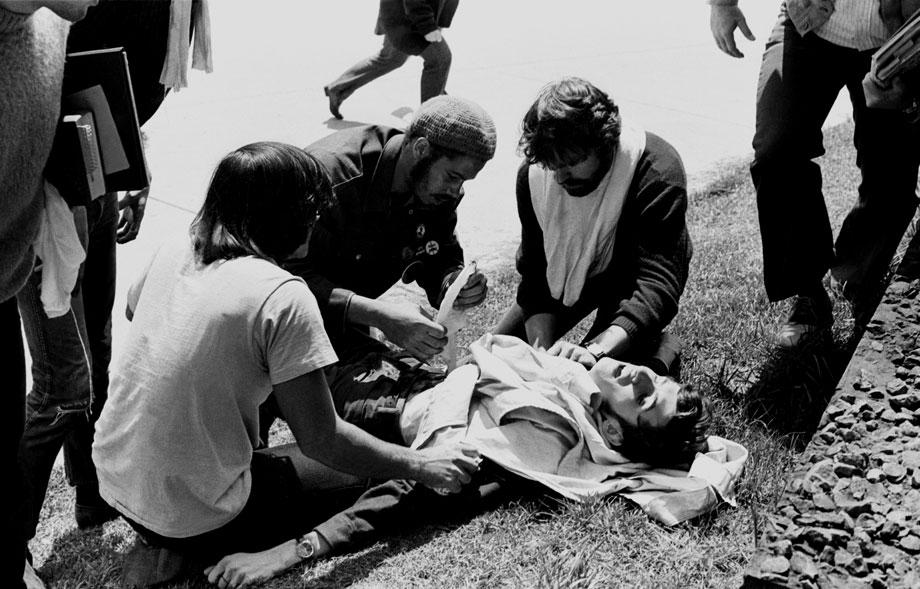 The students are taking care of John Cleary who was near a sculpture done by Don Drumm called "Solar Totem"; it's made of corten steel. On the right is the bottom of the sculpture with stones glued to it; the rest are plates of corten steel. John Cleary was near the statue and John Filo was on the other side, and he said when it [a bullet] hit that steel structure, because it was weathered, he saw the dust, the red dust coming from the rust from that statue, and to this day there is a still a hole from the M1 bullet, probably a good 2 inches in length and that had already gone through John Cleary's chest, and the three young men tending to him, one was a Vietnam veteran (on the left with his back to the camera) and the one with a white bib on is now a high school history teacher, and the other man has since died. You can see John's watch has stopped. It's a pretty dramatic photo.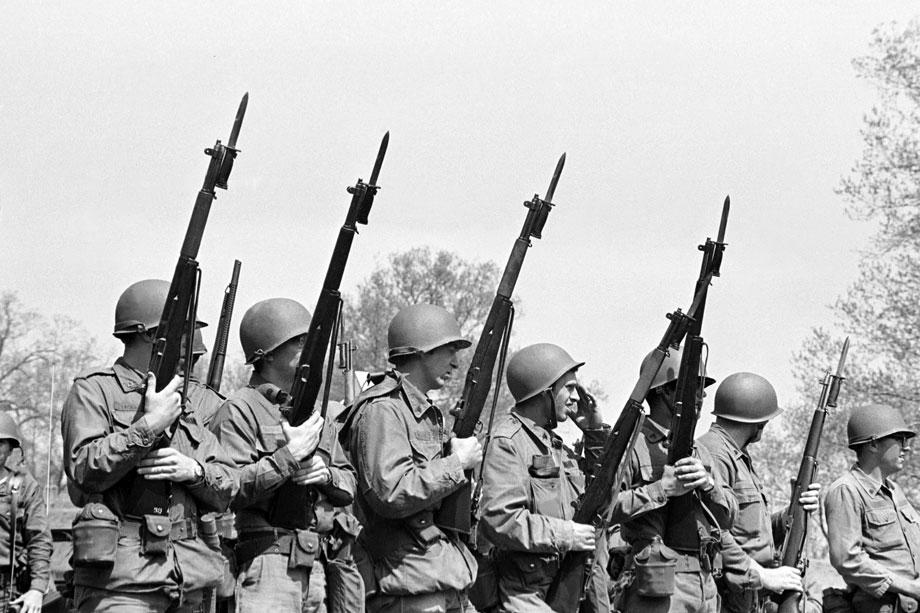 Students today can't imagine why the students didn't just leave. They don't see protesting as part of the First Amendment. I think maybe they are desensitized; I don't know. What have they experienced in their young lives that would cause you to stand up and be willing to go to jail for it?
Don't get me wrong. Nobody at Kent State in 1970 wanted to be martyrs; nobody who came to that rally on May 4 would have ever expected for those guns to have been loaded. My students (today) think it's stupid; there are guns, of course they are loaded. When you see the guardsmen standing there with their bayonets, their rifles, we didn't think they would be loaded! Why would you have loaded weapons on a college campus? There was nothing that warranted that. There wasn't anything happening there; the only thing students did was say some foul words—one, two, three, four, we don't want your fucking war; pigs off campus—that wasn't polite, gave them the finger, it was expressive; the guardsmen decided to disperse the rally and that's where you see all the teargas (2nd image from top).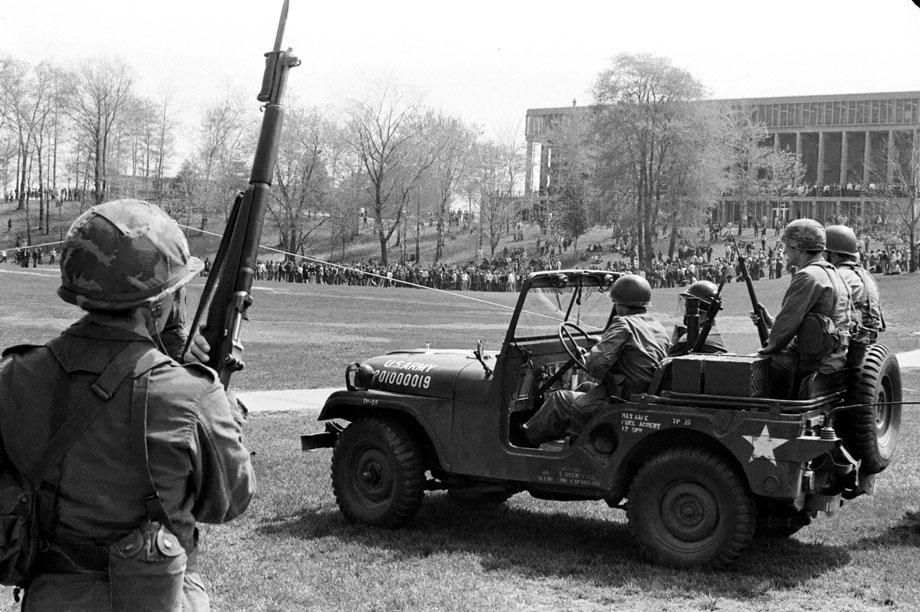 To learn more about the events at Kent State University, visit The May 4 Visitors Center website. If you happen to be in Kent, Ohio there will be discussions with both Gwen Ifill and Oliver Stone on May 4. Check out the website for more information and also about activities and tours organized by the May 4 Visitors Center throughout the year.
**Correction, May 6, 2013: This post originally misspelled Carole Barbato's last name.
*Correction, May 6, 2013: A caption provided by Getty images implied Mary Ann Vecchio was a Kent State student. She was a 14-year-old runaway who happened to be on the Kent State campus.