As a kid, photographer Jeffrey Milstein enjoyed playing with airplanes and eventually got his pilot's license when he was 17. After a career as both an architect and graphic designer, Milstein decided to focus on photography and is currently concentrating on his childhood passion.
"When I was in high school, I had an 8mm movie camera and I would film movies flying over Los Angeles," Milstein said. "I loved that whole viewpoint, the flying viewpoint."
Milstein's current project, "Flying," looks at airports from the flying viewpoint, taken from relatively low altitudes.
"I have a friend who has a plane and loves to fly, so he has been flying while I take the pictures since I can't do both," Milstein said.
According to Milstein, it can be easier for a pilot to get clearance to fly above 7,500 feet, "but it's high up there and it's not as good for the photography I want to do. Sometimes we get lucky and get a good clearance; other times they can be really busy and they will let me go once across and I hope for the best."
"It's kind of like a living organism," Milstein explained about how he sees all of the moving parts of an airport. "There are lines of airplanes and then the cars that move have their lanes and the trains taking people around are moving on another level, so there are all of these things, and it's interesting how it happens."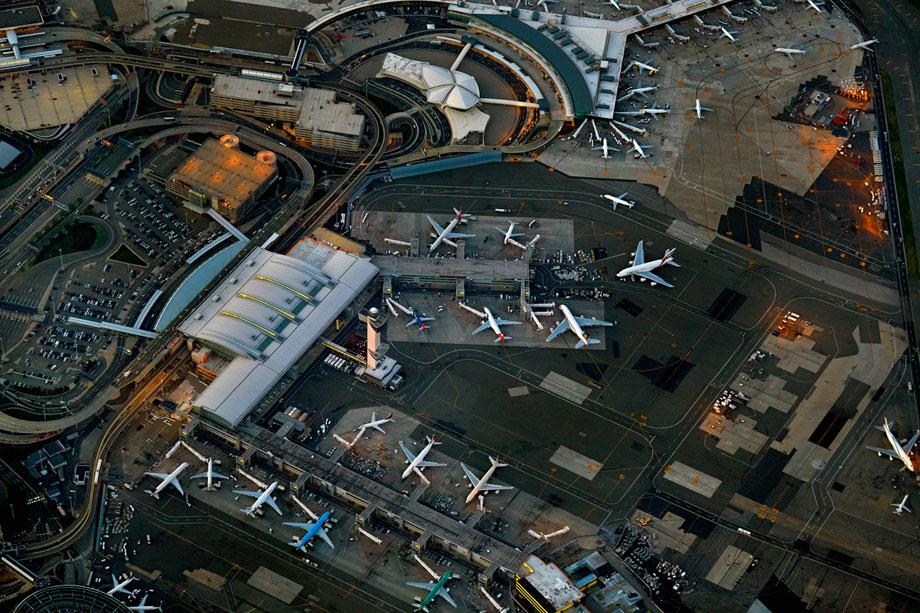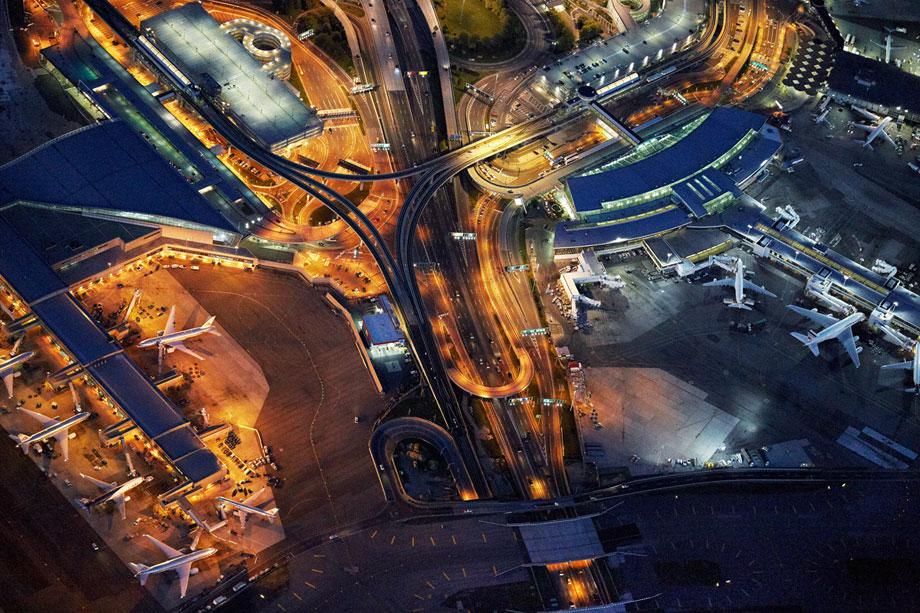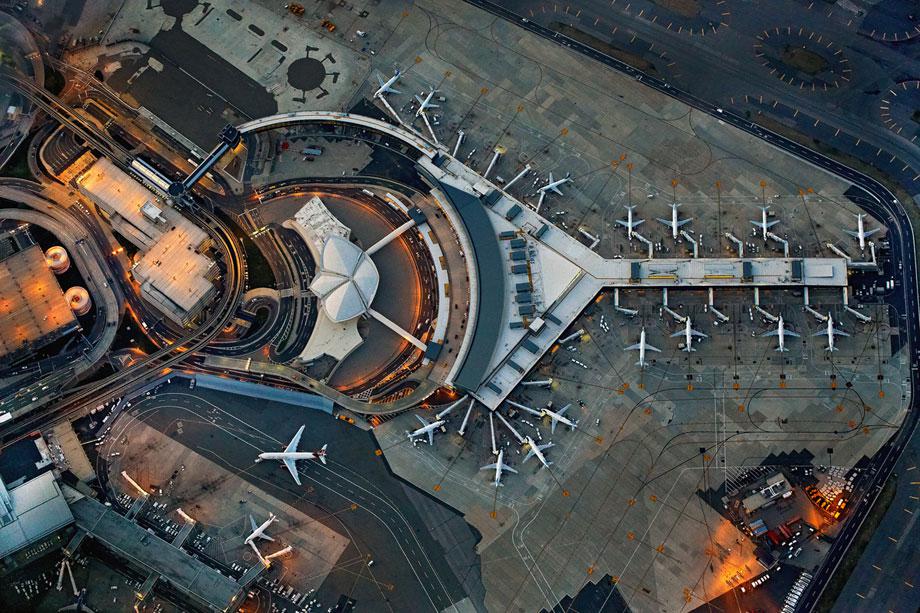 Capturing all of that motion from the air is a highly complicated process. Milstein and his friend go up about six or seven times a week to try to get some good images.
"Initially I liked the patterns of the runways and planes, and then we started shooting in the evening and it became a different type of picture," Milstein said.
To compensate for changes in light and perspective, Milstein brings along multiple cameras that alternate between having high ISO capability for low-light situations and camera bodies with higher resolution and lower ISO when he has more light to work with. Shooting with a stabilizer to try to compensate for turbulence doesn't necessarily help. "It's still really hard to get really good shots," Milstein emphasized. "It's a little more complicated than your average photograph because you have to hire a plane and time it with lighting plus carrying a bunch of equipment and getting permission if you want to get down to good altitudes."
"Flying" isn't the first project in which Milstein has focused on aeronautics. In 2007, he published a book on commercial airlines in flight (seen from below) titled AirCraft: The Jet As Art. The images are currently on view at Reagan National Airport in D.C. until Dec. 8.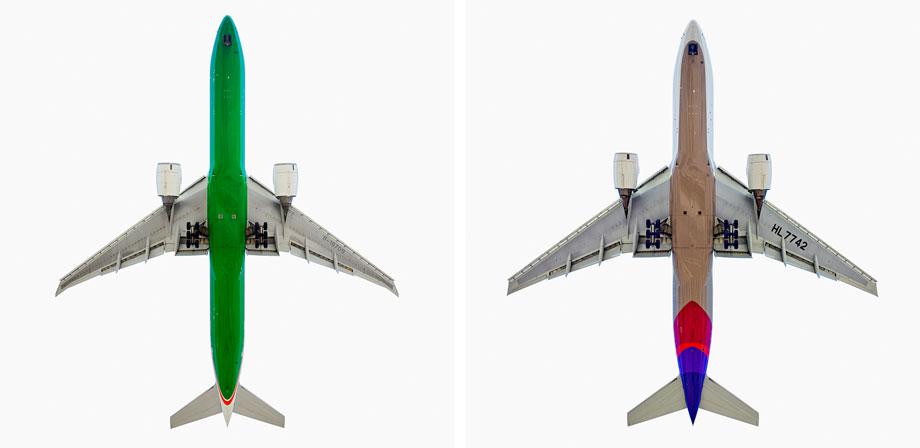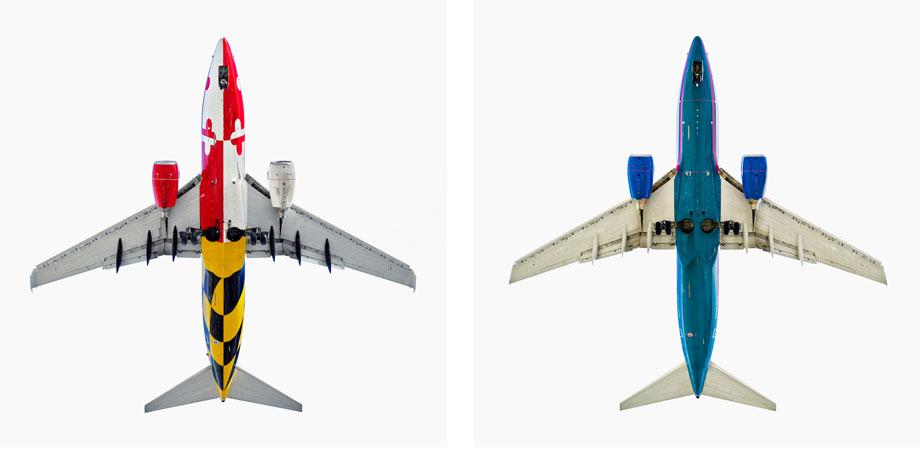 A lot of the images for "Flying" that Milstein has taken have been at JFK, LaGuardia, and Newark airports, but he has a wish list of others he would like to add to the series.
"I like the big ones," Milstein said. "In the United States it would be Chicago, L.A., maybe San Francisco. I think probably London Heathrow would be amazing because the place is huge … in some ways there is a similarity (between airports), but there are certain things that are different. The bigger airports get the really big jets."