Summer is right around the corner—the perfect time to catch up with a few of those shows everyone is always saying you should watch. But there are so many! How can you decide which to try? Pilot episodes have so much introductory work to do; they're usually subpar compared with the great stuff to come. And the very best episodes of a series often demand too much knowledge of what came before.
You need to find the gateway episode, one you can watch without any background knowledge and which will give you a real sense of the show—and whether you'll like it. In this weekly Brow Beat series, we direct you to the best gateway episodes for great series you should watch this summer.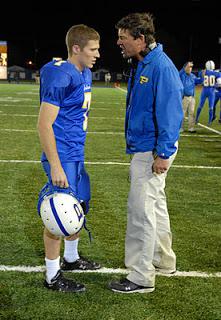 I long resisted watching Friday Night Lights for one simple reason: It's about football, a sport I haven't cared much about since John Elway led the Broncos to their second Super Bowl. But, as fans so often like to say, the show isn't really about football—it's about what the sport means to these characters in the football-crazed town of Dillon, Texas.
Football structures the lives of Dillon's inhabitants. For the players, the Dillon Panthers provide an alternate family—Coach Eric Taylor (Kyle Chandler) and his wife, Tami (Connie Britton), are the parents we all wish we'd had—and a potential way out of their small town via a college scholarship. But it also creates a skewed social structure that gives good players free passes for bad behavior and marginalizes those who aren't athletically gifted or inclined.
The pilot isn't a bad place to start with this show—it's a wonderful episode of television that establishes the feel of Dillon, and the shocking event at the end sets most of the show's conflicts in motion—but it's not particularly indicative of what a typical episode of the show is like. It's divided up into days leading up to the season's first big day and this structural cleverness—along with the necessity of introducing the basic outlines of each of the show's many characters—makes the episode almost feel more like a movie than an installment of a serial TV show.
A better test case for Friday Night Lights fence-sitters is "Nevermind," the first season's 11th episode. The show's heavy serialization makes it a bit tricky to jump in midstream, but "Nevermind" stands alone reasonably well if you're willing to use context clues to figure out what's going on. (That guy yelling at the football players? He's the coach.) The one piece of backstory you do need to know is that—spoiler alert—a love triangle has developed among Jason Street, Lyla Garrity, and Tim Riggins. (More spoilers, mostly about the pilot, follow.) At the beginning of the series, Street (Scott Porter) is the golden boy quarterback, but a hard play on the field at the end of the pilot leaves him paralyzed from the waist down. His girlfriend Lyla (Minka Kelly) stays faithful for a while, but finally succumbs to the bad-boy charms of his troubled and extremely attractive best friend, Riggins (Taylor Kitsch).
Like most episodes of this show, "Nevermind" keeps a few plots running simultaneously until they all come together at the climactic Friday game. The father of replacement quarterback Matt Saracen (Zach Gilford) comes home on leave from Iraq, but the reunion isn't as happy as it should be. Jason adjusts to his new life and tries to mend his relationship with Lyla. Mrs. Coach drafts Matt's nerdy best friend Landry (Jesse Plemons) into tutoring Riggins. Meanwhile, the football team attends the annual church dinner.
The episode doesn't cover all of the season's main arcs—bad girl Tyra is left out completely, and brash running back Smash only appears during the game—but it displays most of the show's strengths nonetheless.* The Landry-Riggins plot epitomizes the show's low-key humor—Landry, we learn, has a Christian metal band called Crucifictorious—and includes some of Tami Taylor's patented straight talk. ("It's part of my job to make sure that you don't grow up stupid," she tells Riggins. "It's bad for the world.")
On the more serious side, the tense bond between Matt and his dad may be the saddest relationship in a show full of twisted family dynamics. Matt's excitement over his dad's return quickly evaporates as it becomes clear the older man is uninterested in supporting Matt's endeavors or helping him to care for his ailing grandmother.  When Matt's dad tells Coach Taylor that he just hopes that Matt won't screw up under pressure, the look on his son's face is quietly devastating.
Even the show's soapiest plotline—the ongoing saga of Street and Garrity—becomes a careful meditation the effects of trauma and the nature of forgiveness. In "Nevermind," the reunited couple grapples with newfound sexual challenges, both physical and emotional. And the writers understand how inextricable those two can be when it comes to one's self-image, particularly for young men who are worshiped for what their bodies can do. When, after a failed attempt to have sex, Street snaps, "If you want to get laid so bad, call Riggins," it conveys both his ongoing anger at Lyla's betrayal and his despair at his body's refusal to cooperate.
Friday Night Lights does many things well—create a sense of place, depict the pains of adolescence, flesh out a genuinely happy marriage—but the show's power comes from its gloriously, painfully human characters. You don't have to like football to root for the Panthers. You just have to recognize how much it means to the people you can't help but love.
Previous Gateway Episodes:
Deadwood
Doctor Who
Buffy the Vampire Slayer
* Correction, 12:39 p.m.: This post originally referred to Smash as a wide receiver. He is a running back. Also, the actor Scott Porter was misidentified as "Jason Porter."