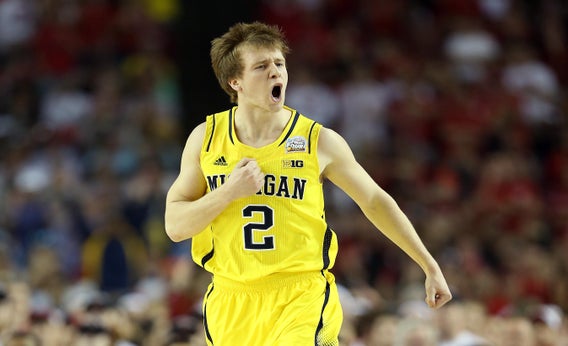 Read more from Slate's coverage of the NCAA tournament.
The best 10 seconds of Lousville's 82-76 victory in the NCAA title game began with Spike Albrecht dribbling at the midcourt line. With just more than five minutes to play, Louisville was up on Michigan 67-64. After an absurdist first half—Albrecht! Luke Hancock! Albrecht! Hancock!—the game had settled down, with nobody leading by more than five points. Now, Michigan had a chance to tie.
Briefly, about that first half. At the final TV timeout, Michigan had 33 points, Louisville had 21, and Spike Albrecht had 17. The 5-foot-11 freshman, who scored 24 points during all of Michigan's Big Ten games combined, started out by making an open 3, then another. When he cranked in his third 3-pointer, Albrecht was maybe seven feet behind the line. CBS' Steve Kerr called it "an out-of-body experience." The Michigan players on the bench started hugging each other. This was amazing. This was unbelievable.
But things hadn't even gotten weird yet. A couple of minutes later, Albrecht—who was playing extended minutes because Michigan's star point guard Trey Burke picked up two early fouls—drove in and made a floater over Gorgui Dieng's broomstick-length arms. Then he got fouled on a backdoor cut and made a free throw. Next, Albrecht dribbled behind his back, rose up, and shot over Louisville's Russ Smith—another 3. And finally, Albrecht took the ball near half court, drove through the entire Louisville defense, and banked in an easy right-hand layup. With 16 minutes off the clock, Albrecht had 17 points.
Back to the second half. There's 5:20 left. On the court for Michigan are Trey Burke, the consensus national player of the year; three players with NBA bloodlines, Tim Hardaway Jr., Jon Horford, and Glenn Robinson III; and Spike Albrecht, one year removed from averaging less than 10 points a game in prep school. Albrecht has the ball. He's still stuck on 17 points. And he doesn't pass. The freshman drives into the lane and tries an awkward righty scoop from the left side of the basket. The ball does not go in. It's not even close, really—it doesn't even graze the rim.
Athletes say it's impossible to describe what it's like to be in the zone. Thanks to Spike Albrecht, we'll no longer have to wonder. There was a logic to Luke Hancock's hot streak on Monday night—the bearded long-range specialist has made a bushel of 3-pointers this year, so what's a few more? But Albrecht's success quickly morphed from logical (hey, look, an open 3) to incredible (OK, that was pretty far) to irrational (seriously, Gorgui Dieng does not go to Andover). In the second half, the unrelenting confidence that allowed Michigan's backup point guard to take over the game still lingered even as Albrecht turned back into a pumpkin. (And judging by Spike's Twitter account, that confidence hasn't worn off just yet.) This is the brain of a basketball player who's not quite as great as he was 20 minutes ago: I'm not passing the ball—I'm Spike Albrecht! And this is the brain of his hopeful coach, John Beilein: I know I shouldn't be playing this guy, but … didn't he used to be Spike Albrecht?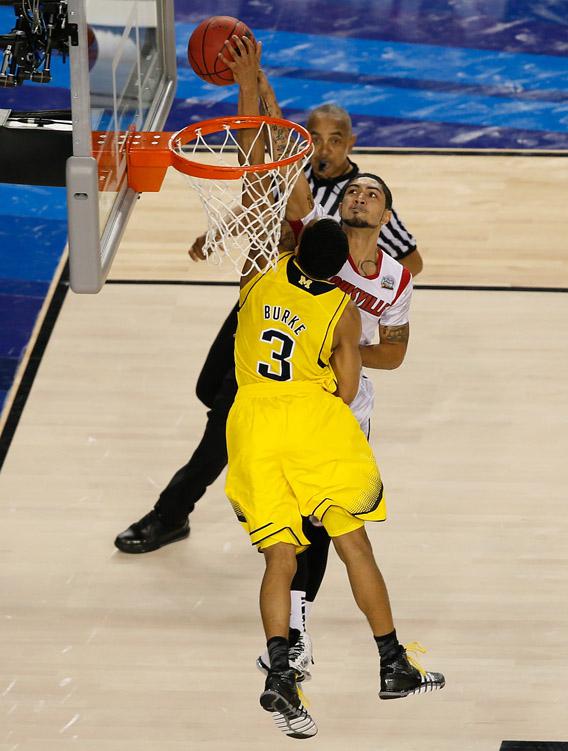 After Albrecht's sadly non-superheroic jaunt to the basket, Louisville's Chane Behanan plucks the ball off the backboard and throws an outlet pass to Peyton Siva. The Cardinals guard is in the open court with only Burke between him and the basket. On the subject of irrational confidence: Just a minute before, the 6-foot Siva had gone backdoor, leaped high into the air, and stuffed in an alley-oop. Now, Siva jumps from the same spot on the court. Burke, who's slowed down to time his steps, jumps with him. Their hands meet above the rim, cresting at the midpoint of the backboard square. It's a beautiful play, proof that you can achieve athletic grace by canceling out your opponent's best effort.
And then the stupid ref ruins it by calling a stupid foul.
As everyone with a Twitter account will tell you, that was a really bad call. OK, maybe Burke brushed Siva a little bit with his lower body. But come on—that was a clean block.
This is the ineradicable problem with high-level basketball: The players are so strong and so quick that even a bionic referee can't possibly assess what's going on in real time. Even so, at the end of every close game, we dissect whatever close call happened to come in the last five minutes and retroactively declare it the turning point. The iffy charge on Syracuse's Brandon Triche in the national semifinal against Michigan, the hasty jump ball call in Saturday's Wichita State-Louisville game—if those calls had been different, we could've been watching the Orange face the Shockers on Monday night. Or maybe we wouldn't have. Either way, it feels good to complain.
As sports realists, though, we need to focus on the kinds of bad calls that it's possible to eliminate. Why, for example, do we still empower humans to botch baseball games by imagineering an absurdly inaccurate strike zone? When it comes to basketball, in the absence of always-on instant replay and/or zebra-striped drones, there's not much to do about a referee who doesn't see a clean block on a play that's happening in the unpatrolled airspace above his head.
Basketball's zero-sumness ensures that someone's always frustrated, and the game's inscrutability means there's always something to be frustrated about. But the postgame autopsy need not focus on that moment when everything went sideways. In a span of 10 seconds, Spike Albrecht botched a layup and the refs mucked up one of the best blocks you'll ever see. But this year's NCAA title game shouldn't be defined by the mistakes. Monday night was about a freshman who couldn't miss and a pair of players who pushed each other to the limits of their ability and ended up, remarkably, in the exact same place at the exact same time. Nobody, not even a stupid ref, can screw that up.
---