(Warning: this post contains adult images that some readers may find disturbing.)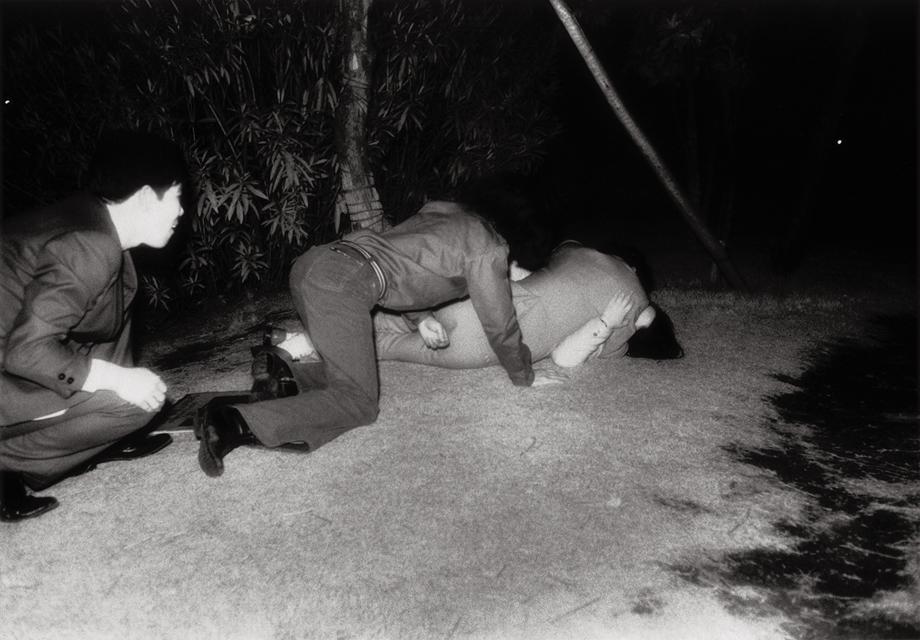 In the early 1970s, while walking through Tokyo's Chuo Park one night, photographer Kohei Yoshiyuki noticed a couple fooling around on the ground, that was looking for privacy for a romantic moment. But the couple wasn't alone: Spectators were watching from the bushes.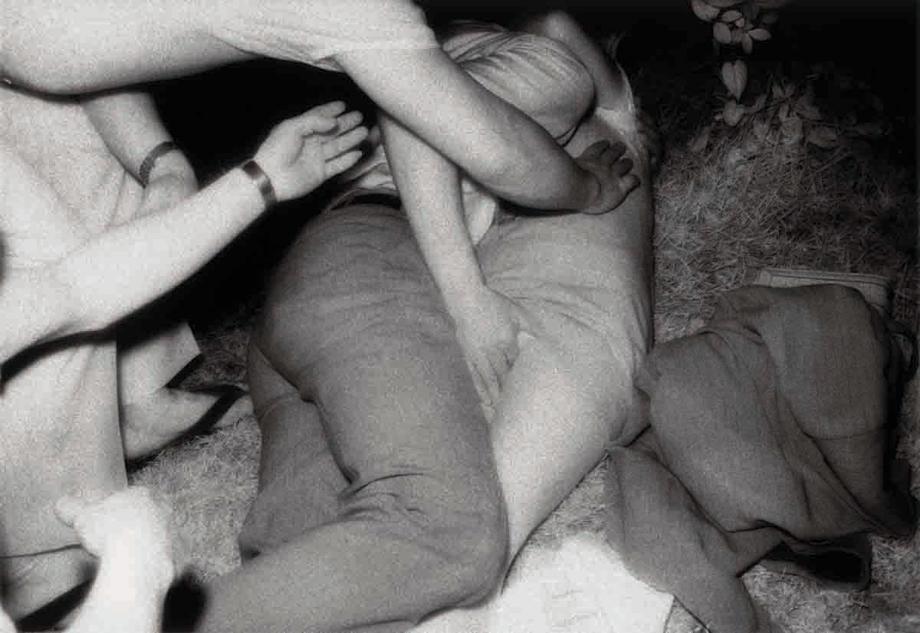 Though he wasn't able to take pictures right away because the scenes took place at night, Yoshiyuki researched how to photograph these bizarre tableaus without disturbing the activity he hoped to document. He spent six months visiting Chuo, Yoyogi, and Aoyama parks without taking any pictures because he needed the voyeurs to believe he was there for the same reason they were: to peep at amorous couples in the dark. After he worked to become a familiar fixture to the spectators, he began to capture the scenes with Kodak infrared flashbulbs. Reflecting on the project, Yoshiyuki wrote via email:
"As I was so amazed at these scenes, I was dying to record what was happening in the darkness and I was strongly hoping to capture them with my camera. The couples had been entirely unaware of their surroundings and the presence of voyeurs. They were young couples with a lust for love and probably had nowhere else to go. If they had noticed that the voyeurs were next to them, I'm sure the couple would not continue their lovemaking actions … they would come to the park just to take a walk and have a good talk."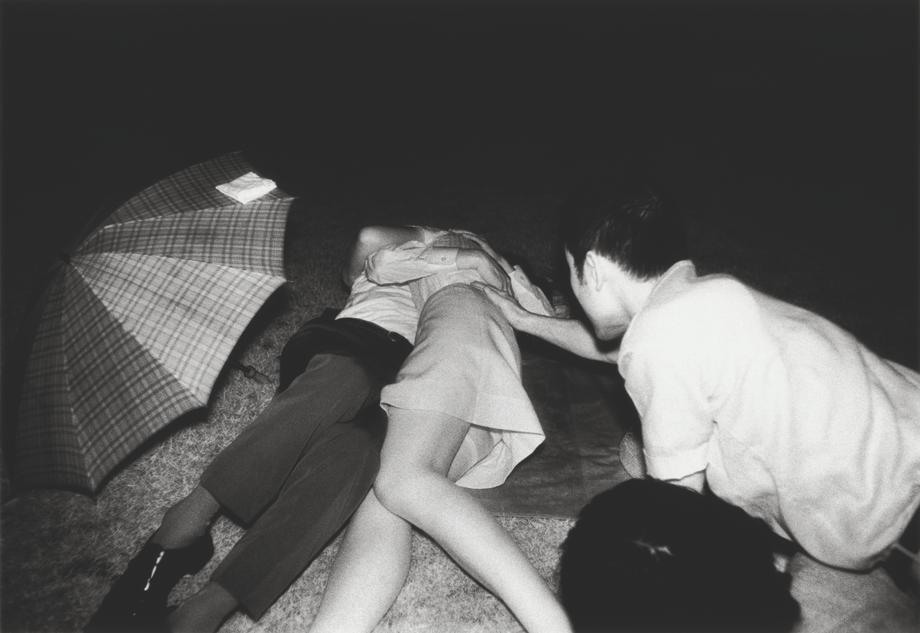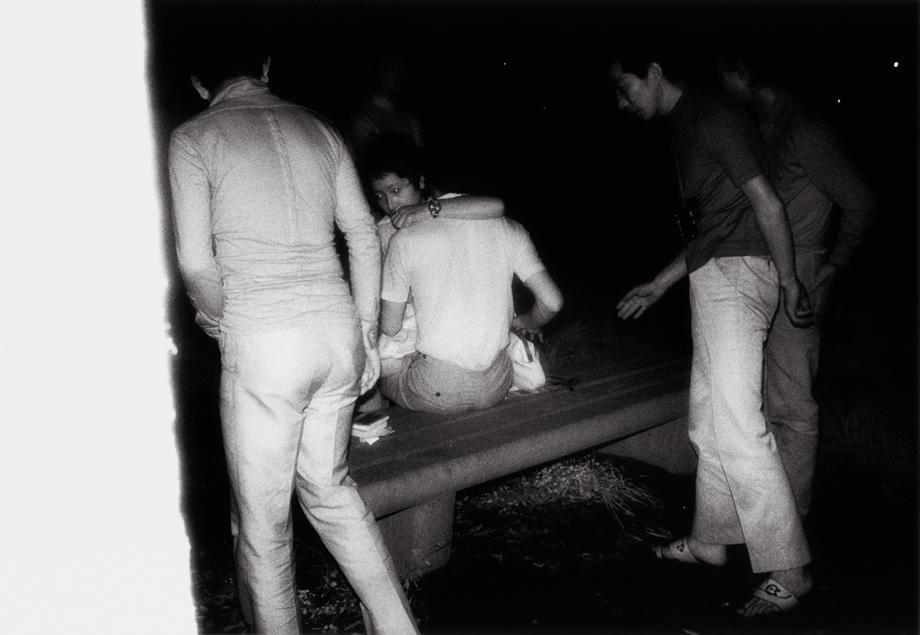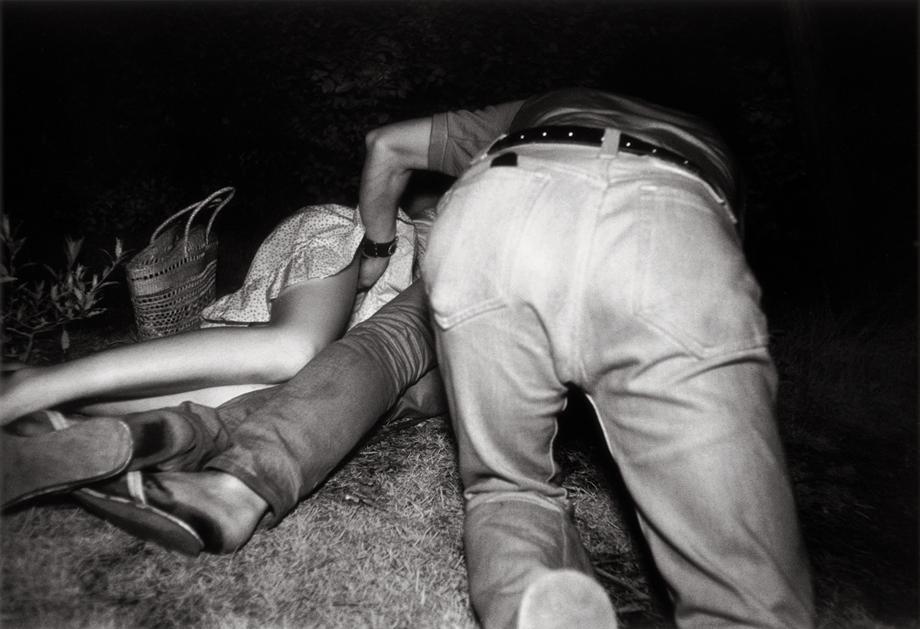 In the most disturbing and menacing of the pictures, one or more of the voyeurs is touching the woman in the couple. Yoshiyuki says that this brazen kind of assault from the voyeurs was generally rare. He never saw any of them attempt to touch a man (in either the heterosexual or homosexual couplings), and in his experience, they were mostly there just to watch.
 "The voyeurs always approached the couples from behind because they had to be out of the man's line of vision. … there was a kind of community in which the voyeurs lived. 'To touch up a woman's body' was a kind of a competitive game for them in the society. It was risky, but it was something very thrilling for them to do, just like an exciting game to play. So when a voyeur was able to touch the woman's body, it was a success story among them and the guy could be a hero of the night as a voyeur."
Some of the voyeurs were more obvious and visible than one can imagine would be possible without being noticed, and yet Yoshiyuki says he only ever witnessed one altercation. "Once I unexpectedly witnessed the man of a couple notice the presence of a voyeur. This man got angry and tried to chase the fleeing voyeur and catch him. But when I saw this trouble, I felt most sorry for the girl who became alone and unprotected in the darkness."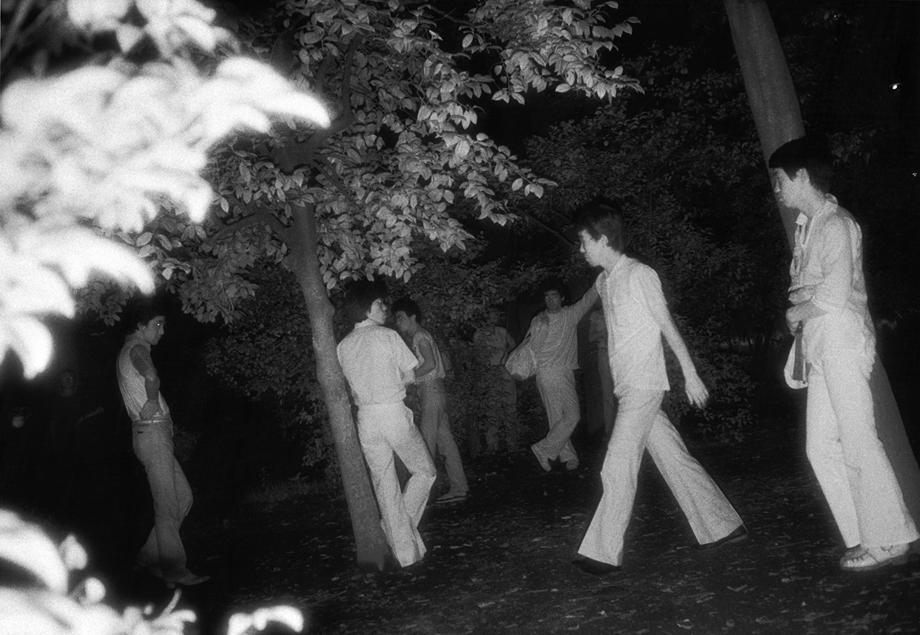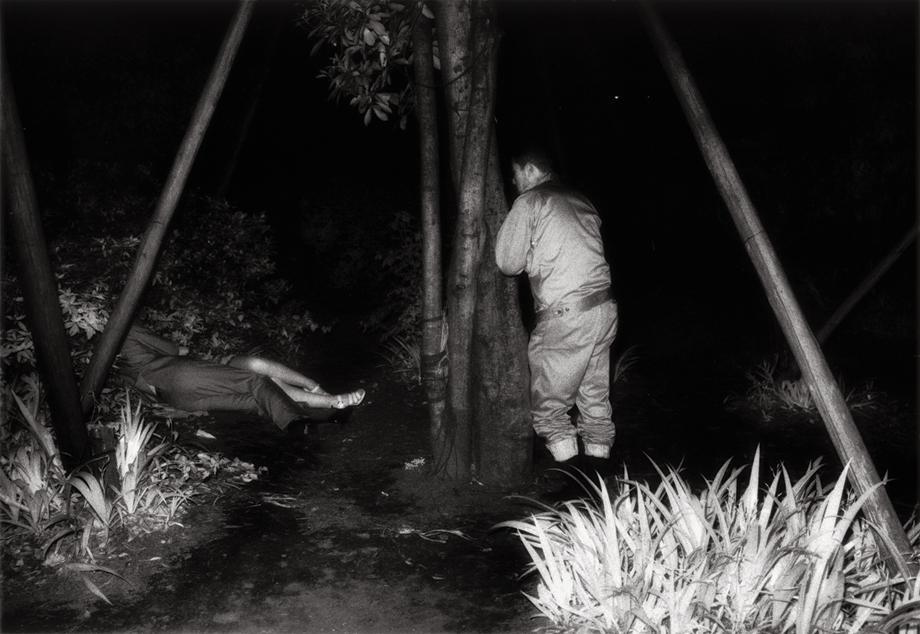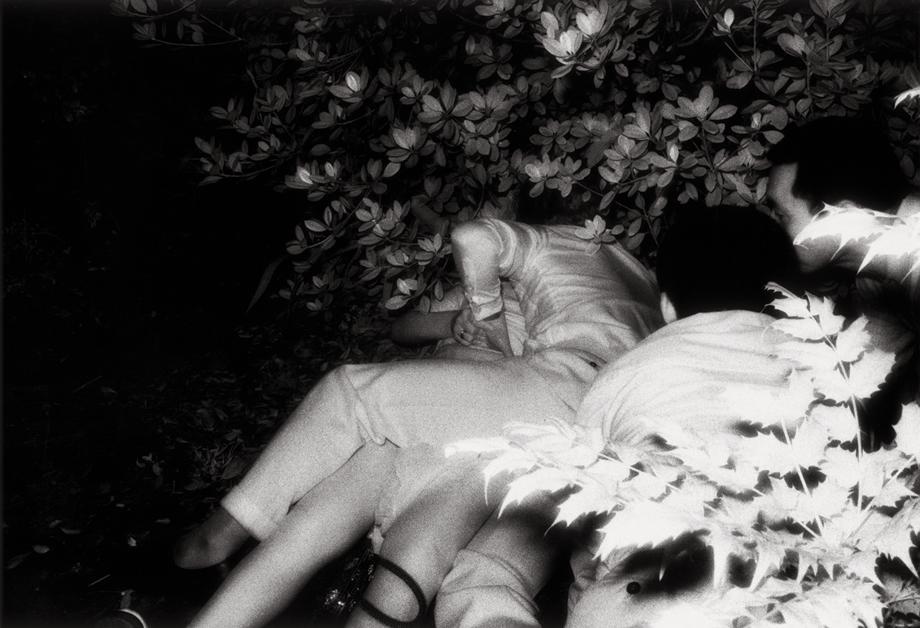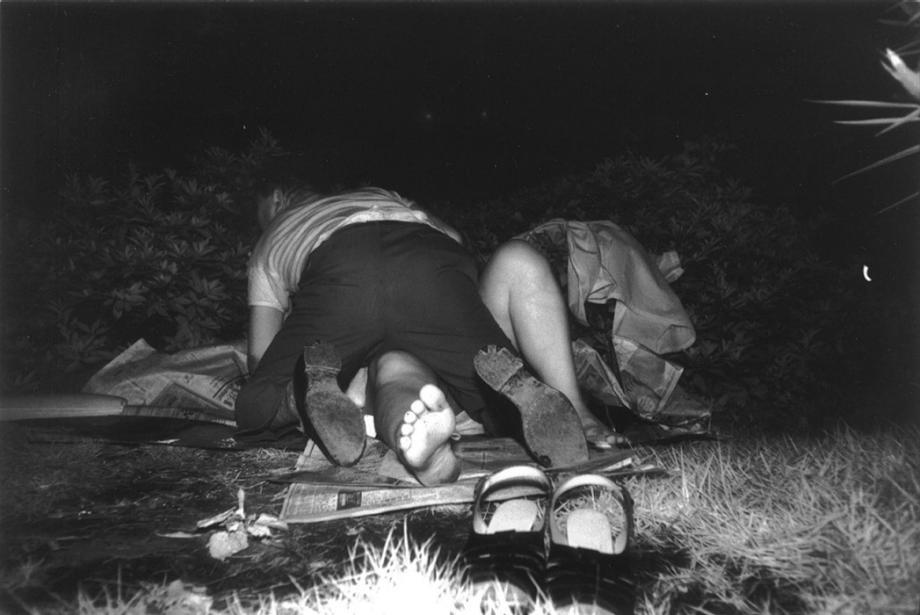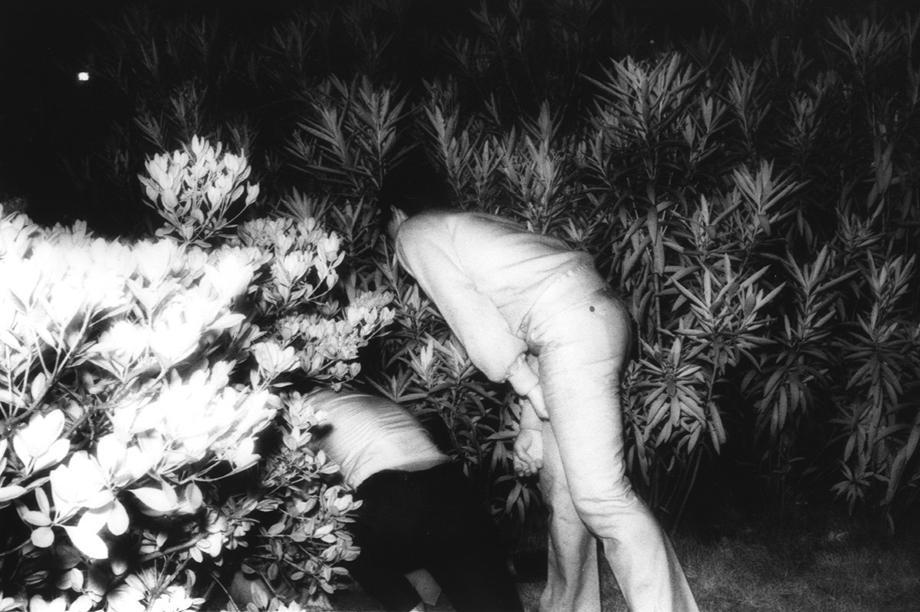 Yoshiyuki, whose "Park" series will be on view at the Venice Biennale beginning June 1, says that after these photographs were published, the existence of the parks' voyeurs was made public and fewer couples resorted to rolling around in them as a result. When asked whether he was ever contacted or approached by one of his subjects, whether a voyeur or someone in a couple, Yoshiyuki replied, "I thought I would need to respond to some complaints from the subjects, but no one contacted me. Sometime later, I heard that one of the voyeurs said very proudly, 'Look at this photo; this is me!!' "