Brow Beat is following the Beatles in "real time," 50 years later, from their first chart-topper to their final rooftop concert. 50 years ago this week, John Lennon's wife Cynthia gave birth to their son Julian—but they kept the baby a secret.

John Lennon's son Julian famously inspired some of the Beatles' greatest songs. When he was 4 years old, one of his pastel drawings for school inspired the title of "Lucy in the Sky With Diamonds." When he was 5, his father wrote him a lullaby, which made it onto the White Album as "Good Night." That same year McCartney was inspired to write "Hey Jude" for Julian—it was "Hey Jules," originally—as his parents were going through a separation. But on April 8, 1963, when Julian was born, his parents were determined to keep him under wraps.
In fact, the marriage of John and Cynthia Lennon (née Powell) had been a secret from the beginning. The two met at the Liverpool College of Art a few years before, when John was only a teenager. Though he could be quite mean to her, even violent, and wasn't always loyal, John wrote her letters even during the band's wild days in Hamburg. When, in the summer of 1962, Cynthia Powell discovered that she was pregnant—the two never gave a thought to using contraception, according to Cynthia—John knew what he had to do. "I said yes, we'll have to get married," Lennon later recalled. "I didn't fight it." (In the Northern England of 1963, abortion wasn't much of an option, with hospitals only agreeing to them when they were deemed medically necessary.)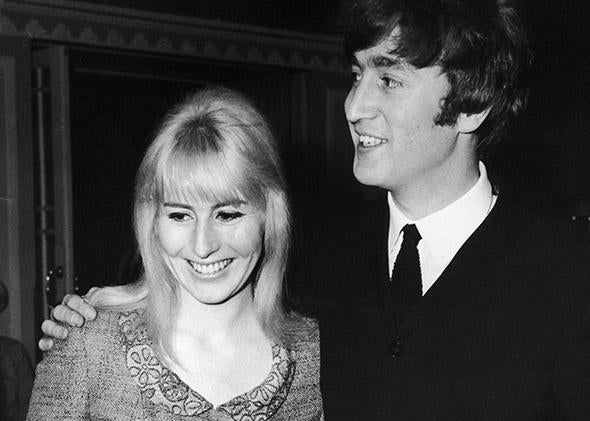 Beatles manager Brian Epstein was disappointed at the news. He had wanted to sell the Beatles as eligible young bachelors. (The Beatles still weren't widely known, but he had seen the way their loyal fans reacted to them in Liverpool.) Still, he couldn't very well kick John Lennon out of the group. Seeing no other option, he gave his blessing on the one condition that the Beatles keep the wedding, and the baby, on the down low. Once he'd gotten John's assurance on that score, he did everything he could for him, even securing their marriage license and letting them stay at his apartment.

The wedding was quiet, to not alarm Beatles fans, but also because their families weren't terribly proud of them: Cynthia's parents didn't attend, nor did John's guardian, Aunt Mimi. Paul and George came out, but they didn't even tell new bandmember Ringo. Lennon remembered the civil service as an odd affair:
There was a drill going on all the time outside … I couldn't hear a word the bloke was saying. Then we went across the road and had a chicken dinner. I can't remember any presents. We never went in for them.
That evening, on Aug. 23, 1962, Lennon spent his wedding night playing with the Beatles in Chester.
From that point on Cynthia lived what she called an "undercover existence," leaving her wedding band at home and staying away from the band's shows. She was even forced to deny her last name. On the rare occasions when John was home, they made sure not to go out in public together.

This was made somewhat easier by the press' ready compliance with their demands. Beatles biographer Bob Spitz points to the transcript of a fall 1963 interview conducted by Judith Simons of the Daily Express. Simons politely asks, "We still can't mention your marriage, can we, John?" Asking was just a formality.

John also enjoyed the arrangement for the relative freedom it afforded him, allowing him to live his life as a rock star without ties or obligations. According to Bill Harry, the editor of Mersey Beat and an old friend who had seen him carrying on affairs, "It was as if Cynthia or Julian didn't exist."

When Julian was born, John was still on tour with Chris Montez and Tommy Roe, though Cynthia has said that "having fathers present for the birth just wasn't the custom then." In her book John, she describes the scene when he showed up at the hospital, two or three days later:
He came in like a whirlwind, racing through the doors in his haste to find us. He kissed me, then looked at his son, who was in my arms. There were tears in his eyes: "Cyn, he's bloody marvelous! He's fantastic."
According to Cynthia, a thought seemed to occur to him as he cradled the baby in his arms. "Who's going to be a famous little rocker like his dad, then?" he said.

Read more from Blogging the Beatles
The Beatles Rock a Boarding School
The Beatles Lead a Movement
The Beatles Become the Headliners
The Beatles Become Pop Professionals
Did the Beatles Get Screwed?
The Beatles Race Against the Clock
The Beatles Bring Back Rock Rawness
The Forgotten Songwriter Who Inspired the Beatles
The Beatles Record Their Debut Album