By her own account, Canadian photographer Jen Osborne has a pretty high tolerance for strange things.
So when she got the assignment from Colors magazine last January to photograph two therapy llamas on the job at a Washington state rehabilitation center, she didn't think twice about it.
"It seems normal to be surrounding old people with strange, beautiful animals," she said.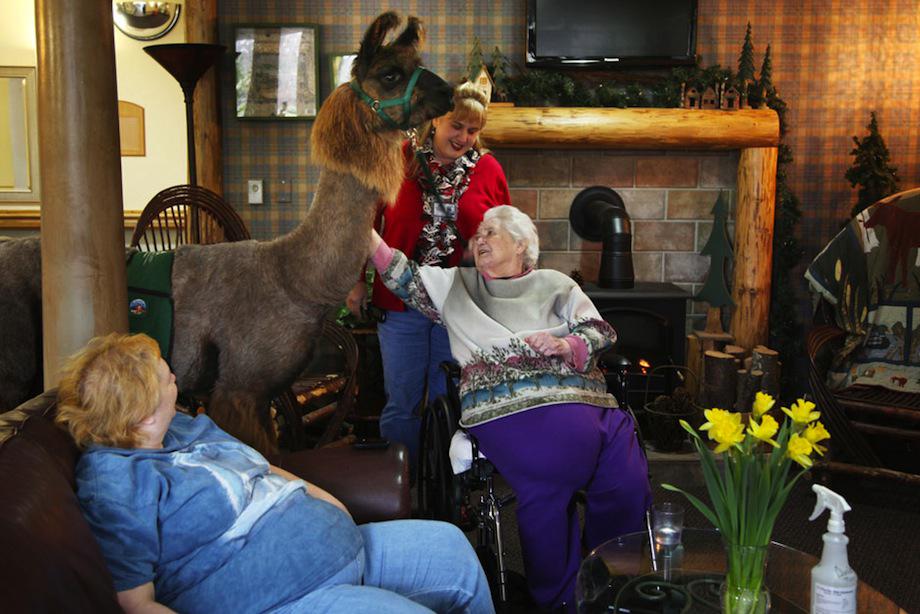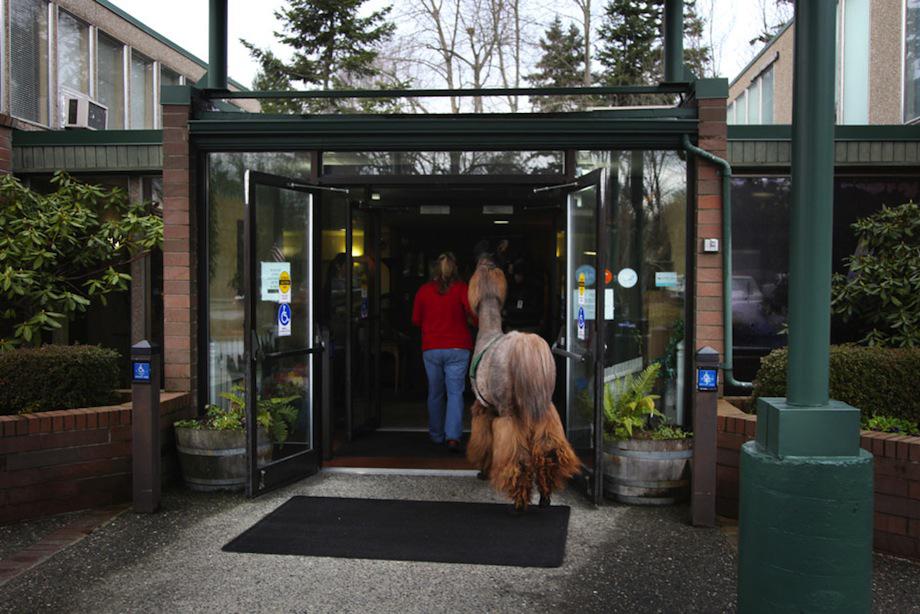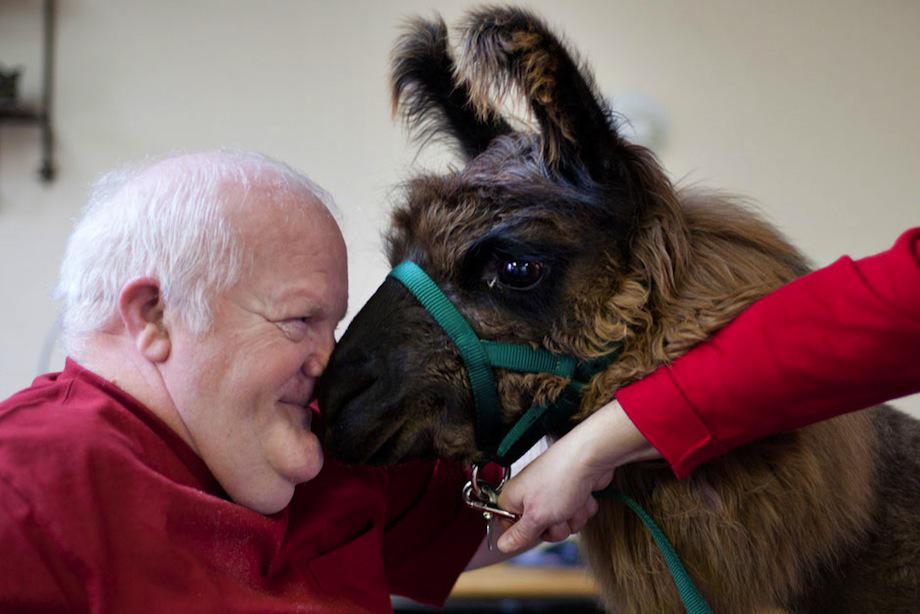 Animals have been used in medical settings for more than a hundred years, according to NPR's Julie Rovner, but scientists have only recently discovered the link between exposure to animals and increased oxytocin levels—which can lead to feelings of happiness and trust.*
Household pets like dogs and cats are commonly trained as therapy animals, as are dolphins and horses. Llamas, however, are a novelty, as Osborne found out on her one-day assignment.
Osborne followed the two animals, named Marisco and N.H. Flight of the Eagle on an excursion to Bellingham Health and Rehabilitation Center, a place for mostly elderly people recovering from illness.
The two llamas, accompanied by their handler, stopped at each bed at the home to let the patients kiss or hug them.
Osborne said the residents had received llama visits before but that the experience was infrequent enough to sending shockwaves of excitement throughout the home each time.
N.H. Flight of the Eagle and Marisco were the only two therapy llamas on the farm where they live—training to become a therapy animal is rigorous.
"They're gentle creatures, llamas. They have a reputation of being aggressive. People say llamas spit all the time, but that's an urban myth," Osborne said.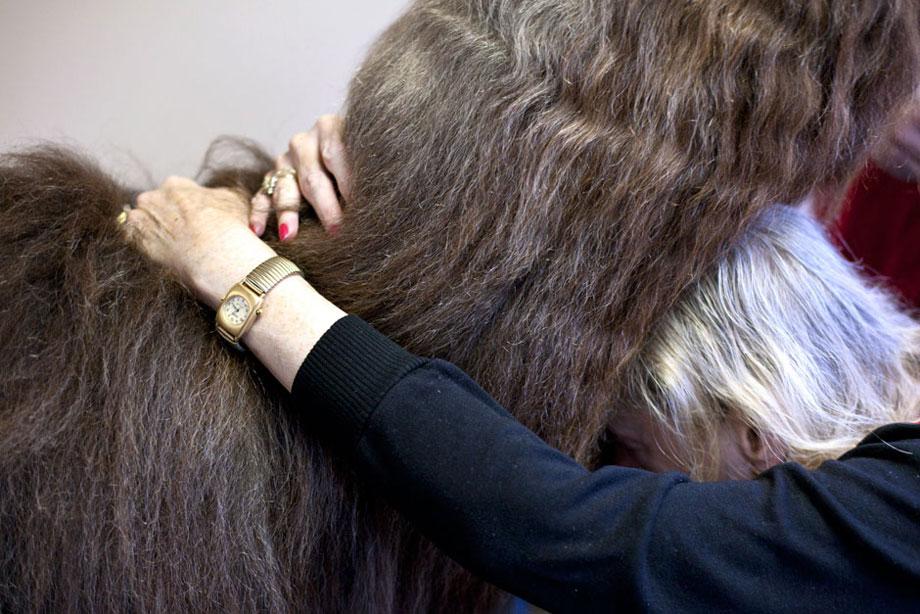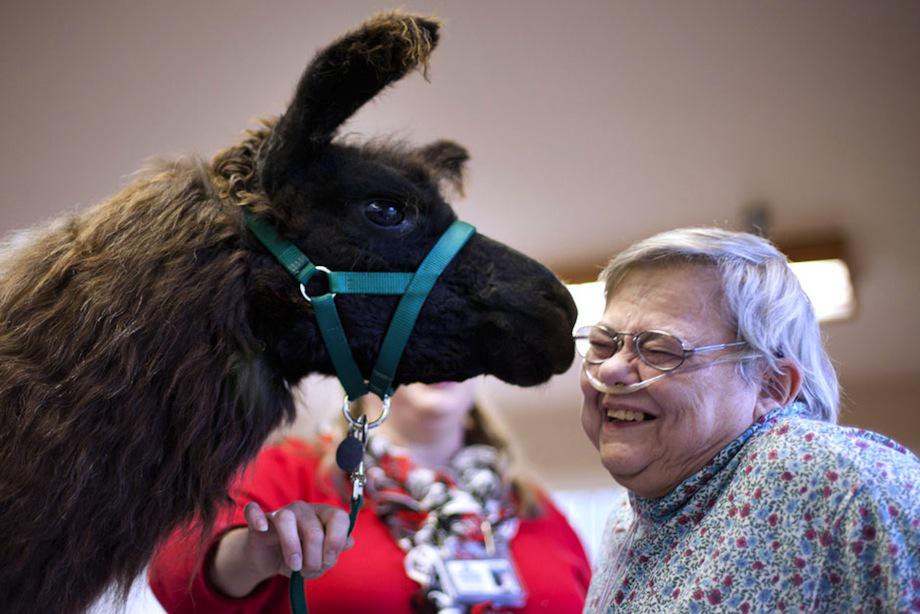 The llamas she witnessed, Osborne said, were on excellent behavior.
"They were amazing. I wouldn't even say they were like dogs, because they were even more obedient than dogs," Osborne said.
*Correction, April 25, 2013: This post originally misidentified the hormone oxytocin as oxycontin. (Return.)