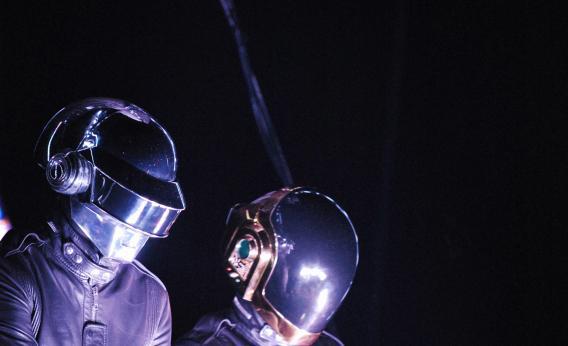 It's been a confusing week for Daft Punk fans. Music sites like Stereogum and Rolling Stone were burned in recent days by fake versions of the French duo's long-anticipated new single, including a fan-made version that looped the snippet of the song heard in a recent commercial. Other increasingly convincing versions, running everywhere from 3 to 5 minutes in length, have been uploaded since, and I've come to think that enough Daft Punk fans at enough computers might eventually recreate the whole song.

If you've been caught up in all this CNN-like confusion, Dutch DJ Michiel Veenstra is here to put your fears to rest. The DJ played a version of the song on Dutch radio station 3FM yesterday, and he certainly seems to think it's real. It's not an "edit," "loop," or "remix," he promises, in a mix of Dutch and English, but the "real deal ish."
I can't, in fact, promise that this is the "real deal ish," as DJ Veenstra does, but it certainly sounds like it, complete with the Pharrell verses missing from previous versions. The song itself is simple and repetitive and infectious, in typical Daft Punk fashion, and ends with a "Harder, Better, Faster, Stronger"-style breakdown in the duo's signature robot voices. Disco legend Nile Rodgers of Chic also collaborated on the track, contributing some smooth rhythm guitar, and the bass line resembles the bass of Chic's great "Good Times," one of the most famous and influential bass lines in pop history.

As announced in the trailer that debuted over the weekend at Coachella, other guests on the album, called Random Access Memories, include Julian Casablancas of The Strokes, Panda Bear of Animal Collective, producer Todd Edwards, DJ Falcon, Chilly Gonzales, Giorgio Moroder, and songwriter Paul Williams. The real deal full album is out May 21.
---