Last week, an article on BuzzFeed asked, "Where Are All the Women at Coachella?" The conclusion the authors reached was unsurprising. As they had expected, a breakdown of the festival's lineups by gender showed that, year after year, the bills have been dominated by men. In fact, it wasn't even close. In this year's lineup, female-fronted acts represented only a little more than 10 percent of the more than 500 artists who played. The festival hasn't fared much better in the past: On average, just over 15 percent of the festival's acts have been fronted by women. To drive the point home, BuzzFeed designed an infographic showing what lineup posters would look like if all the male-fronted acts were removed. There is a lot of empty space.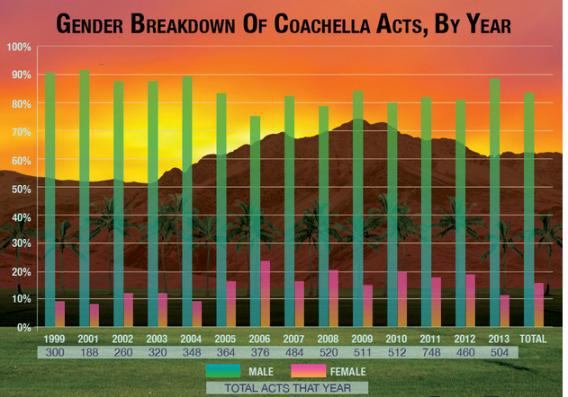 The article does a remarkably good job of visualizing the problem, but then leaves it at that. It doesn't offer any theory for why the lineups are so male-dominated, and it doesn't offer any solutions for how to fix that. Perhaps they didn't want to lob accusations of sexism, which can be uncomfortable, or to face the commenters, who have been mostly vicious and defensive. "There is legitimate gender inequality in the music industry," says one unusually civil commenter, "but the problem does not lie in Coachella." "Stupid article," says another. "This suggests that the actual pool of marketable music acts is 50% male and female-fronted, but festivals are the ones fucking it up. Please."

The idea behind both comments is that festivals simply reflect disparities within the music industry, which is supposedly dominated by male acts generally. The problem with this line of argument is that it relies on assumptions that simply aren't true, and have long been outdated. In fact, the festivals are the ones fucking it up, while women practically dominate the music Americans listen to and enjoy.

If that sounds unlikely or surprising, just look at the Billboard charts, about as cold and dispassionate a measure as we have. The No. 1 song this week is by a woman, P!nk, who hit the top with "Just Give Me a Reason." On the album charts, another female-fronted act, Paramore, reigns, with its critically acclaimed fourth album . Women topping both charts is not unusual. Consider Billboard's Artist of the Year rankings, which are based on album sales and radio play and which women have dominated every year for the last five years. In 2009, women held not just the top spot, but the top five spots, with Taylor Swift leading the way. In 2010, Swift came in at No. 2, while another multitalented singer and songwriter, Lady Gaga, came in at No. 1. In 2011, both these artists were crushed by Artist of the Year Adele, who had both the biggest album and the biggest single of the year, with three other women filling out the top four spots. In 2012, Adele took Artist of the Year again, while her 21 became the first album to go No. 1 two years in a row since Michael Jackson's Thriller. Taylor Swift had the second-biggest album of that year, with Red.

Well that's just commerce, those who defend Coachella might say. What about good music? For that, let's turn to Pazz & Jop, the Village Voice's annual poll of all the top critics from publications like Pitchfork, Slate, and Rolling Stone. Their No. 1 song of 2012 was (could it have been anything else?) "Call Me Maybe," performed and co-written by singer-songwriter Carly Rae Jepsen. The most acclaimed album of the year was by a man, Frank Ocean, but in 2011 women had both the most acclaimed album of the year (actually the top two, from tUnE-yArDs and PJ Harvey) and the most acclaimed song of the year (actually the top three, from Adele, Beyoncé, and Nicki Minaj).

It's true that these charts generally aren't majority-female or even perfectly half and half. Sixteen of this week's top 40 songs are from female-fronted groups, counting featured artists and guests, while only 34 of the Hot 100 are female-fronted, by the same measure. When it comes to Pazz & Jop, more than half (16 out of 30) of last year's top singles were from female-fronted acts, but the album list is more male-dominated. Still, this doesn't excuse Coachella. Each of these measures, chosen not by planners but by unplanned democratic consensus, celebrates many more female voices than that festival does.

So am I saying that the organizers in Indio, or the fans they're trying to please, hate women? No. The problem is larger than that and not nearly so simple. Indeed, most of the big music festivals have the same problem. For this year's Lollapalooza, the top 13 acts are all fronted by men. At Bonnaroo, Björk is the only woman among the top 10 headliners. Festivals like Outside Lands, Sasquatch, and the electronic music festival Ultra are similarly male-dominated, though Pitchfork—four of whose top six acts this year are great solo female artists—shows that each of these festivals could do better.

Instead, the real problem at most of these festivals lies in the alternative subcultures they celebrate. Formed out of the male-dominated music scenes of jam music (in the case of Bonnaroo), late-'90s indie rock (Coachella), and early '90s alternative and grunge (Lollapalooza), these festivals tend to celebrate diversity while dismissing the most popular pop acts—the ones who tend to dominate the charts and who tend so often to be female—as frivolous or corporate. As the festivals expand beyond their narrow roots, maybe fans and organizers should start to take the commercially and critically successful female acts they currently deride more seriously. Surely some of them are worth the kind of herculean effort—and often exorbitant cash—required to reunite groups like The Stone Roses (who headlined Coachella this year, in front of a disappointingly small audience). For now, a lot of the kids who think they're forward-thinking are lagging behind the crowd.