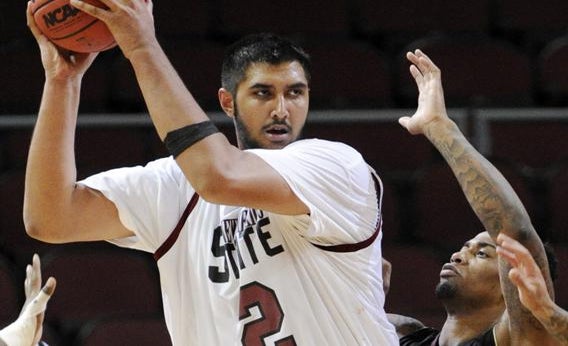 Read more from Slate's coverage of the NCAA tournament.
Though the 2013 NCAA tournament doesn't have any really big stars, March Madness will feature one humongous player. Don't get too attached to 7-foot-5-inch Sim Bhullar—the Indo-Canadian freshman and his New Mexico State teammates will likely get trounced by No. 4 seed Saint Louis this afternoon. That's all the more reason to tune in for the Aggies' low-wattage matchup against the Billikens. This could be your last chance this season to watch the most fascinating figure in college hoops, a hulking, largely immobile center who doesn't play like Yao Ming but could have a Yao-like impact on basketball in India.
The biggest of basketball's big men can hunch themselves uncomfortably into a couple of small categories. There are the toothpick-framed shot-blockers, like Manute Bol and Shawn Bradley; the man-mountains, including Mark Eaton and Gheorghe Muresan; the international men of mystery, such as North Korean Ri Myung Hun and China's Sun Ming Ming, whose enormous stature belies the fact that perhaps three people ever saw them play; and the sideshow acts, e.g. the Harlem Globetrotters' 7-foot-7-inch Paul "Tiny" Sturgess, whose parlor trick is dunking without leaving his feet. And then, in a category of one, is Yao, the only man of his stature to become a top-notch NBA player.
The 20-year-old, 355-pound Bhullar is a budding man-mountain. While his conditioning is improving—he's played at least 30 minutes in his last seven games—New Mexico State's center is still surely the slowest player in Division I basketball, making LSU's cement-footed, 7-foot-3-inch center/tuba player Andrew del Piero look as nimble as David Robinson. And yet, Bhullar plodded his way to most valuable player honors in the WAC tournament, where his stellar play—he averaged 12.3 points, 10.7 rebounds, and 3 blocks per game—earned the Aggies a spot in the NCAA tournament.
In the WAC title game against Texas-Arlington, Bhullar spent much of his time standing completely still at the middle of New Mexico State's zone defense. When an opponent dared to penetrate inside, he played the role of the big boss at the end of a level in a video game, swatting them aside before they reached their goal. And though he took just eight shots on the offensive end, he converted six of them by simply nudging aside his puny counterparts inside the paint—a move he began to master in the season's closing stretch.
What works against weaker small-college competition won't be as easy to pull off when the players get bigger, stronger, and quicker. But despite their megasloth-like approach to the game, Bhullar-esque mountains Eaton and Muresan did have success in the NBA. For any incredibly large man who plays basketball, the question is always how long that success will last. Eaton, a shot-blocking specialist, managed to play 11 mostly healthy years for the Utah Jazz. Muresan, who averaged 14.5 points and 9.6 rebounds in his best NBA season, only managed four full seasons before his body broke down.
If Bhullar's feet and back allow it, he might soon have a formidable teammate: his 18-year-old, 7-foot-2-inch brother Tanveer, who is also being recruited by New Mexico State. If those two team up, that'll double the game's exposure in India, the world's largest untapped basketball market. "I think it would be a blessing … to be the first from an entire country to go to the NBA and be a role model," Sim Bhullar told the New York Times in 2011. (The Bhullars grew up in Canada but are of Indian descent.) But before any of that happens, college basketball's biggest attraction has an NCAA tournament game to play. The Saint Louis Billikens will likely zoom over, under, and around him, but Sim Bhullar should still be able to do what he does best: Block a couple of shots, shove some smaller dudes aside, and slam the ball through the hoop.
---