In Philip Roth: Unmasked, PBS's American Masters documentary set to air on March 29 and currently screening at Film Forum in Manhattan, Roth, appearing more relaxed and friendly than one would ever imagine after spending much time with his fictional alter-egos, talks about some stories he wrote in college, "awful little things" (his words). It all changed, he says, when he read The Adventures of Augie March during his senior year. He realized he could use his background and write about things he knew. Saul Bellow had the West Side of Chicago, Bernard Malamud had a grocery store in Brooklyn, and Philip Roth had Newark.
Whether you believe that story or not—and I don't want to quibble with Roth about the facts—there's no denying the importance of Newark in his oeuvre. So when I read about a tour of Roth's Newark, to be held on the occasion of his 80th birthday, I jumped at the chance. I grew up reading about Roth's Newark just 30 minutes away from there, though it seemed much farther. Of course, a lot has changed in the 60 years since Roth lived there. These days, the city's biggest literary star is the mayor, Cory Booker, known not for novels but for tweets.
I arrived at the Newark Museum 20 minutes before we were set to depart, and boarded one of three buses with people there to attend a conference on Roth's work. I was with my father, so we could geek out together. Behind us I heard members of the Philip Roth Society chattering about possible surprise guests at the evening's festivities. There were rumors that Toni Morrison would attend. The guy behind me joked about Thomas Pynchon popping out of a corner. If only.
Late in the documentary, Roth notes that James Joyce couldn't get out of Dublin fast enough but then didn't write about anything else, and that Hemingway wrote great stories about Michigan from Paris. There are many great writers, he says, who "leave where they came from and write about it for the rest of their lives." I couldn't get that out of my mind as the tour began. If Roth was so desperate to leave, why were we coming back?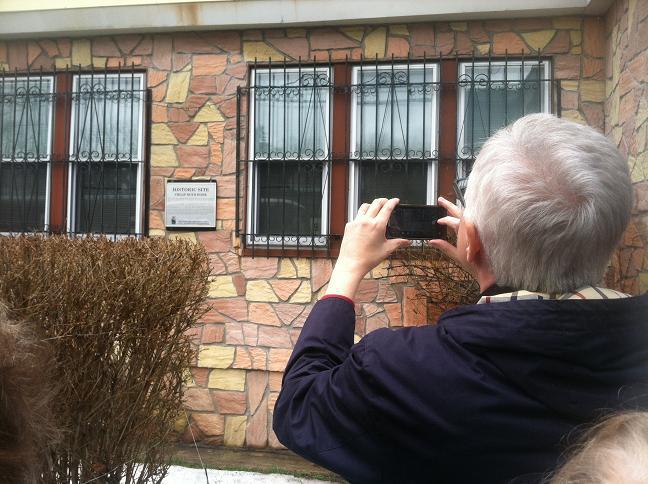 Ideally, the tour would have given some firm, convincing answer to that question in, say, 35 minutes. About three hours later, though, I remained puzzled. The tour was developed in 2005 after an intersection was named after the author, and includes stops at Roth's high school and childhood home, where we got off and took pictures. The highlight of the tour was a prepared pamphlet of Roth quotes about Newark. As we gazed at the Essex County Courthouse through the windows of our heated bus, a member of our group read from I Married a Communist. As we passed the Weequahic High track, our guide asked me to read the chant from Portnoy's Complaint:
"Ikey, Mikey, Jake and Sam
We're the boys who eat no ham
We play football, we play soccer—
And we keep matzohs in our locker!
Aye, aye, aye, Weequahic High!"
After circling the area, our guide told us that it would be a shame to visit Newark and not tour the cathedral. So off we went, for a very Catholic and utterly nonsensical coda to the Philip Roth tour of Newark. It didn't add much to my understanding of the great Jewish-American writer—but then, the art deco entrance to his high school didn't feel especially illuminating either. If you really want to celebrate Roth, read his books.